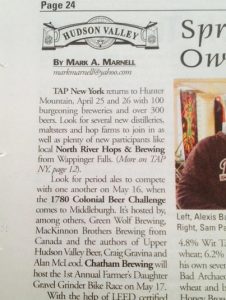 It's not quite like ten years ago when one's name could appear in The New York Times, but I got word from cousin Mike Malone of, amongst many other things, "Books and Beer" on 1460 AM radio WVOX that news of the May 16th event in Middleburgh, NY had hit the Ale Street News. Craig has been working on a press release:
On May 16th, The Middleburgh Public Library, The Albany Ale Project, and Green Wolf Brewing Company are hosting a day long (1pm to 5pm), family-friendly event celebrating beer, brewing, and Middleburgh's Revolutionary War history to benefit the Middleburgh Public Library. MacKinnon Brothers Brewing Company, of Bath Ontario, will also be participating. The event will be held on Baker Avenue around Green Wolf Brewing Company (315 Main Street, Middleburgh) and behind the Middleburgh Public Library (323 Main Street, Middleburgh.)
The day's activities include a Revolutionary War encampment, colonial brewing and cooking demonstrations, 18th century toys and games for kids, talks on the history of beer and hops in upstate New York and the Schoharie Valley, a Schoharie Valley hops display at the Middleburgh Library, beer samples from Green Wolf and MacKinnon Brothers.There will be Green Wolf brewery tours, as well as food from Middleburgers BBQ and Under the Nose gift shop and bakery. Craig Gravina and Alan McLeod will be selling and signing copies of their book Upper Hudson Valley Beer, and the day culminates in "The 1780 Beer Challenge", cask tapping and tasting.
This is really neat. Looking forward to learning more about one of the areas of New York where the people who found refuge in eastern Ontario came from 240 years ago. And really looking forward to seeing recreations of how straw was used to make strong wheat ale. The more I learn about straw the more I think it was critical to pre-industrial scale brewing even if we have all forgotten its usefulness. Go straw!