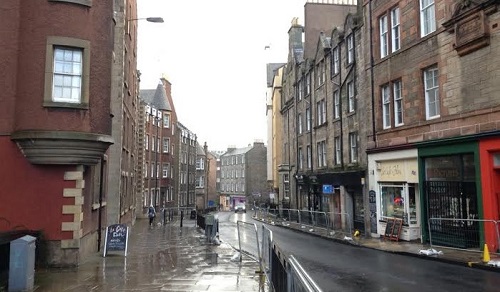 I was away for a week on a business trip to Scotland. A whole week? Well, as I am the son of two of those Scots who took to the four corners of the world, I did add a couple of days of vacation but, much to my surprise, it also took 33 hours of travel to get from where I am to where I was going and then, for unknown reasons, well over 20 hours to get back. Evil ocean. Where are the supersonic subs I was promised in comic books as a kid? So while the jet lag isn't as bad when traveling west, I still need to put things in order. A bit of a photo travelogue, then, tonight. A slide show.
I had not sought out the Bow Bar in Edinburgh before but if there was a ticking habit in my life I feel my one pint in the corner was one big check mark on page one.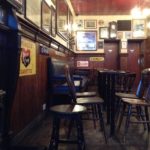 I was not actually hunting it out and had it in entirely the wrong place in my mind, over at the west end of Rose Street. Probably something else wonderful that I am unaware of is over there. We found ourselves standing next to it when I was hunting out a shop to buy things made of wool. I had a pint of their 3.8% house Bowhemian Ale brewed for them by Alechemy Brewing. It was testimony to the pointlessness of beer over a certain strength. Lots of body. Refreshing in the middle of a march around the town. Interesting with plenty to think about.
The day before the goal was well understood. We headed directly to the door of the Cafe Royal near Waverley Railway Station where we had stood in the summer only to be told the kids could not come in. The laws on kids and bars in Scotland can get quite frustrating but do allow one to consider leaving them behind on another continent with the in-laws. The place is magnificent. The opposite of the study in plainness that is the Bow Bar.
That was good, having the night before been at an event at Glasgow City Chambers where I sat down to dinner with – I kid you not – a Sir, a Lord, a Lady, a High Commissioner, two Right Honourables, a Baillee and… a Baroness. Got piped in and everything.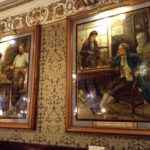 The Cafe Royal is second only to the rooms in that municipal palace for grandeur. Not a word I use often. Grandeur. Back at the Cafe Royal, I had cullen skink as well as some smoked salmon along with a couple of pints, ROK IPA as well as an Edinburgh Pale Ale. The latter was a gem. Just 3.4% with a black tea malt lingering finish there was plenty of malt in the body. The tiled art on the southern wall of the bar is quite the thing. It appears to be a selection of great moments in science's benefits to mankind. More on those tiles here.
The Piper Bar off George Square in Glasgow and into a weird flashback into pop metal of the 1980s and '90s. I had a couple of pints of Bitter and Twisted as we head bobbed along with the crowd to Metallica, Iron Maiden and AC/DC. It was pretty refreshing after an evening at the high table. There were airport beers, too. A 4% Camden Pale Ale at Heathrow on the way home and an 8% Wellington Imperial Stout on the way there at Toronto Pearson. The CPA was more expensive. A lunch at The Beehive Inn on Grassmarket to the south of Edinburgh Castle featured whitebait. I want whitebait all the time now. It's like smelt. But more like smelt-lettes. French fries made of the whole body of a tiny fish. A cheery 4.2% Crofters' Pale Ale by An Teallach Ale Company of Camusnagaul, Dundonnell, Little Loch Broom went down with that. Just enough to get me out the door and, about an hour and a half later, into the Bow Bar.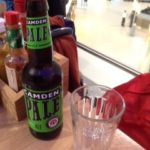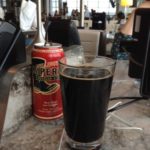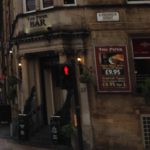 What to make of all this? Certainly that there is plenty of good beer to be found even when you are not hunting it out if you are in the right sort of community and know what to look for. No sessions. Just one here. Another there. And certainly there is plenty of good beer well under the 5% lower limit that is so common in much of North America. Think I am going to head over to my local brewery and propose a collaboration. Which is code for pushy beer writer who wants a beer he can't get. That's it, right? Anyway, home again. Where the houses are larger and warmer. Where the grass is not a lovely shade of green in January. Where you don't have to tip the help because it's your teenager.