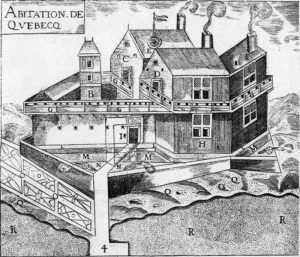 You may recall that a couple of months ago I wrote a post about the first brewing of beer in New France describing how in 1617 Louis Hébert became the colony's first private land owner, farmer and a brewer. He is generally accepted as the first brewer. But what's been tickling at the back of my head has been the footnote that I quoted. It's from a bit of writing about life in the earliest years of New France. The footnote included this tidbit from 10 August 1620:
Nous avon du grain suffisamment pour faire du pain and de la bière
The sentence to which that footnote is attached goes on to suggests the Recollet missionaries themselves were brewing at Quebec before 1620. How many years before 1620? The interesting thing about the early bits of anything is how little data there is to work with. This is admittedly compounded by reliance on (i) my crappy French and (ii) the internet. Yet… I think I like where I am going. One of the reasons there is only a little data to work with is there were only a few Recollets in North America at the key point in time. In 1615, four show up with Champlain: Father Denis Jamet the first superior along with Fathers Le Caron and Jean Dolbeau and Brother Pacifique Duplessis. Jamet appears to have written first impressions of life in New France that was sent to New France in July 1615. Haven't seen that record yet. Some are just not on the internet. And some don't last. Le Caron's records were destroyed likely around 1632 when his possessions were burned due to him catching a bad case of the plague. The earliest fullish record of the Recollets in New France I can lay my hands on appears to be that of Brother Gabriel Sagard who only showed up in 1623.
From what I can see, La Caron spends the first winter far to the west in what is now central Ontario with the Huron people. After he returns to the settlement at Quebec, he and Jamet then leave New France in the summer of 1616, returning in 1617. Dolbeau stays from 1615 to 1617, spends the winter of 1615-16 to the northeast down river among the Montagnais, and returns as well after a year away. Brother Duplessis lives in New France from 1615 to 1618 and seems to be the one who sticks closest to home. Before becoming a priest in 1598, Duplessis was a practising apothecary and he seems to continue using that skill as a Recollet. He stays at Quebec from the spring of 1615 to 1617 which is when Louis Hébert, also an apothecary, shows up. Which means, unlike what is generally understood, Hébert was not the first apothocary at Quebec.
So, what is an apothecary in New France at that time? Mainly a pharmacist but with a good dose of gardener and herbalist along with amateur scientist. Part of the work of Duplessis from 1615 to 1618 includes tending to the sick. Alcohol is generously available – pervasive even – in New France and is used to treat infection and other medical purposes. Could it be that for two years when Quebec is being established that Duplessis might have turned his hand to brewing before Hébert arrives as part of his work as an apothecary? While the colony seems to be awash with imported wine and cider, brewing beer still seems to fit in the overall plan. By 1623, as Sagard describes, the colony has its own orchards and is making efforts to have a diversity of local crops, to attain as much self-sufficiency as possible. The Recollets had their own building at Quebec from the date their arrival in 1615 and Duplessis seems to be working there for much of his two years there. They farm the land. Which means Hébert was not the first farmer, either. And a few years earlier, Champlain specifically noted the presence of hops in the St. Lawrence valley. Just the sort of thing an adventurer apothecary farmer missionary might notice, too, over the course of a two year stay.
That's all I know. It's speculation so far even if plausible. But with local hops on hand, using a few pounds of grain to make a fresh ale is not the most absurd thing someone might turn their hand to to pass the time. Maybe.
Update: The next day I found this document which includes a quotation from Jamet's report presented to the French King dated 15 August 1621… or 1620. Google Translate and I have tag-teamed of translate the description of the first Recollet building in Quebec in this way:
When we arrived, we learned that the Sieur du Pontgravé, captain for merchants in the community, had started to build us a house, which since our arrival we have completed… The main building is well made, strong frame and between a wall of large pieces 8 to 9 inches (20 to 23 cm ) to its coverage; it has a length of thirty-four feet (10.3 m), width of twenty-two feet (6.7 m); it has two stories. We divided the first floor into two – one the half we made our chapel until something better; the other a beautiful large room, which will serve as a kitchen and which will house our people (ie workers ). The second floor has a nice big room and four smaller ones, two of which we have built slightly larger than the other [with] chimneys to place the diseased so that they are alone. The wall is made of good stone, sand and good lime – better than that which is done in France. Below is a cellar twenty feet square and seven deep.
Workers, a kitchen and a cellar. Hmm. As a bit of background if only for Bailey as to where I am going with this, I am comparing the Recollets with their lack of records who were in New France from the mid-1610s to the late 1620s with their replacements, the Jesuits, who were very good record keepers. The roles of beer with the latter group is well illustrated in their reports of life into New France for 1636, in the form of reports back to France describing the life, work and needs of the young agricultural community:
Twenty men will clear in one year thirty arpents of land, so clean that the plow can pass through it; if they had an interest in the matter, perhaps they would do more. There are some places which are much easier than others. The usual task for each man is an arpent and a half a year, if he is not engaged in other work. As rations, each one is given two loaves of bread, of about six or seven pounds, a week,—that is, a puncheon of flour a year; two pounds of lard, two ounces of butter, a little measure of oil and of vinegar; a little dried codfish, that is, about a pound; a bowlful of peas, which is about a chopine [pint],—and all this for one week. As to their drinks, they are given a chopine of cider per day, or a quart of beer, and occasionally a drink of wine, as on great fête-days. In the winter they are given a drop of brandy in the morning, if one has any.
In the next decade, skilled brewing becomes established in the colony. In 1646 the Jesuit records state: "Our brother Ambroise was employed, from the 1st of May till the 20th, in preparing barley at notre dame des Anges, and the beer." So if the Jesuits were splashing around the beer and other drink in the second quarter of the 1600s, should it not be reasonable to assume the Recollets were doing so in the first quarter, too?