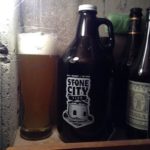 The last year has been the scene of many a revelation when it comes to my relationship with beer. Among other things, out of nowhere two fabulous breweries opened up in my immediate vicinity after years of claiming my town was the least served by fresh beer for its size in the northeastern bit of North America. One is MacKinnon Brothers which I have discussed before. The other is Stone City Ales who have a great social media presence and a website with great generational honesty. One feels a certain pain knowing one has kept a beer blog for over a decade appreciating that it's like knowing how to properly maintain an 8-track player.
The great thing about having local beer choices finally after a quarter of a middle-aged life waiting is now normal it is. I did my Saturday morning shopping run and hit Stone not long after the 11 am opening. I picked up a ridiculously under-priced Rochefort 8 at the LCBO to soak a flank steak from Pig and Olive in. Hit Bread and Butter bakery as well as the Quebec-based Metro grocery, too, with all its ever so slightly exotic tendencies and, then, home and unloading the making of a good feed. What has changed is that the good local beer fits in now as just a stop on the way. Nothing precious, special or even – frankly – craft. Just as good as all the other excellent stuff you can buy in my very foodie town.
I bought a growler of Stone's Windward Belgian Wheat. Eleven bucks after growler returns. It's a 4.9% cloudy thing. See that picture? Cloudy. I am working on my cinéma vérité approach to representing beer in my art. The beer gives off very evocative aromas. Is it just me or do some wheat beers smell like babies straight from the bath? Maybe its just me. I diapered for 14 years. Anyway, the scents are twiggy herbal – mace, rosemary and lavender – with cream of wheat and meadow in mid-spring. Maybe even oolong tea with its earthiness. In the mouth, there is a grassy acidic bite then a wall of dry French bread crust with more of all that rich tangy complex herbal construct. The effect is drying rather than astringent. Extremely appetizing. I would love to soak pork shoulders in this for the best part of the day and slow smoke it for another, too.
Early signs of BAer respect. Every beer from here is a favourite. As I found in last December's taste test at Bar Hop in Toronto, Stone's beers stand up to the best. This one is just another chapter in the same story. Lucky me.