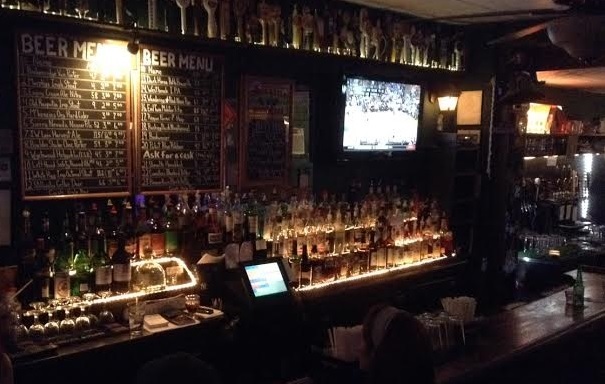 "Have you always been such a crank?" the bartender shouted with his back turned.
I was used to this sort of thing. All I ask for is a proper pint glass for my beer and I get abuse. Same treatment every time. Who needs to drink their beer from a tiny glass trophy? Not me. Sure there isn't that much different between a Chimay chalice and an old school beer US macro goblet from fifty years ago – but who wants to drink out of a little basin in a stick. Not me. I want a beer with a beginning and a middle and then an end. So I asked for the beer in a pint glass again. "But the brewery made this glass special for their beer. Wouldn't they know better than you?" He was looking at me now, holding the thing up, wiggling the glass from side to side.
I thought about this for a second but then shook my head slowly. "You aren't getting it, are you? It's not that it's just beer – it's my beer. I just want to hold it without looking like a dingbat, smell it with plenty of nose space and drink it without ending up staring at the ceiling. Is that too much to ask?"
He gave in and placed the dark beer in front of me. The beer only made it half way up the sides. Which was fine by me. Lots of swirling room. It's good to swirl your beer. There is something meditative about gently making circles on the bar with my glass as I sit slouched over it. Aromas making their way deep into my skull. Sip. Swirl. Sip. Swirl. Communion should be immersive.
"Hey Jerry!" The bartender looked my way. "How long have you been actually stocking those little fiddly snifter glasses anyway?" Instead of answering he walked right past me and pulled a book out from the shelf at the end of the bar then dropped it in front of me. He grunted something about page 110 and something about moron. It was The World Guide to Beer by Michael Jackson. First edition. Before he became everyone's answer to everything related to beer, whether he said it or not.
"See?" Jerry said as he passed by my spot while he served another drinker. "Any more questions?" Like a 1970s Playboy centerfold, there they were in all their touched up slightly out of focus glory. Six Belgian beers, five of which sat in their own distinct forms of stemware. The rounded chalice of an abbey ale, the thistle shaped glass for a Gordon's Scotch Ale. All great vintage beer porn. "A touch of elegance" Jackson wrote in the caption hovering over the pale lager.
"Touch of elegance? Sandwich tongs!" I shouted. Jerry turned and looked at me as if I had just shouted the words "sandwich" and "tongs" at him. "Sandwich tongs!!" I repeated now emphatically that I had his attention. "This is just like the caged cork bottle and the wax cap, Jerry, just a way to get another buck out of my wallet. It's no different than the precious branding, the food pairing suggestions and the all the other crap I don't need. Sandwich tongs!"
Jerry had given up listening half way through. He was serving someone else already. He didn't even seem my little mime act called "Man Using Sandwich Tongs." I went back to swirling and sipping for a while. Our universe was falling back into order. I was staring into the glass. He was selling beer. This dubbel was fabulous. Complex. Burlap and brown sugars. A sweater of a beer.
"Think of them like stereo speakers," Jerry said to the top of my head. I hadn't realized he was there. I looked up. "The beer is the music. You aren't going to play jazz on something that is all bass. And you aren't going to try to pound out heavy metal on something tiny and tinny. Each glass is shaped to suit the beer – even if it also has that branding on the side, too. It's not like the brewery is asking you to drink the stuff out of the mouth of a chicken-shaped vase or anything. Would it kill you to try?"
Just before he walked away, he dropped a glass of the same beer I was drinking in front of me – in its branded snifter. "Sandwich tongs" I muttered at his back even if I got his point. I had had stemware plenty of times. But… never this one… on a side by side. I sniffed and swirled and swirled and sniffed. A sip from one. Then the other. Then the first again. This wasn't bad. Not sure if I liked one better than the other but, yes, they were a little different. Hmm.
Swirl. Sniff. Swirl and sniff.