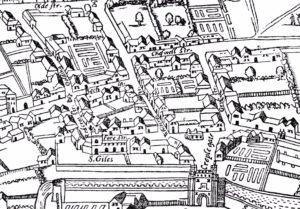 Up there, that is a detail from the Agas map, a wood cut map of London from 1561. In the upper right you will see Golding Lane. If you were cleverer than I am you would have noticed that in the last couple of weeks I mentioned Golding Lane twice. In this post, I referred to a court case about the improper pulling down of a brewery in 1680. And in this post, I made mention of the Golden Lane Brewery of the early 1800s, a brewery set up as a joint stock company. It took me a few days to realize that Golding Lane was the same place as Golden Lane – as is Goldyng Lane and Gouldinge Lane. It's still there but not much of the past remains. Its part of a district that was flattened by the Nazis in the Blitz. It's not very long, running the few blocks from Old Street south to Beech Street now as it did in that map above 454 years ago, in the suburbs of Cripplesgate Without, the north part of an ancient ward of of the City of London. One thing has survived. The church. St-Giles-without-Cripplegate avoided being taken out by both the Nazi bombers and the Great Fire of 1666. My hero and early Canadian beer man Martyn Frobisher is buried there.
Golden Lane and the immediate vicinity seems to be inordinately beery. Or maybe just that its beeriness is well recorded. That's the funny thing about records. Things recorded where the records survive gain as much importance as those breweries and brewing towns with a ripe habit of offering generous beer writer junkets. To be mentioned is to be important. Yet… there is something about the place worth considering. In Stow's 1603 A Survay of London it notes that the Brewers Hall stood a few streets inside Cripplegate, one of the gates in London's medieval wall. Stow states that the Company of Brewers was incorporated by Henry VI in 1438 but it was the brewers of London who built the gate in 1244.
I am not going to try to write about all the brewing connections to Golden Lane in one post. Let's start with something fairly manageable. The brewery which was torn down in 1680 by a rather self-confident tenant. You will recall from that recent post that the case of Greene versus Cole – both at trial and appeal – provided a lot of information about the place including how William Cole came to be the owner, as successor to one John Hilliard who himself received it as son an heir from his father John Hilliard who died in 1651. The son himself only made it to 1658 at which time Cole received it under will of John the father. But it does not stop there. Mike Brown in his article "Some named brewhouses in early London" published in Brewery History issue 144 identified a bit more of the brewery's history sets out a passage in a will probated in 1591:
To Robert Hyllyar my son for his life I give my messuage or brewhouse called the sign of the Flower de Luce lying in Gouldinge Lane, now in the tenure of Robert Allyson, brewer; and after his decease the remainder thereof to the issue of his body; for default, I will that the reversion thereof shall remain to the maintenance of the poor distressed people inhabiting within the freedom of the City of London in the said parish of St. Giles without Creplegate for ever, and the lease of the said messuage and brew-house shall from time to time be made by the good advice of the parson and Churchwardens of the same parish of St. Giles.
A more complete record of the will of John Hillar from 1591 can be found on line here. The brewery is said to be worth £6 annually. Richard the son of John was just 26 years old when he received the brewery in 1591. Which makes him a very likely candidate for being the father of John Hilliard who died in 1651. John (d. 1591), Richard (b.1565), John (d. 1651), John (d.1658) all owned the brewery on Golding Lane, which would be shown somewhere on that woodcut up there from 1561. Neato.
And it goes even further back that that as Brown in his article shows that in a will from 1407, a bequest was granted by Robert Gerthe to Agnes his wife to whome he left "a brew-house called 'le Flourdelys' in Goldynglane in the parish of S. Giles aforesaid for life." Flower de Luce. Flourdelys. Fleur de Lys. A brewery just outside the wall of London for at least 273 years, torn down 335 years ago.