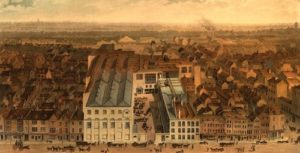 Like so many of the digitized records related to beer and brewing through the internet available to us now, Old Bailey Proceedings Online is a fabulous resource. One of the great levelers of the beery discourse is going to be more and more access to open records so that we won't be subject to the great man theory of beer too much longer. The down side is that the mass of data is going to require a careful eye aware of greater context as well as the skill sets required to receive the information in itself. This post over at The Many Headed Monstergive us a taste. So, it's just clean fun to come across a data set that one can really get one's teeth into given the career path to date. What am I talking about? I am talking crime. Crime like this evidence from a case from 1780 in which the evidence of Cornelius Murphy was received:
"I kept a public-house in Golden-lane . On the 7th of June, between six and seven o'clock, a great mob surrounded my house, some with swords and some with bludgeons. They came into the tap-room and had what liquor they wanted. They examined my books and were going off satisfied."
Was the prisoner among the mob? – "Not at that time. After giving three huzza's in the house they went down the street some way. One Clark and his wife called the mob back, and said I was a Papist, and they must down with my house. The mob returned immediately, and began pulling down the house."
When did you see the prisoner? – "About half an hour after they began he was in the bar, drawing the liquor and drinking it."
Had you ever seen the prisoner before? – "Yes; he had been several times at my house; I am positive he is the man."
Did you see him do any thing else? – "I saw him break part of the bar down."
What was the rest of the mob doing? – "Pulling down the house and drinking the liquor."
Court. Whether the mob were pulling down the house during that hour in which you say the prisoner was in it? – "Yes, they were."
Be particular in describing what they did to the house, the wainscoting, and window frames? – "They had iron crows beating them down."
Excellent. An anti-Papist crowd rips apart a public house and someone gets nabbed. The funniest thing is apparently the particular accused was sent into the riot to save the spirits, the hard liquor from being part of the bust up – by the distiller who sold it to the place. The guy got off because he was folloing his boss's orders: "he desired some of our men might go and assist him to get his liquor from the bar." Not sure I've seen "bar" used for a public house that early but someone will correct me, will be better informed.
That's what was going on on Golden Lane on one nutty day about 27 years before the image up there of the Golden Lane Brewery was created. You will recall Golden Lane and its ties to hundreds of years of perhaps unremarkable brewing history. It appears to also have associations with hundreds of years of drinks, ale and brewing related crime, too. What else went on there?
• A few generations earlier, one Joseph Towle, was tried for theft on October 10, 1694: "Joseph Towle was Tried for stealing 3 l. in Money, from William Underhill Esq ; at the Three Arrows Brewhouse in Golden-Lane ; the Prisoner was seen to come out of the Counting house, (being Cooper to the Brewhouse) and afterwards the Drawers were found open, and the Money gone; and he being strictly examin'd about it, confest." Sticky fingered coopers. How often do you see that? He pleaded that he was drunk but was sentenced to a good hand branding anyway.
• Martha Purdew , of St. Giles without Cripplegate was sentenced to death in 1720 for stealing a money bag off someone who offered her a lift en route to Islington when they stopped for a dram of brandy.
• In 1726, Albertus Burnaby, a brewer who formerly lived on Golden Lane was brought before the court to explain himself for defrauding his creditors while being a bankrupt. He was acquitted for a lack of evidence.
• In 1752, Thomas Barnes was sentenced to transportation for stealing a silver tankard while at a public house on Golden Lane: "On the 26th of December, about three o'clock in the morning, two men came in and called for three pints of beer: before the boy could get down into the cellar, one of the men said, I am surprized to see you so dilatory, to be up yourself and have your cellar window open, than opens in the street: immediately the boy, in the cellar called out Aunt! Aunt! here is a thief in the cellar. I ran down, saw the prisoner at the bar, with a silver tankard in his hand…"
• One more. In 1766, Sarah Stanley was sentenced to death for stealing money from her employer, the keeper of a public house. When confronted, a scene ensued: "She equivocated a great deal, and said she knew nothing of it; at last she said, they were at the foot of the bridge; in going, they met them both together accidentally by Cripplegate church; I was not there. They went in at the Ship-ale-house, in Whitecross-street, and I and the constable were sent for. The father used me there in a very abrupt manner; he pushed me down flat on my face, and threw beer over me and another…
It's all so fabulous. In that last case, the details include one drinker testifying that "I had a pint of beer; I said to the girl, put a bit of toast in it…" while the tavern keeper cried out in despair "I am ruined, I am robbed of all I got; it is not mine, it is the brewer's money". Hints about serving options and the business of running a tavern all hidden in the sad tale of the thieving serving lass who met her death. Not to mention the glamorous testimony "I felt a knob in his fob." Fun stuff. A great source of 18th century low life and public house manners – not to mention Stuart and Georgian sentencing horrors. The otherness of the past laid plain before you.
Image #1 for Note #5 below in the first comment: