I didn't expect this. Another brewery across the street. According to the folks selling a copy of the image, the map is likely originally from 1811. It shows a bit of Golden Lane on its side. Left is north and right is… OK, you don't need being told that. So The Crown Brewhouse existed to at least 1811. And a policy of insurance was taken out by one Edward Bond in 1779. John Strype's in his work A Survey of the Cities of London and Westminster in 1720 is not being very helpful in that he writes this about Golden Lane:
Golden lane, of no great Account, either for Buildings or Inhabitants. It comes out of Redcross street, and runs up into Oldstreet; but the part of this Ward, goeth no further than Angel Alley, which is by the City Posts. The Courts and Alleys in this Lane, are, Jacob's Well Alley, very mean. Cocks head Court, pretty large, and well built; hath a Door and Passage, by sufferance, into the Redcross Tavern in Barbican. Black Raven Court, pretty handsome, but small. Crown Court, a good open Place, Sun Court, long, and in some places pretty broad: It runs into Red Lion Market, which is in the Lordship. Near to this Place is the Sun Brewhouse; as also Three Arrows Brewhouse, both of a good Trade. Dinon's Rents, very small and ordinary. Vine Court, indifferent good….
But then says this about Redcross Street immediately to the south of Golden Lane, continuing the north south route below the cross road of Beech :
Redcross street, wide, well built and inhabited; it comes out of Barbican, and runs up to Cripplegate Church. Besides the Courts and Alleys hereafter named, here are several large Brewhouses, which, by the Map, seem to be Courts. Three Herrings Court, pretty large, but ordinary. Red Lyon and Axe Inn, but indifferent. Three Faulcon Court, very good, and well built, with a Free stone Pavement. Cradle Court, pretty large and good, falls into Bowling Alley in Whitecross street. Pauls Alley, very long, with some pretty handsome Houses, fit for good Inhabitants; and runs into Aldersgate street, by the Half Moon Tavern. The Crown Brewhouse, of a considerable Trade. Bear and Ragged Staff Alley, very ordinary. Frying Pan Alley, very mean. Ship Yard, but ordinary.
The Crown Brewhouse off Redcross? He's got it a whole chunk of the city to the south. Fine. I am not going to bother my pretty little head right now about where the Crown Brewhouse sat. Look at the reference to Golden Lane again. There is the Sun Brewhouse and the Three Arrows Brewhouse. Careful readers will recall that Joseph Towle was sentenced to the branding of his hands from stealing from his employers at the Three Arrows Brewhouse in 1694. Even more careful readers will have noted in the comments me trying to figure out where Sun Alley was and, other than being a nasty place in 1756, what its connection to the site of the Golden Lane Brewery was while Martyn gives me guidance.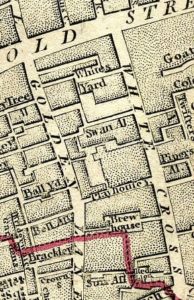 Perhaps another map will help. This is a wee bit of "Cary's New And Accurate Plan Of London And Westminster" from 1795 which shows a few things. First, clearly Sun Alley is marked to the lower right. It comes off of Golden Lane and goes east to the Red Lion Market on White Cross. The southern arm of Golden Lane Brewery in the 1807 lithograph and 1827 map clearly sits on north side of the same lane running east to Red Lion Market. That southern arm also sits south of the dotted line on both the 1795 and 1827 maps. Because that is the northern extent of the City of London. Which means the Golden Lane Brewery which was an expansion of Combrune's Brewhouse with a history going back to at least 1792 may itself have been build in the site of the Sun Brewhouse. Maybe. Second, there is a place called Brew House Court or Close, mid-block immediately to the north of the Golden Lane Brewery site. What the heck is that?
This map from 1720 isn't much help nor is this one from 1700. The map of 1801 doesn't give me much more than is on the one from 1795. Oh dear. Think I need to sleep on this and ask myself what this is all about.