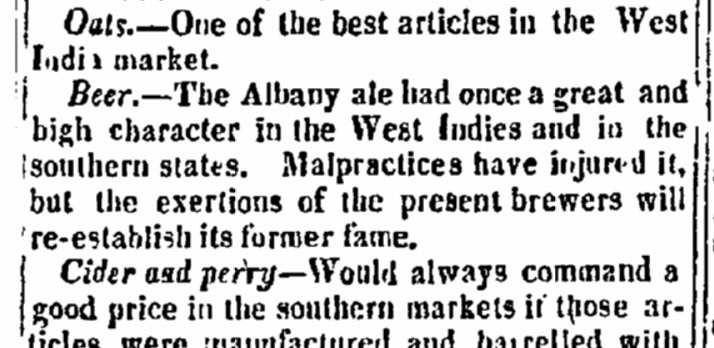 That is from the 3 April 1820 edition of the Albany Gazette. Harkening back to an earlier era when Albany ale had a reputation – "a great and high character" – in the West Indies and the southern states. I think this both confuses and confirms a number of things. Not sure. It's located in the schedules to a report of the Commissioners appointed to devise a plan for improving navigation on the Hudson river. It's in a list of products that could be shipped were the river just improved. So, yes, it's about a bit of the brag up – but it's still a curious thing:
1. Who was brewing the better beer before 1820 that was called Albany ale? Le Breton only posted his first ad in 1803 and it's two years later when "Albany ale" was used for the first time as far as we knew when the book was written. Is 17 years enough to justify such a harkening back to an earlier era?
2. Who was shipping it to the West Indies way back in that golden era? We know that NY City brewed porter was shipped to the West Indies in the first years of the 1800s but did we know that about Albany ale?
3. What's the dip in reputation? In an article in the Albany Argus about LeBreton passing through town in 1822, we are told "the repuation of the Albany brewers has long been established in New York." Does the report writer mean that the West Indies markets were lost as opposed to the beer went off?
This is obviously a plea fro Craig and Gerry to pipe up and have a think. Is this just the same old 1820s river navigation improvement consultant talk? Does it just relate to the general post-war economic decline? Or does it actually mean something specific?