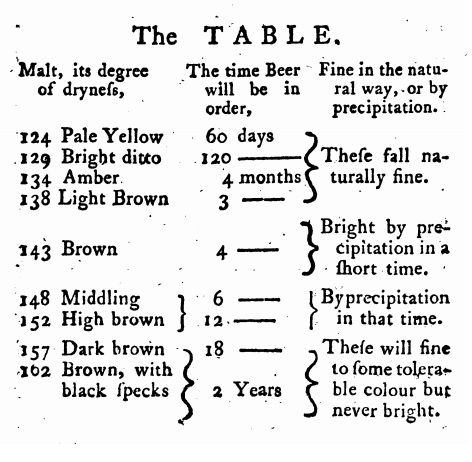 I've been thinking about Samuel Child's 1768 work Every Man His Own Brewer, Or, A Compendium of the English Brewery for a few days and particularly its fine narrative flow. Consider this brief passage in the preface:
I was once on an election, at a certain borough in Wiltshire, and, in the course of our canvass, drank sometimes to the amount of two quarts of beer in the forenoon, not only without sensible prejudice, but that it rather mended my health, and gave me brisk spirits. As I had not been used to drinking, especially in the morning, I admired at this, and found, on the most strict scrutiny, that nothing was used in this liquor but malt and hops, and that its happy vinos flavor was merely the result of good ingredients, well cured, a fine a fine chalk water, and not being too much boiled…
What a lovely way to introduce the basic idea of beer, a bit of knowledge that has been repeated in pretty much every book on brewing and good beer in the intervening 249 years but seldom stated so well. I have dug around in brewing texts from before 1800 hunting for facts about fern ale or that fib about smoke-ridden gak that so many beer experts erroneous suggest was the state of affairs back in the era that, you know, the expert never much studied. But I have not thought about the texts as writing or even read them from beginning to end. Maybe only for Coppinger because he was such an odd duck. 
I'll do that, save the text to a reader of some sort. But right now look at the table up there. It's from page 37. First, I love its title. The TABLE. As if Child would have added a few exclamation marks. As if he was just figuring out how to make a table out of HTML. Yet… there is another table also titled "The TABLE" just seven pages later. The thing I like next best is how it is immediately bragged up by the author:
These are hints sufficient to guide any one in the choice of his malts, as it respects the color of his beer, and the time it will be fit for use if judiciously brewed; and the experiment is to be made in the kiln as soon as the malt is perfected, and used as soon after as possible to preserve the genial spirit.
Brew with the malt as soon as kilned to attain the desired colour of the beer. Which means nine grades of beer brewed from any given malting should be considered attainable. Child then over pages and pages describes many sorts of beer: "London Beer under the name of Porter," London Amber, Burton Ale, table beer, oat ale, Marlborough beers, Dorchester beers, Nottingham beers, Western White Ale.
The variety is quite extraordinary. As a whole, the book frames not so much the state of British brewing in the decade before the American Revolution, at a point before traditional brewing shifts to industrial with the shift to steam power starting with Whitbread in the 1780s as it now provides a guide how to go back and recreate them from the few basic elements he first considered on that election campaigning in Wiltshire. Including, towards the end, exotics including three pages on Brunswic Mum  and a shorter passage on Newfoundland spruce and molasses beer.
It would be a great project to annotate and experiment with the techniques described in the book. It is, after all, only through the use of a guide that one figures out if its any good or not.
20 December 2017 Update: Martyn has indicated in the comments below that the author is a euphemism for an unknown. Let us examine what we can find out. Below is the frontispiece for the third edition… GO!!!!