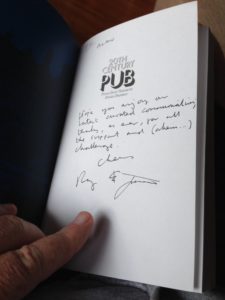 I have been doubly flattered by the firm of Boak and Bailey this week. First, I received my copy of their new book 20th Century Pub with the lovely inscription you see to the right. I had asked that they write something accusatory but, as much to their nature as their credit, they are kinder than I deserve.
Second, I has set them on a task and they have taken it on gangbuster style. For some time I have thought about the Amateur Winemaker books from the 1960s and '70s which, as I discussed in edition #15 of The Session, were my first recourse when I wanted to learn more about good beer. Thirteen years ago,* I wrote about the triad of Berry, Shales and Line as illustrated below. As far as I can tell, they had a massive audience for their writing about homebrewing (i) from grain and (ii) in a wide variety of styles (even if "style" has not been invented yet) but other than five or six books, I have not had access to any of the actual magazines.

C.J.J. Berry, Ken Shales and David Line
I have been so obsessed I have saved C.J.J. Berry's obituary (or a recollection I found on-line) from 2002 and was delighted to see that his son-in-law responded in the comments. Note 1: C.J.J. Berry's book by 1984 had sold 650,000 copies. Note 2: in his book, Ken Shales (who died in 1971) includes a reference to lambic – but then does nothing with it! Weirdnesses abound.
Well, B+B found an issue of the magazine and posted their findings today. Fabulous. A beginning. My expectation is not that pursuit of this untapped vein will overturn history but enhance it. The magazine ran for almost thirty years from the 1950s to 1980s. And for perhaps a bit more than the last half of its life ran discussions on beer. That means there may be almost 200 issues to review. Big project. Hard to manage alone. Hard to manage from the left side of the Atlantic. Do you have a copy of an issue laying around? Get it and write about what is in it. Very exciting. For a beer nerd. Like me. Who poses (ahem) challenges…
*Christ!