Another topic sure to capture the attention of the good beer crowd… even though it is becoming apparent that there are only good beer crowds now.  Or perhaps another topic to just shelter me from all the other stuff flying around. Hmm. Perhaps a contemporary account* of the romantic of life the sea will will add a bit of zip from the outset:
…their bread was musty and mouldie Bisket,
their beere sharpe and sower like vinigar,
their water corrupt and stinking, the best drink they had, they called Beueridge, halfe wine and halfe putrified water mingled together, and yet a very short and small allowance…
That opinion was from William Clowes, the Lord Admiral's surgeon, reporting in 1596. Not quite the "yo-ho and a bottle of rum" thing the likes of Pirates of the Caribbean would have us think. But, if we are honest, we never suspected the life of the Elizabethan sailor was a kind one, did we? While a gallon of beer a day seems insanely generous, it's not as compelling now we know it was like drinking vinegar.
So, what was going on between 400 to 500 years ago in the ships of the English navy when it comes to beer? One thing we know already is that they aimed at taking along a gallon of beer for each person on board for each day. We know that because, as I first wrote in 2014 and mentioned again in  the first issue of MASH magazine,  Sir Martin Frobisher provisioned his voyages in 1576-77 to the Canadian High Arctic with that much beer. This was a pretty fabulous expedition, funded by a company of investors made up of aristocrats and even "QE the 1" herself. So they also got to take along two firkins of prunes and other treats.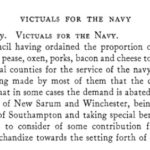 One other thing we always like to see is the reference to malt. If you click on the thumbnail to the right you will see a record from a record for 18 January 1596 from a sort of annual journal of notable events from the day in which the need to ensure the provisions of the navy was discussed at some sort of vague high level (aka "the Council") and included malt among the other provisions including pease and cheese. Perhaps not a firkin o' prunes but still a pretty good list of foodstuff for the ships. This is a very good thing as I have, in the past, noted malt in shipments to Newfoundland at around the same time. Which is very cool. Because to ship malt is to prepare to make at least ale if not beer. If they are shipping the malt.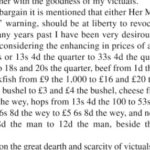 In a set of papers entitled Elizabethan Naval Administration edited by Knighton and Loades and published in 2016, we see this passage in a report from Edward Baeshe, General Surveyor of Her Highnesses Victuals for Sea Causes** dated 23 July 1586. In it Mr Baeshe complains of losing money on his agreement to supply and is invoking, quite politely, a right to terminate early. He points out the prices he has had to put up with including malt at eight to twenty shillings a quarter as well as "hops from 13s 4d the 100 to 53s 4d the 100." The report is made to the Right Honourable the Lord Charles Howard, Lord High Admiral of England with a copy to Sir Francis Walsingham, Elizabeth's principle secretary, so it is not a small matter. It seems Baeshe has supplied such victuals to the navy for forty years but is now having to stop seeing as he is losing money on the deal. A footnote from Messrs Knighton and Loades tells us that the price of all grain rose 71% from 1580 to 1586 so his case appears well founded. These were the years leading up to the destruction of the Spanish Armada. Another footnote related to 1562 tells of the nimbleness in which malt at scale needed to be obtained for government business:
Extra provisions were required in the north in anticipation of the Queen of Scots and a train of 1,000 en route to an interview with Elizabeth. Articles for the meeting at York or as far south as Nottingham, were concluded at Greenwich on 6 July. On 8 July the Privy Council*** ordered 200 quarters of wheat and the like of malt to be bought in Buckinghamshire and sent to Berwick. Arrangements were still being made on 12 July, but the meeting was cancelled three days later…
Scale and speed. Interesting to note how the movement of large quantities of malt was a thing, thinking back to 1600s Derby ale. We think of brewing only as an industrial process at scale starting in the latter 1600s but forget the earlier public sphere. Incorrectly. Henry VIII add four new breweries in Portsmouth to supply ale for his fleet.**** We know this because the BBC said so. Other naval brew houses were also built in East Smithfield and London. The four additional breweries built in Portsmouth in 1512 were the Rose, the Lyon, the Dragon and the White Hart and were reported to be "the goodliest" ever seen.***** the year after they were joined by ten storage houses to keep the ale the beer from spoiling before being loaded on board.
These were important brewing facilities. They sat on the one water source which, on 7 December 1562, became the subject of the following by the borough of Portsmouth:
Also where as many indiscret persons not considering the quenes ma(?) affayres nor their owne helthes nor ye comodity for the hole town, hath usid and yet do use to wash both bucks and up(r) clothes in the diche and springs of the iiij houses. We geve in charge yt none hereafter prsume to do the lyk in paine for x(?) for evry offense.
All of which is very interesting. You have a brewing complex that brings in large quantities of hops and malt and strategically protects its water supply. I was going to add more to this post but I think I am going to leave it here as an introduction so that I can go off and explore this a bit more. It leads in neatly to the idea that in the 1600s before industrialization there was certainly organized brewing at scale as we saw with Derby ale. It may be that bulk manufacturing for military purposes in the Tudor era is an early example that later gets applied or at least mirrored for commercial purposes in the next century.
One thing I want to see if I can find about is pre-hop ale use on naval ships. You will recall that the earlier we go back in the 1500s the closer we get to the practical acceptance of hopped beer. Which makes me wonder if there were ale brewers on board before a certain point, preparing fresh ale for consumption by the crew within days – like might be found on farms and estates or in contemporary brew houses. Gotta see what I can find out about that. In the meantime, more 1500s beer and brewing here.
*See Tides in the Affairs of Men: The Social History of Elizabethan Seamen, 1580-1603, page 298, 1998 McMaster University Phd Thesis by Cheryl A. Fury.
**Clearly the greatest title which was ever bestowed.
***Clearing up the "which Council?" question above.
****The first built by his father Henry VII in 1492. Note in a note: 1492 – Brewery ordered built by the King. Called the "Greyhound" it cost £145 and was probably situated in High Street.
*****See Tudor Sea Power: The Foundation of Greatness by David Childs (Seaforth Publishing, 2009) at page 96.