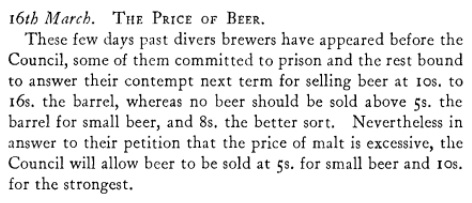 Not that I wanted to start up paying attention to the news about beer for this century again… but the time it takes to get one of these early modern posts out sorta leads me to wanting to provide some in-fill. I mean it is exciting stuff but how many tales of hegemonic Euro-explorer types getting scurvy half way across the Atlantic can you take? So…. here is some more Monday in-fill!
First, note that "Grainews is written for farmers, and often by farmers" and late last week they published a fairly detailed article on hop growing in Canada's easterly and fairly northern province  of Quebec. An interesting and practical introduction to growing at the edge of viability. Note: "Craft brewers want good quality, but are not worried about consistency year to year…" Somewhat self-evident but interesting to see it confirmed at the farmyard stage.
News this morning has come that two huge Canadian conglomerates have swapped dozens of local and regional papers… and then promptly shut down many of them. And with those papers go a large number of columns including the excellent one on good beer in southwestern Ontario published bi-weekly by Ben. Sad to see but, as you can see from the list, this is a bigger shift hitting a wide range of communities, not just beer geeks.
I trust that no one cares about this.
Whenever I read about how awful UK beer prices are I stop and think how wonderful it would be to be pay what they pay for beer in the UK. We seem to have over 50% higher prices for decent beer and, given we tip, that prices is likely pushing 75% over the course of an evening out.
Prepare ye for the new style "sub-session" if this proto-fad gets traction:
With session beer having taken off in the US and the low-alcohol sector on the rise, Grundy and James hope that their new beer, with a lower ABV than is traditionally associated with session beer, will deliver in flavour what it lacks in alcohol. The pair are launching two new lager beers into the UK market: a Pilsner-style lager made with British malt and Saaz hops (2.1% ABV) and a dark lager (1% ABV) described as having "dark berry fruit on the nose" and a "coffee-like palate and smoky finish".
Hmm. I fully expect this will be gak but, as we have learned from certain things named New England, selling gak with a backstory seems to be suddenly compelling to a significant sector of the beer drinking public.  My advice? If you want something with a coffee-like palate and smoky finish go to a diner that still has a few old guys sitting in the smoking section and have some joe.
Finally, the continuing testiness over who should write what about good beer has led to this fairly incoherent tweet from an other wise semi-reliable largely sensible source. Belief-based expertise extrapolation is a dangerous thing. But this sorta stuff breaks out regularly. Consider this from 2009 as well as this along with this from 2016. I sense we are in a slightly counter-reformation moment in which a retrenching is occurring, a rejection of a wide range of opinion is being played out. These are tight times. The other day, I responded to a known name over a spat involving another known name and my first observation was that I presumed one of the parties was stone broke. S/he was. Remember that and take it into account when these things flair. For all the niceness of good beer, the lack of the overall trade's generosity to the thoughtful and independent writer is a bit astounding.
Well, that is it for now. Maybe I will do this again next Monday, too. Might the foray lose its rarity? Who knows?