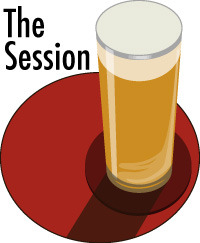 One of the great things about the internet is the Wayback Machine. When I had to do some fancy footwork in 2016 to move the content of 13 years of two blogs in a matter of weeks, I spent hours and hours determining what I needed to save before the deadline hit and the server was unplugged. Months later I learned that it had all been saved, warts and all, care of the Wayback Machine, part of the Internet Archive project.
Which makes this entry for this month's edition of The Session – ably hosted by Roger's Beers – a few things: (1) a reminder that internet beer writing did not start in 2013 or so, (2) a celebration of non-fruit filled or gak-laced adulteration of a style and (3) a reminder that a fairly broad range of the style was available to Ontarians 13 years ago. Wow. Look at those photos. I really cared. Wow. Look at those spelling mistakes I just fixed. I really didn't care all that much.
++++++++++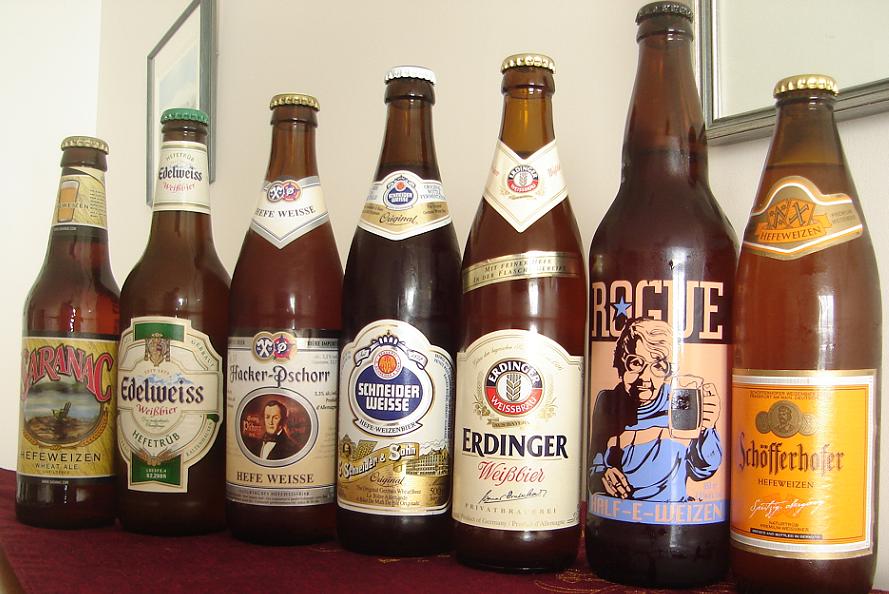 A real surprise was in store when I hit the LCBO the other day preparing for a dinner party on a stinking hot summer Saturday. They had actually brought in a bunch of extra hefeweizens, southern German wheat ales with a measure of yeast left in.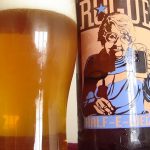 Rogue Half-E-Weizen: a loose rich white head falls to a white skim leaving generous lace over a slightly cloudly yellow straw body. Coriander and hops balance well, their bittering leaving some astringency while the lightly creamy yeast with its presence of banana intercedes. A medium light version of the style without the German commitment to full bore clovey creamy goodness. $5.05 for a 22 oz bottle.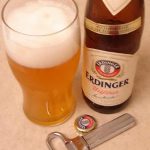 Erdinger Weizen: I am a little unsure if this is a real hefeweizen as the labeling is "weissen" but the little neck sash says "mit feiner hefe in der flasche gerfeift" which in my hack German I take as "with fine yeast left in the bottle". Even with that the nature of this beer still leaves me wondering a bit. White foam over cloudy yellow leaving no lacing. Light body without the phenol of banana or spice that indicate the style. A clean cream yeast without complexity but very refreshing.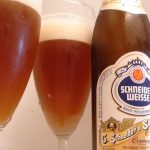 Schneider Weisse: This is the business. One of my favorite beers that for some reason screams "lunch" with a cold cut sandwich. How many things scream that in life? It is rich and creamy good with lots of cloves and banana. A fine white head over medium brown with almost a greyish tinge. As befits the style, very moreish and heat-wave cutting.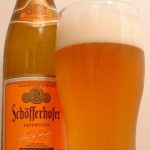 Schöfferhofer Hefeweizen: this hefeweizen pours a tall egg white meringue over cloudy straw ale. A layer of hop astringency cuts and to a degree hides the yeasty phenol of banana and clovey nutmeg. Not as rich as others from Germany in the style though richer than the American cousins here. Lemony grapefruit in the finish.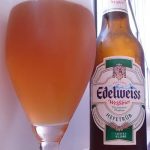 Edelweiss Weissbier Hefetrüb: white foam over dark yellow or light brown cloudy ale. Simply lovely. Lighter than the Schneider Weisse with a lemony brightness it does not share. Clove aroma and banana-clove in the mouth. The brewery has had only 530 years to get it right. Clean finish with a nice drying hop astringency.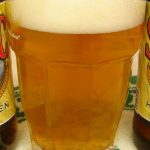 Saranac Hefeweizen:I am quite surprised by the quality of this beer. Not as creamy a yeast strain as the others but much truer than the other US version of the style from Rogue above and Harpoon's version tasted in April. It would be worth comparing to Paper City's Cabot Street. White fine rocky head over cloudy straw coloured beer. Quite pronounced clove over banana. Worthy yet the label says limited edition.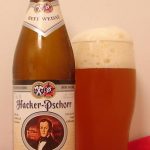 Hacker-Pschorr Hefe Weisse: The last of this set, perfect on a summer warm evening with a game from Fenway on the tubes, soothing to aches and pains from old timers soccer. Neither lemony or particularly creamy, this is quite a grainy rendition of the style with both banana and clove as supporting class. Massive rich white head over cloudy dark straw beer verging on orangey. There is something savory as well in the palate, making me thing of soaking a pork roast in this one. Of the selection above, most like the Rogue with that beer's untraditional use of coriander but the notes of spice here are in the yeast. Another amazing expression and, for what it is worth, one of the best logos in all of commercial trade.
What an enjoyable inquiry. Hefeweizens are, what, the Rieslings of ale? Like Rieslings with their minerally edge, hefes take a little time to learn about but they are a world unto themselves. And they both go with sausage and sauerkraut – a beer for both summer and fall.