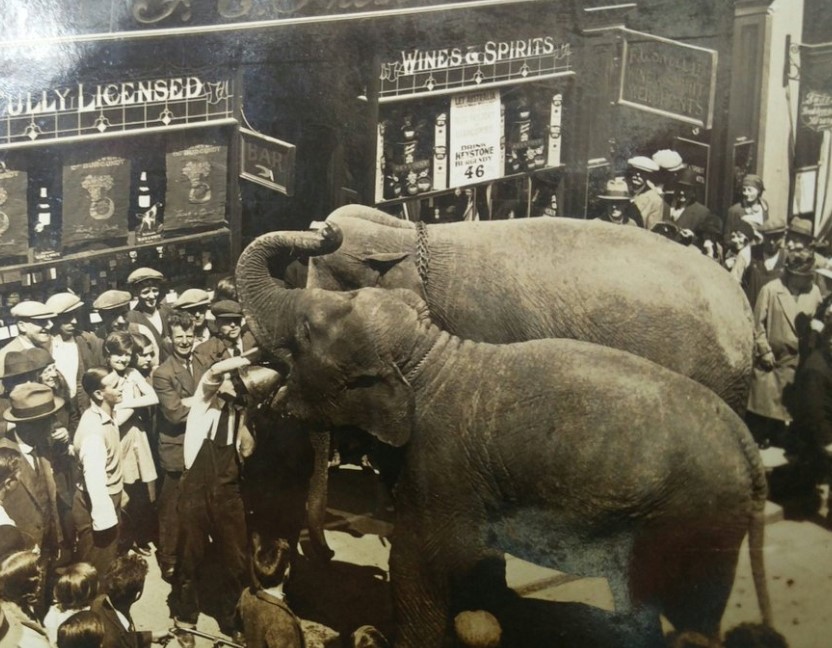 I tried to avoid the internet on the afternoon of Tuesday, 3 July, given every English beer blogger was (i) drunk and (ii) getting a little jingo-tastic. Not to mention getting ripped off. Good to see they didn't choke… again. I'll have the Saltire, the Lion Rampant as well as the blue and yellow Nordic Cross for their next game, Saturday.  If I can get out to the yard to set up the flag poles. It's supposed to be well into the 30s Celsius today, over 40 C with the humidex.* That's well past beer weather in my books. Pint o' club soda with a splash of gin weather. Maybe.
The funniest thing of the week was when the BA "liked" this tweet from me about the BA wasting its lobbying resources efforts on personality politics.
Speaking of bad BA decisions, the idea of partnering  with a classic big macro, fast food chain at the Great American Beer Festival has boggled minds.  Nothing says "craft" like shopping mall food court quality chicken wings. If you read the book,** you would understand that the goal of the transition from micro to craft in the mid-2000s was using discourse control for the great cause of money. So, the idea that big craft could pass on an opportunity to team up with a firm like Buffalo Wild Wings is what we call a poor idea. There's a lot of SNPA to sell in them there parking lot restaurant. Actual small craft might have many questions. My question is (i) did they put the opportunity out to the market?; and (ii) what did Applebee's bid? OK, two questions.
Update: Of two minds. On the one hand, struggling to be pleasant while in a bit of a tight spot. On the other, marbles lost but quite likely for good reason.
Better news. Love the campaign. Need the change. Not sure about the accreditation. Who are the scrutineers? How many will be on the ground? What does accreditation cost a pub? If it does cost something (and how can't it if it is to be done properly) who heads the scrutineers, oversees the standards and hears appeals to determine if allegations are valid. Who gets sued when the process goes wrong? Like when a pub, falsely rebuked, left with its reputation harmed? Does this overlap with a Human Rights Commission mandate?*** Managing this important process well is as important if not more to the integrity of the cause as raising the issue in the first place.
Better still. The Morning Advertiser published James Beeson's strong argument for the one proper use of the term terroir in relation to beer:
In Tongham, Surrey, Hogs Back Brewery grows 15% of the hops used in its beer on the farm site – including an historic local variety not grown anywhere else in Europe – and sources a further 50% from within three miles of the brewery.
Fabulous. Fortunately, as the keen eyed might have noted, I live usefully close to one of the best examples of local focused brewing, MacKinnon Brothers. Best? They grow the barley, too. Best.  Wonderful. Makes me spend my money. How do you set yourself apart as a local brewer? The sort of brewer that doesn't partner with BWW? Grow your own damn barley.****
Reminder: #TheSession is this Friday and the subject is German Wheat Beers. That is tomorrow. Tomorrow, folks…
Hmm… How to sell beer to anyone? Just like with the example of the Buffalo Wild Wings deal, the restructuring of good beer culture and concurrent redirection of focus from consumer protection to trade advocacy is almost complete. The latest NAGBW newsletter asks us to "spot great industry coverage" and the BGBW has only one category left for "Citizen Communicator" – whatever that is. I will have to have a word with Pete. Andy noted this sort of creeping problem as far back as 2008. In 2010, the BGBW goal was "to reward the very best beer writing, irrespective of where it comes from or where it's going." In 2011, there was only one BGBW award category with the focus on "the excellent work to promote beer which is produced by or on behalf of brewers, pub companies and other related organisations." Not sure that is the case now.
Why do I care to have, you know, an opinion? Primarily because it all leaves the impression that good beer writing requires you to quit your job, chase the dough and either find a position in the brewing trade or at least go freelance which inevitably requires the junket to tell the naturally compromised junket's tale. Original independent consumer-oriented personal interest writing is far more… interesting, no? Who are the best? Who needs to be celebrated a bit more? Not me. I can't even get my Holls and Halls straight.
Conversely and for equal time, "why draw lines in the sand?" asks Matt. Isn't the answer now and forever "Buffalo Wild Wings"?
Speaking of praising fabulous things, I think this is one of The Beer Nut's***** finest posts, even though I am sure I say that every seven months. There are only two reasons that one should not post beer reviews on line: (i) you have read The Beer Nut and know you are never going to come close and (ii) you are a 'fraidy cat who thinks "hmm… maybe I need to quit my job, chase the dough and either find a position in the brewing trade or at least go freelance…" Fat chance that sort of mindset is going to ever come up with this sort of sweet honesty:
The mere 4.6% ABV is further evidence of inauthenticity, but it really kicks in from the aroma: sweet and sticky like a lemon meringue pie. The flavour is pretty much the same, adding a touch of banana foam sweets. The whole thing is weird and artificial. Contrived; and bound to upset any Germans who come to Bar Rua looking for a weissbier. This experiment didn't work out.******
Oh, that image up there? Best. Of. All. Elephants being fed buckets of Bass ale in 1931. What is not to love about the image of elephants being fed buckets of ale in the mid-war era? Whenever and wherever there is a schism in the good beer world I shall be on the side of images of elephants being fed buckets of ale!
What a week! I wonder if there will be any more soccer coming up on the TV… I wonder if Neymar has another limb to get amputated mid-match. Remember: you can catch up with the news on the weekend with Boak and Bailey on Saturday and then find out what happened over the weekend with Stan on Monday.
*Hey, that's Canadian!
**Or read this blog… ever…
***Our human rights laws in Ontario protect against discrimination in the provision of services and provide a cheap, professional and transparent process to bring a claim of discriminatory treatment in a retail business setting like the drinks trade. Employment situations, too, as with this example.
****Isn't it time to pick sides in the craft schism? Isn't it?
*****Surely one of Ireland's greatest fluids-based pleasure writers. Anti-Jacksonian.
******Conversely, see the knots that can get tied over calling something "fine."