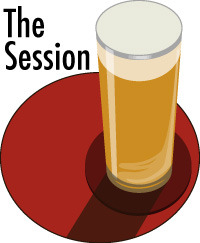 My reaction was immediate when I heard the news:
At first I was afraid, I was petrified…
Kept thinking I could never live without you by my side…
In fact, I was so strongly moved by the idea of shutting down the sentence that I tweeted out my congratulations to Stan and Jay on their retirement, as opposed to that of The Session – the monthly collective writing exercise that has been a constant in the last 7/8th of the history of beer blogging. But then Stan and Jay wrote to tell me it really was time to let go. I wonder if they are right. They might be.
My problem is not that beer blogging is one type of writing in a broad range of formats.  It's the only one that provides for long form creative writing on anything that strikes the author's fancy, without concern for pay or editorial intrusion. The Session was one way that the fellow minded stayed in touch with each other. Interestingly, Jonathon Surratt is reviving another old tool – the very former RSBS – with the same goal through his new beer aggregator, readbeer.com.
I think there is a place for such things. Folk new to writing need encouragement. Folk with opinions need a venue when their writing is more personal or quirky than editors will pay for. Despite more ways for more people to express their thoughts about beer, there is an unfortunate drive to homogeneity driven by the unreasonable hope of some day making some sort of living from beer writing. Wasn't likely when The Session was new. Likely less likely now. It's a side gig for 98% of us. A fun gig, sure. But that is sorta it.
There is nothing wrong with this. Writing is a pleasure. Sharing your writing is a way to make that experience richer. Maybe Jay's work on The Session will continue in another form. Maybe not. Either way link you writing to readbeer.com so as many people as possible can find it. If you have enough interest in writing you should have interest enough in putting in it front of a few more eyeballs. Sign up.