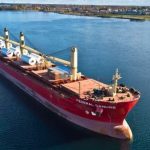 Did anything really important happen this week? The USA slid a bit to the left on Tuesday. But only a bit. Me, I slid to the west and the north, taking time to visit two breweries over the last seven days. MacKinnon Brothers of Bath, Ontario and Brassiers du Temp of Gatineau, Quebec. Each had a harvest ale. MacKinnon's is its third edition and is called Harvest Ale 2018 while BDT's is Obwandiyag.* Each was all about local ingredients. Plaid as well as toques were seen in each tap room.
One other thing that happened, as reported in the Watertown Daily Times of mighty and nearby Watertown, New York was the delivery by sea and seaway of "vats" for an unnamed central New York brewery. I assume this means fermenting and aging tanks for FX Matt but I could be wrong.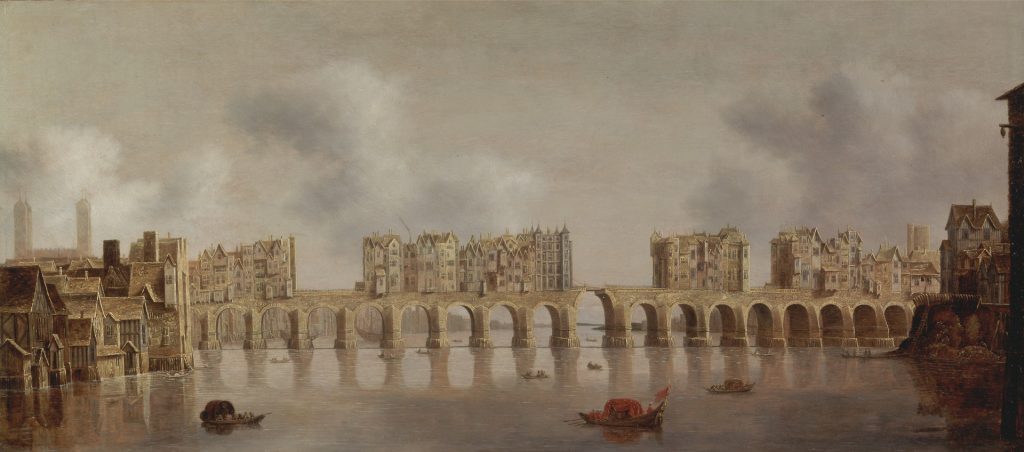 Annoyingly, this image of London Bridge from 1632 flew by on Twitter this week. Annoyingly, I say, as the painter seems to have framed the left of the image on the eastern property line with that proto-German trade mission called the Steelyard, the likely location of the first hopped beer consumed in England no doubt by Hanseatic sailors perhaps as early as the thirteenth century.  It does, however, wonderfully set the immediate scene.
As a man who has high hopes to get much much older, I found this discussion of  the role of the UK pub in addressing adult male loneliness fab:
As the UK population ages, the number of older people at risk of social isolation and loneliness is on the rise, which can have a detrimental impact on physical and mental health outcomes for older adults. Evidence for 'what works' in reducing loneliness and social isolation among older people is limited, especially for men. Hence, we turned our focus on the role of pubs and their potential to reduce loneliness and social isolation for older men.
Speaking of old men with high hopes, I thoroughly enjoyed this interesting post from Mudgie and a vibrant conversation in the comments – all on the way changes have caused his well loved local to go off track:
None of these are in themselves showstoppers, except when United or City are on the telly, but added together they make it a pub that I find much less congenial than it once was. If I was showing someone around the area, I'd take them in there for a pint, not least to show them the largely unspoilt interior, but I don't personally care to drink in there. 
Conviviality. Is that what we want? That and little more, I'd say. Certainly not being chained to a pub. This week… relatedly… perhaps… somewhere… I saw a link to a chestnut of Pete's from an OG recent past and I was a bit shocked to see this:
Beer helps us express ourselves and mould our identities. It doesn't need dancing bears and croaking frogs to do that.
Oh, dear God. No. If beer is shaping your identity you may be a entirely earnest struggling** beer bubble beer writer… or an alky [… or both!] Isn't even loneliness better than that? But I would hope that you, like me, think of beer like maybe having a cheesecake or perhaps going to see a movie once a week. Or getting, like Jeff, engaged politically. Beer? A momentary escape perhaps but certainly not something core to identity. Life is too short for that.
Dear God, no #2: non-bubbly spiked 'seltzer'!
Pura Still is a malt-based beverage, like beer but without the color or the hops. It contains a "splash of coconut water" and hints of fruit flavors. It will launch next month in three flavors: Mango, Blackberry and Mandarin Orange.
Western civilization just out-suckered Sucker Juice!! Somewhere some wannabe influencer is trying to figure out how to be the leading authority on non-bubbly spiked seltzer. While they still can, guidance officers really need to help our high school drop outs so that they don't end up doing that sort of thing. Best of all, given it is malt based and non-traditional, it now qualifies as craft beer!
Update: Beer news item of the week. From the Clitheroe Advertiser and Times:
A Ribble Valley beer writer and BBC Radio Lancashire beer enthusiast has been shortlisted for the British Guild of Beer Writers Young Writer of the Year award. Clitheroe-based beer writer Katie Taylor has reached the shortlist of the prestigious awards, alongside highly-regarded writers from across the industry.
While the use of ripe adjectives is a well-known hallmark of the Clitheroe Advertiser and Times, the extended copy explaining Katie Taylor's particular interest is fabulous and also unpacks a bit more about the process than the BGBW has. I particularly appreciate the use of "entrants" by ATJ rather than "nominee" given that the process is based on submitting one's own name. Well done @Shinybiscuit !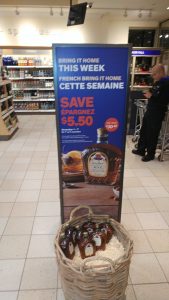 There is no doubt as to the photo of the week as shared by BlogTO. Both infuriating and comical, it perfectly captures an aspect of Canadian life – the desire to be correct tied to an abiding interest in not actually being all that concern with being correct. The scene is Ontario's liquor control commission, the LCBO, and the object is a mass produced sales promotion flier. Now, I can't say for sure that the LCBO produced the promo-product but it would have had to pass through the hands of about 16 bureaucratic conception, design and approval committees on its way to the retail floor. Oh… Canada.
A bit of a shorter post today. I've been on the road as I mentioned and it's the week of our 26th so, you know, I have been away having my identity moulded by things other than intoxicating liquors. Remember – Boak and Bailey put me to shame most Saturdays with their weekly news nuggets.
*aka the great Pontiac of whom another particular hero of mine, Major Robert Rogers, met and wrote in 1765 : "I had several conferences with him, in which he discovered great strength of judgment, and a thirst after knowledge.
** This, the better sort of GBH thingie, comes to mind.