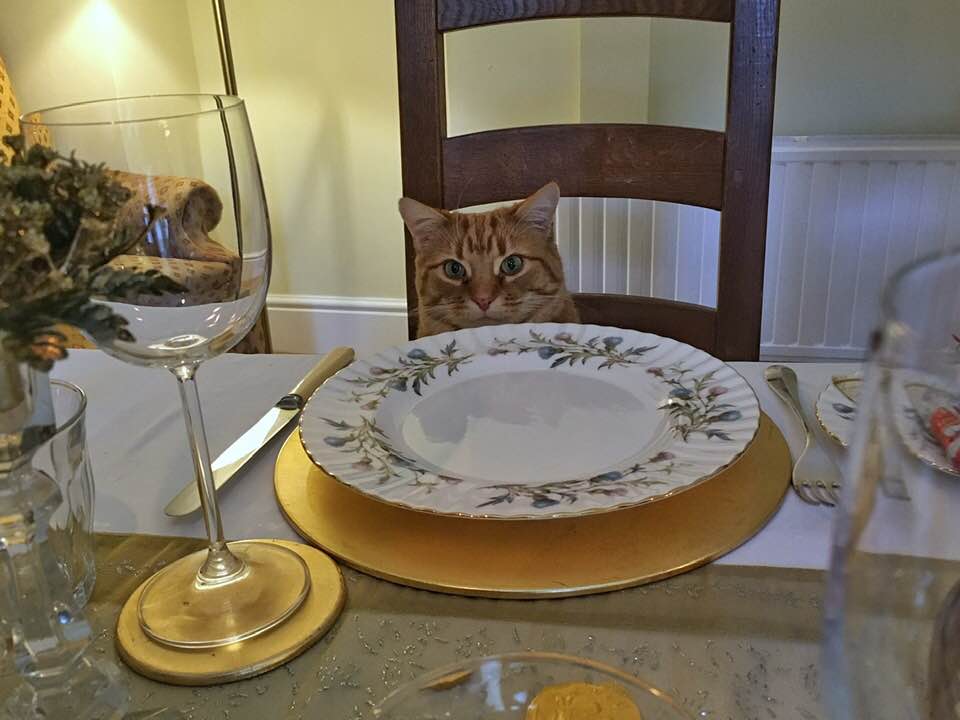 Not the last updates, just the last Thursday updates.* Don't hope for much. But, given this my weekly function, is dependent on the efforts of others, well, I blame you. Me, I've been getting my calories elsewhere – roastie totties soaked in herby olive oil, fruit cakes and cookies.  And actual pheasant gravy made by me which I am now adding to my diet on a regular basis.** I trust you had your sprouts. Photo of the week, above, is from Old Mudgie of the cat awaiting its sprouts. By the way, I hope you are enjoying your holidays if you are having holidays. And enjoying them more than this sad lad who wrote a letter to The Telegraph.
Matty C in NZ posted his best or favorite of 2018, including beers. Which crystallized a concern of mine. Or at least a question. Like 99% of you, I had no access to most of these drinks. Reviews, as a result, are fairly useless to me practically speaking. I thought about how most pop culture events are defined by mass participation. Being a fan of a musician or a addict for a certain sports team – even a minor league one – means you have something in common with others. Not quite so with good beer. Yet, beer has not quite fragmented into the natural local scene and discourse. There's a thought for  2019.
Roger Protz shared some wonderful news this week. Black Sheep Brewery of Yorkshire has saved its neighbour the York Brewery by taking it over:
The acquisition, which was facilitated by joint Administrators, Steven Muncaster and Sarah Bell of Duff & Phelps Ltd, builds on a positive year for Black Sheep, which returned to profit in 2018. Andy Slee, chairman of Black Sheep… says: "This acquisition fits perfectly with our strategy of developing our presence in our Yorkshire heartland and owning pubs. 
Black Sheep not only used to show up at the LCBO but it featured on a fabulous episode of the Two Fat Ladies twenty years ago – and I own a York Brewery necktie. So my joy is utterly natural.
Andy Crouch, whose word I generally take, praises a beer podcast of all things. Joe Stange, whose word I generally take, is involved. One More Road For The Beer focuses on one beer locale at a time and promises not to be about drive-by slightly appropriative beery tourism by people who do not live in the locale.
So much for the eternal revolution:
Police in Greater Manchester have told a pub to take down its picture of Che Guevara, a landlord has alleged. Geoff Oliver, who owns The Sportsman in Hyde, claimed at the weekend that he may face a criminal investigation for displaying a photo of the revolutionary in his pub window.
Apparently complaints had been made about the displaying of an image of a terrorist. Who amongst us have not admired someone that is labeled by another? I assume there are Che Guevara themed pubs hidden up allies and behind trees world wide. And Maggie Thatcher ones, too. I was once a parade spectator in nearby northern NY and witnessed a children's parade led by someone dressed as Napoleon leading the whole thing! No one got my suggested comparisons to similarly inappropriate 20th century military dictators.
No you don't, not in Nigeria's Kano State:
The Kano State government's Hisbah Board has seized and destroyed more than 30 trailer loads of beer. The board's Public Relations Officer, Malam Adamu Yahaya, disclosed this in a statement in Kano yesterday. Yahaya said that the cartons of beer were destroyed on Monday evening after interception at Kalebawa on Danbata Road in Dawakin Tofa area.
I might point out that 30 trailer loads is a lot of beer but I think you might have noticed that already. Perhaps related.
Like 87% of the planet, I have been following The Times of London reporter Katie Glass tweeting her travels from Moscow to Beijing which started Christmas Eve as I stuff my gob with fruit cake and sherry. While all her "wows!" over the Siberian landscape only make me ask the question of why this person has never visited northern New Brunswick, I was particularly taken by her photos from a shop at one minor train station stop east of Novosibirsk and the blend of international and national  beer brands in the fridge. Because, I suppose, while I do not care for drive-by slightly appropriative beery tourism by people who do not live in the locale I must like train-by slightly appropriative beery tourism by people who do not live in the locale.
Ontario's LCBO and The Beer Store have branches open this Boxing Day. I hate this idea. Boxing Day is for panicked scrounging as we lock down all commercial and even community activity. Time was no money exchanged hands from 3 pm on the 24th to 9 am on the 27th. I assumed the dry vermouth industry was behind it, given that was all the liquor that was left by late on the 26th.
As viewed from the outside, US craft stands in existential crisis at year end:
If you needed any further proof of the difficult straits in which the craft beer industry finds itself, look no further than the latest change to the Brewers Association's definition of craft beer. No longer must a brewery use the traditional ingredients that have laid at the heart of brewing for so long — now it just needs to make beer in some quantity. Otherwise pretty much anything goes.
Exactly: "…just needs to make beer in some quantity…" Sort of a twin, a bookend for the news that regulatory near beer has ended in Colorado.
Bonus Update: pub bans "saboteurs or vegans" and then receives the grief from vegans. No word from saboteurs.
And, well, that is where the year ends for me.  Have a Happy Hogmanay! I hope you don't get too loaded and embarrassing this New Year's Eve. Be good instead. I personally expect to be in bed by ten, scarred as I have been, ever since the 12:00:01 AM 1 January 1999 live version of "Auld Land Syne" by Gordon Lightfoot on CBC TV.  The horror…
*Check out Boak and Bailey on Saturday and Stan on New Year's Eve.
**One frozen $20 bird seems to have made a big contribution to three meals.