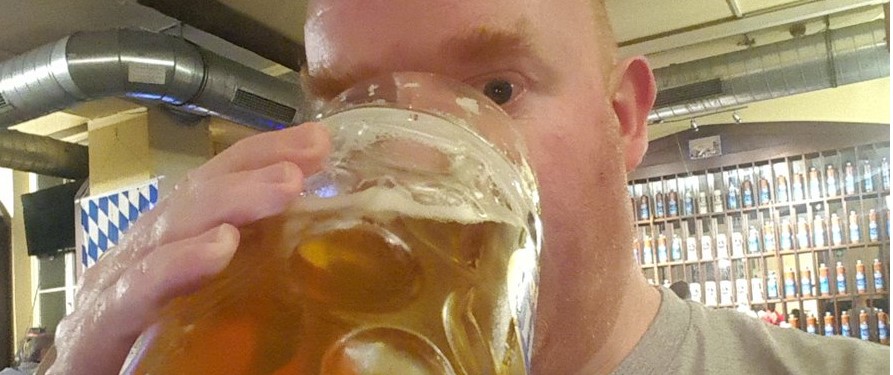 One eye on the beer, one eye on you!†
Wasn't that fun? New Year's Eve = The Worst Holiday Eh Ver. I had promised myself I would be nicer again this year* but I honestly found this holiday more boring than usual. Was it because it was on a Monday? Because it rained? I was holiday-ed out? You decide. I did drink a wee bit but we stayed in. I sipped on an insanely** cheap Belgian beer throughout the day and shared a swell bottle of Ontario Riesling in the evening.  Defrosted grocery store pastries shared about the family room. Wooo!!!
Anyway, here we are: 2019. Big news so far? The Trump shutdown of the US Federal government has halted the breakneck manic approval of more and more, newer and newer transient ephemeral brands of craft beer, the amnesiac mainstay of the trade over the last few years. So he can't be all bad. Not unrelated, David Frum also linked Trump to craft crusaders this week. Slightly related, U.S. Sen. and potential Presidential candidate Elizabeth Warren appears to have done herself a beer-related injury.
I am absolutely gutted that I did not follow the DrinkablongwithRon 2018. What sort of animal have I become? I even had string. I did notice that noted British beer writer Jeff Evans announced he is pulling the plug on his website:
A short message re Inside Beer. After ten years, I've decided to close the Inside Beer website, due to other pressing commitments. The site will stay live for a few more weeks but will not be updated. This Twitter account remains open. Thanks to everyone for their support. HNY!
I note this not only for the update but to capture Martyn's keen observation: the move is related to Jeff getting a more attractive opportunity. No doubt more to come on what that turns out to be.
One thing I did do in 2018 was avoiding Brut IPA altogether… along with glitter beer, that one month flashpoint. Never had nuttin' of neither. I'm still coping with kettle sours. The New York Times, being generally more useful, has provided us with a helpful if brief study of its local BeePah action:
It's taken a little over a year for Brut I.P.A., a new style of India Pale Ale, to sweep through the craft-brewing community. The name is a reference to brut, a dry Champagne. By all accounts, it was created by Kim Sturdavant, the brewmaster of Social Kitchen and Brewery in San Francisco, who used amyloglucosidase, or AMG, to remove the sugars in an I.P.A. AMG is an enzyme usually added to make light beers and to balance big beers like imperial stouts.
More of the best of the new? Ed posted the most honest Golden Pints ever. Mashtun and Meow's were filled with fun and gratitude. More GP18 here. In other beer writing news and opinion, Matt is laying off the sauce. Crystal is off the sauce, too. BeerAdvocate reminded each of us to ask ourselves… why not lay off the sauce?  And Tandy Man asked about another sort of laying things aside:
It has been a very quiet year for the blog for many reasons. I have had the passing of my mother to contend with, been very busy with beery things here in Rochdale, Oldham and Bury and latterly in Manchester for Manchester Beer and Cider Festival. But I don't think it the main reason. I just couldn't be bothered. Little inspired me frankly.  Some things interested me, but overall, just all a bit flat. Like a London pint.
I suppose it's been obvious that creative beer writing has not been quite as interesting over the last couple of years as it was in its hay day (given all the jostling to be Bernstein and Wordward, pretendy or otherwise) but it's important to be OK… be just OK, like the man above,† with the idea that one can be neither a craft PR type pushing for greater collective boosterism or sitting looking in the mirror, finding yourself admitting you are are cutting back for health reasons. While Stan may be right, that beer reading has been rather spare the last couple of weeks, there is still that great big middle ground to write about and it is full of interesting things worth exploring and sharing your ideas. So while I won't be confused anytime soon for a #beerpositive**** supporter, Polk is on the right track.
Say – speaking about drinking and health, this is an excellent article worth considering because it's written by a wine writer and judge who is also a liver disorder specialist. He poses the question this way:
I believe advice that everyone should have at least two alcohol free days a week is a well-intentioned effort to combat the enormous adverse impact that alcohol has on some individuals' health and well-being. The question, of course, is whether that strategy will be effective in reducing the well-known damages of excessive drinking to individuals and society: liver disease, neurologic problems, socially unacceptable behaviour, and driving under the influence, to name just a few.
See that? "Well-known"… which means if you don't believe it you are participating in something like climate change denial.***
New booze laws for 2019? That's what you showed up for, right? I left it for last. Big news is how the crowds at the next World Cup will face plumped up booze taxes:
In an effort to make their country healthier, authorities in Qatar have introduced new taxes. But with the World Cup just round the corner, fans around the world will be raising their eyebrows almost as high as the new prices for booze. That's because the Gulf state has added 100% to the cost of alcohol – seeing a crate of 24 beers now retail for £82 and a bottle of gin set you back and astonishing £73.
Other new laws include unintelligible changes to craft distiller operations in California, relaxed retailer rules in Tennessee and Colorado, tougher drink driving laws in Ontario, and a booze crackdown in Turkmenistan.
Well, that's enough for now. Can't give away all the good stuff on the first Thursday. Predictions? What will happen in 2019 otherwise? Ask me in 12 months. What's happening Friday and on the weekend? Go ask Boak and Bailey on Saturday and then Stan on Friday.
†Don't be looking for the linked connection down here…
*I don't mean that I will be even nicer, just that again I promise… only to fail.
**I have no idea how this gets shipped to Canada for such a low price. Does it come by tramp steamer with no guaranteed delivery date?
***And for God's sake stop taking about a J-curve. You just look silly.
****#beerrealism is much more interesting. #ThinkingAboutDrinking, too. And I need to get my own butt in gear. Frankly, more than anything, I blame me.
*****Ben predicts on three topics, and does so rather well. On the most interesting topic, DME, the main question I have is not one really asked yet except in discussions on the QT. Something is afoot – as the story so far is not right. The other question I have I will ask: how much of the deposit money was borrowed and how much was actual saved cash. If the former, the ripples will spread much more widely. Who will lend for such equipment now? If the latter, perhaps spare me a full throttle application of the broke craft owner motif next time we meet. But, as Ben's gathered threads ask by implication, think on the fate of Texas's Big Bend Brewing Co., now closed due to $1 million lost to DME and the others who may soon follow.