What a time to be a beer blogger. So sad so few of us are left to have all this fun! Do I speak of the switch in ownership of a beloved British brewer? The last try or dry of this the first month? No, it's that idea of when did hopped beer really was brewed or showed up in and, then, was shipped out from British ports as a recognized commercial product.
I have happily read through and even negotiated electrical interconnection agreements. One lawyer more experience gave me the best advice early on. You have to obey the electrons. Similarly with history. It is not just that you need to get the facts straight. You need to obey the chronology. So, if I am being obedient, I need to know that hopped beer was in the ports and that ships were leaving the port in something like that order.
All of which is to say that it was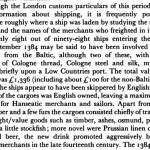 very good to come across the paragraph to the right in 2002's England and the German Hanse, 1157-1611: A Study of Their Trade and Commercial Diplomacy at page 81 where  beer is described as "the new drink promoted aggressively by north German merchants in the late fourteenth century." And it is beer being delivered, granted in small quantities, in London. The 1384 shipping record being mentioned is 17 years earlier than the 1401 shipment to Hull on the Elyn I mentioned last time. Which is good. And which sort of indicates to me what is logical – hopped beer showed up as a finished product before hopped beers were brewed domestically.*
As part of scratching at this itch, a bought a copy of The Widening Gate: Bristol and the Atlantic Economy, 1450-1700 on eBay which proved to be a helpful step in clarifying another record mentioned last time, the one about the two brewers apparently referenced in the alien subsidies. I had no idea what the subsidies were but, care of this helpful guide, starting in the middle of the 1400s near the end of the Hundred Years' War a sort of census listing all residents immigrants was kept. And a small tax or subsidy was paid by the person in question once identified:
Justices of the Peace (JPs) were to assess who was liable to pay the alien subsidy. Names were returned to the Exchequer, which would then issue lists to the relevant sheriff or civic officials, ordering them to collect the tax.  The JPs used juries made up of local men to identify the alien residents in their area… These local men used their general knowledge to identify aliens in their area. Some aliens were identified by their accent and language, some by their name. Some, whose actual origin may have been uncertain, were simply known not to have been born in England.
The helpful guide led to another website containing the complete England's Immigrants 1330–1550 database which allows you to search by factors like  name, name era within the period and trade. And so, lo and behold, we can see that one of the two immigrant brewers listed in the census for Bristol in 1441 was named Germanus Pownham of St. James Ward. While not in all records, we can see on this list of all 56 alien brewers that many of these brewers nationalities were listed. Scots, French and Irish are joined by others described as being a "Hollander" or "Brabanter" or having their origin in Lucca in Tuscany. Mr. Pownham's is not listed but with the first name "Germanus" there is at least a reasonable chance he was German. Was he brewing German style hopped beer? The record actually doesn't say.
The key for me is that, in addition to there being a Hanseatic depot at Bristol, both the beer and the brewer sufficiently predate long distance trade explorations out of England – including Bristol. Two expeditions for spice and silk to the Middle East are described in The Widening Gate in the mid-1400s. Both end in disaster at the hands of Italian merchant navies. Apparently, Genoa controlled the Mediterranean in much the same way the Hanseatic League managed the Baltic and North Seas. So, the idea that the Cabots – either John in the 1490s or his son Sebastian in the early 1500s – brought beer along with them when they crossed the Atlantic is not far fetched at all. All I need, as I wrote last time, is a record or two. Well, now another record or two.
*And all of which aligns with Martyn's short history of hops in England from 2009.