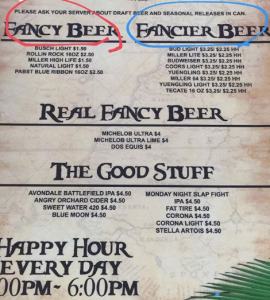 What a week. I can't really get into it but… what a rough week. Not Elizabeth May rough but rough enough. Brendan Palfreyman Esq. has not had such a bad week. He seems to be on holiday along a sunny bit of the US Atlantic shoreline from whence he tweeted the photo of the week. I commented how pleased I was that fancy was apparently not as good as good in that bar's parlance.
Good news! "Craft beer" has now been defined… by the UK's SIBA. Note that #3 disqualifies most faceless bulk craft.
"Cellar palate"? That sounds really bad. Could you imagine the doctor telling you that you had that? Great-uncle Louie had shed knee back in the 1950s. That was bad. Oh… oh, it's not a medical condition:
Suffering from 'cellar palate' means that you've become so immersed in a local style that you become blind to the faults or shortcomings in the wines. It's a condition more commonly associated with winemakers, but it can affect anyone tasting lots of wines from a specific region, such as wine critics or even holidaymakers.
No doubt a condition that afflicts most beer nerds as well. Well, maybe it's called tap tongue. I recommend a month on bracing pots of tea. Rare teas. Intoxicatingly fabulous teas. You'll go tea crazy! Then you end up with tea tonsils and you need to hit the wine to straighten yourself out.*
Speaking of things to learn from wine fan culture, Matt has been exploring the way of the vinous and…
I learned that wine is just as fallible as beer and that this was reassuring to me. And maybe we need to figure out how to better communicate faults as constructive criticism to help both industries improve.
I agree. And I dump and I spit. Getting loaded on tasting samples is for chumps who depend on convincing folk that beer culture is unique when it is patently not. Try spitting next time you are out and about. See what happens.
Jeff invited Matt Meador of the now defunct Oregon Beer Growler magazine to share his thoughts about the fate of publications like his:
…back at the 2019 Oregon Beer Growler, we were fighting a battle we didn't win. Our challenge was perhaps best illustrated by one well-established Oregon craft brewery who refused to advertise with us. Each month, the brewery's marketing people would repeat: "we don't need to advertise our beer, it sells just fine without advertising." This highly successful brewery — as was its right — was solely focused on a hard return for any advertising expense. That's okay, I guess — it's sound business to spend carefully. But this brewery saw no value in supporting the publications devoted to promoting and celebrating the Oregon craft brewing industry.
Years ago, early on in the life of this fifteen year old blog, I remember writing an established beer writer complaining about how it was that – for all the money in beer – there was no money in writing about beer. Lesson? There is no money in writing about beer. That in itself is a #MoneyMakerMarch message.
Did you watch BBC's broadcast of Inside the Factory that focused on brewing? Was it any good? I am blocked online so have to wait until 2023 when it will be shown on TVO, Ontario's educational channel.
Good news! Dann and Martha are back and they are making Jack D'or again!
I can't get too worked up about the "secret lies that macros tell" approach to this recycling big story, now this week in The Guardian out of the UK:
The British craft beer report, due to be released by small brewers' trade body the Society of Independent Brewers (Siba) this week, will say that 98% of drinkers do not believe a global firm such as Budweiser owner Anheuser-Busch InBev or Molson Coors can make craft beer. The findings cast doubt on the credentials of a growing number of beers bought or launched by major brewers, such as Camden Town, Fourpure, Goose Island, Meantime, Hop House 13, Blue Moon, Lagunitas and London Fields. The report said 43% of 2,000 survey respondents believe craft beer has to be made by a small brewer…
Of course big macro can make craft beer industrially! Most craft beer is brewed industrially. Have you actually visited a craft brewery? Massive things filled with management driving around in golf carts, evil robots and computerized equipment in much the same way as macros are. Truck fleets and logistics staff just like the macros. Bank accounts with funds for advertising and junket payments… just like macros. That's craft today. You want good beer, find yourselves some micro. Mmm… micro brewed beer, that's the stuff. Owner still working on the floor, a decent level of variation from batch to batch – and right in your neighbourhood. Don't let craft fool you.
Josh Noel has written on the tale of Goose Island's disappearing Honker's Ale, a sad reality about which I shared a "beer writer's scoop"** two weeks ago:
Honker's was among Goose Island's oldest beers, but never the most popular at the brewpub. That would have been an accessible beer most approximating Bud or Miller, such as Lincoln Park Lager or Blonde Ale. But when deciding what beer to lead with in liquor stores, bars and supermarkets, Goose Island needed to differentiate itself. Sierra Nevada had done so with a pale ale. Samuel Adams did it with dark, hearty Boston Lager. Goose Island opted for Honker's Ale.
A sad loss for us all… well, in theory. Days of future passed beer. In the sense that we are now back in an era that loves green beer filled with adjuncts and adulteration. That could be the name of my new craft beer bar – Adjuncts and Adulteration.
Speaking of the colour of beer, this post by Rach Smith on the meaning of, the purpose of boring brown bitter from an ornithological point of view is worth a read:
…the winter sun had lingered as it held off the evening from drawing-in any closer, just a little longer than it had the previous day. Shadows were being cast high in the trees against a backdrop of holiday-blue sky. I shot up from my comfy seat and ran upstairs to get a better view of the fancy birds bobbing around outside my window. Curiosity had got the better of me. Only, they weren't fancy at all, they were just sparrows.
Dirty birds. That's what I call house sparrows. Invasive. Bullies. Reminds me of something. Now, white throated sparrows? Chipping sparrows. I can listen to those all day. Indigenous sparrows. At home in my yard any time.
Well, that's it for this week. Rash and rushed. That's what you've come to expect from me. Make sure you make time for the more thoughtful thoughts from Boak and Bailey on Saturday and Stan on Monday. Laters!
*Sing along. Look at those guys singing almost 50 years, just better well groomed hipsters.
**That rare combination of following up on someone else's work yet still getting it not quite right.