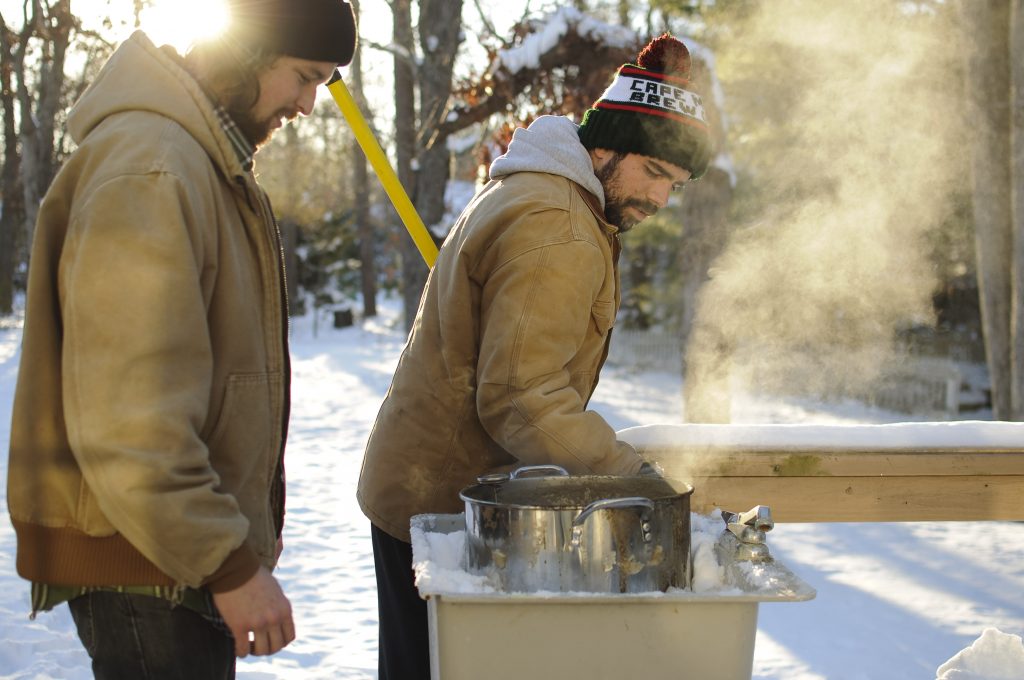 What a week. I'd tell you about it but that would be telling. On the upside, February is over and that is always good. I never liked it. Icy sidewalks, dirty snowbanks. Elsewhere, daffodils are popping up and buds are bursting. Here, I am convinced every step outside is my last. I haaaaate winter now. The stinkin' head cold I've been dealing with tops it all off. To remind me of happier winter moments past, above is a wonderful photo from Andy Macpherson from the 2015 Xmas photo context of exciting snowy action with him and his pals at Bucktail Brews, a New Jersey brewing project in planning. I hope it works.
News of the week? First up, I don't disagree with this from @tonitwopint but…
A lot of conversation was generated around Founders, but their situation is indicative of a much larger issue. The conversation needs to continue on a larger scale. If the overall culture of the beer industry were inclusive, it would make it harder for places like that to thrive.
… but you do see two sorts of issue dilution (aka responsibility deflection) being thrown about in such matters: (i) brewery X's fault needs to be understood in the context of other brewers and (ii) craft brewing needs to be understood in the context of greater society.* Yes and no. Founders may be indicative of a larger issue but it's also pretty clear that Founders itself alone allowed a culture of bigotry to foster. A particular circumstance which should not be lost. Not cheery but important.
Endtimesy news from Nate.
Timelessness: a study of a back alley tavern from A London Inheritance
In no doubt a move intentionally timed to break the hearts of those interested in #FlagshipFebruary, one of the actual flagships but one not mentioned in the campaign has taken a huge if not fatal hit:
One of Goose Island's original beers, Honkers Ale, will no longer be on sold on shelves soon. Once a flagship when Goose Island was a locally-owned, craft beer pioneer in Chicago, Honkers Ale is being reduced to being offered only in its brewpubs, according to a post on the Guys Drinking Beer blog, which broke the news. "Honkers Ale was one of the first beers to really put Goose Island on the map. We love this English Bitter style beer! Honkers Ale is not being discontinued and will still be served at our brewpubs…"**
Honkers: a beer so beloved by me it got passing reference once in 2010. RIP.
Entirely crappy news with the filing for bankruptcy by All About Beer magazine and especially the news that plenty of people are left holding the bag. Interesting discussions here and here on what the point and best business model for running a beer magazine in North America is these days. Sad. Actually, just kinda sad.
Speaking of #FlagshipFebruary, even though use of the hashtag went from about 1,000 a day on Twitter to about half that over the  course of the month, I was pleased to see how positive the outcome was. Not just a rear guard action at all. As I had hoped in mid-January, it moved sufficiently off its actual stated mandate to keep interest up rather than beating the dead horse of beers like Honkers no one much cares for anymore. This past week, we have a love letter to a mild, an example and a style which has never been any sort of flagship related to craft. And we had that lovely personal essay by Jay in which the beer is entirely incidental. Wonderful. Now onto that ray of hope, #MoneyMakerMarch when we explore how beer actually works.
In perhaps related beer junket news, a planeload of freebie tourists and cap in hand journalists drinking freebie beer filled the toilets of a plane mid-Atlantic. Such a useful illustration for future reference. Kind of a gross one. Again, grimness prevails.
An interesting bit of intra-provincial comparison went on in Canada's other national newspaper this week with an article on opening times across our fair land. Ontario, where I live has the latest start – 11 am. Anything earlier, as we learn in school is Satanic. Which is why I do not understand the taverns and dives of New Brunswick opening at six in the morning. Who the hell has to drink in public at that time? Apparently, New Brunswickers.
You know that what follows on social media will be a bit of a grumpy mess, a bit off one's marbles when it is introduced with the notion that notwithstanding "the steady descent of Twitter generally into a platform for people to get furious over trivia and hurl abuse at people they don't know…" as if perhaps one did not oneself participate at that level but, never the less, that is what Pete Brown did when he took off on a personal one-legged hopping finger pointy race to explain three reasons why some beer costs more:
But looking at the sheer ignorance of the people we were debating with, two things occurred to me. One, yes, it's probably not worth bothering engaging with people who for some reason have chosen to spend their precious time on this planet arguing with people they don't know about subjects on which they are entirely ignorant. But two, the frequency with which this particular attitude surfaces suggests that perhaps we're at fault too. It's not just on social media: in pubs and bars, when there's some strong, rare beer being sold in thirds or halves only, there's always someone who works out the cost of a pint (even though you can't buy a pint) and decries how outrageous it is.
The… err… challenging thing is the three reasons (ingredients, time, techniques) are not really (i) explained in terms of the effect of value relative to similar competitors nor are they (ii) explained in the context of fadism-based hyper inflation*** nor are they (iii) explained in terms of the specific effect ingredient, time or technique have on the price. Are they 1%, 5% or 50% variables on overall price? Why can't we have this explored at a proper level of detail? Apparently understanding price and value are separate issues. [Ed.: we are now having another personal fugue state experience for a mo… and… and… we are back.] Well, if the goals is arguing "on the side of the industry people defending and justifying the expense of some beers…"
That's it! A bit all endtimesy when you look at it. Frikkin' February. I blame you. In mere hours it will be March. Joy shall reign! Maybe I'll even have a beer. Can't quite be certain if I've even had one single beer over the last seven days. Rotten stinking February head cold. Soon, I'll probably rush to plant radishes so I can stare at the small first patch until it's clear that nothing is going to grow until a few more weeks have passed. Weeks more waiting. Joy delayed.
What do I have to live for until the soil warms? Well, what other than Boak and Bailey on Saturday and Stan on Monday? Surely that is enough for anyone. Though an early spring might be nice, too.
*Though it is fabulously educational to search for "founders" and "racist" on Twitter.
**Isn't it always fun when the J. Jonah Jameson breaking the news lines are used? Especially when followed by gooey fanboy exclamation marks.
***One of these days, I'll pull my gueuze and lambic purchases receipts from say ten years ago when I could afford the stuff. I'd bet fifty cents that the price has doubled compared to the lowest decade of general inflation in centuries. Further, note… yet note.