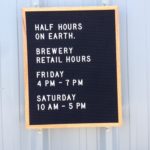 I'd like to say that I visited Half Hours on Earth a few weeks ago but it was more like a drive-by shooting. Except I was only shooting with the iPad camera. See, it was summer and the kids at camps and cottages on the Lake Huron shore. My only job that week off was to get them there one weekend and get them back on the next one. Thirty-two hours of driving all in all. I needed some joy and a stop like this on a long haul is just the thing I needed. But I only had 12 minutes so I was in and out after asking 57 questions and coming across as a weirdo. I am used to me so it was fine.
Seaforth is a small crossroads ag supply town in south western Ontario that looks like a lot of the other small crossroads ag supply towns in south western Ontario that I married into. Lovely orange and tan brick houses and main street buildings. Gingerbread gothic revival churches sitting prominently on a grid of squares drawn on a map in the 1830s, long before the people arrived. All cooled by the shade of large hardwoods planted over 100 years ago – or maybe a dip in the river when it's a hot one. The whine of cicadas interrupted by blizzards on an annual cycle. Alice Munro country filled with quiet towns laced with the quietly unhappy but satisfied enough. It's not where you would think you would find great beer but a few weeks back Robin and Jordan declared it the best new brewery in the province and I went all in. I found the brewery and its two owner operators in the lower level of a grain depot by a rail siding. Here is what I thought.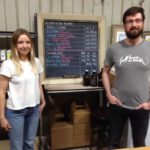 Green Mind: The name is like a Third Doctor serial. Except it needs to have "of Doom" added at the end. I bought a quart jug, aka a small growlers. It provided me with a great follow up to a GLB Canuck and a Friday evening mow of the lawn. At heftier 7.1% its the biggest of the beers I bought, surprising similar but also the senior to the province's favourite craft beer. Not a sour bomb so much as a weedy raggedy-arsed maybe even pissed-off IPA.  Pale malt sweet base under bitter greens. The lavender brett fitting beneath the lush ditch weed bitter herb hop. Remember. I just mowed the lawn. A bit of Chinese mustard green burn. Not really arugula black pepper bitter but green and sharp like a salad full of salad greens you never heard of. Quaffable. I quaffed. Rounded by the wood not a hint of any cheesy Chardonnay oak. Robust but not heavy. Extremely satisfying dry stinging nettle note in the finish. Cloudy but not milky, mustard – tan coloured ale under a rich clingy fine whipped egg white head. Sweet cream and herbs on the nose portending the unexpected. A thinking person's ale. Or at least a person having a good think after mowing the lawn on a Friday. Lovely.
Jez: 5.6% rosehip rosemary farmhouse. Herbal lemonade on the nose. Smell like the sorbet/sherbet I want in my life. Cloudy dark lemon ale under rich white whipped head. Dry yet moderately full. Plenty of bright acid, lemon juice, rose hip giving both a bit of body and a seam of earthy slightly sweet must. Very attractive, vinous. Citrus rise at the start, lime and white grapefruit pith. Deftly confident if not bold. Could have been overbearing if a few element had gone astray. Could poach cod in this. With baby leeks and smashed new spuds. I came back to this one. As I thought about this beer, I agreed with myself about how brilliant the use of rose hip was.  Earthy but not mushroomed.
Corrigan: I believe I learned that this was the same 5.6% base beer as the Jez but with coriander and lemongrass. The lack of the earthy non-mushroom tone makes a great difference. This is all bright and light. The piccolo of citrus notes with a relatively slight herbal presence compared to Jez. The lemongrass adds green hues to the middlest middle where another brewer this summer or last might have placed cucumber. Very attractive…. again. The bretty lavender effect frames deftly. Did I use deft again, too? Sure did. A very much quieter sour beer but well worth leaning in a bit and paying proper attention.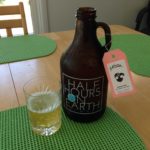 Mingus Dew: I bought a full growler, a pottle to those who know. Quarts and pottles. Can't we just call them that? This pottles-worth was drained in the backyard of the in-laws who were away out east on holiday. We were feeding grapes to the unwelcome rabbit who had set up shop, eating all their garden plants. Rather cheeky. It was the perfect antidote to a stinking hot day in a quiet town, another southwestern Ontario ag supply town. At just 3.8%, a dry hop table sour that offers no dangers, just promises. And opportunities. Dry citrus tang on the nose. Slightly clouded light golden ale under a rich rocky lace leaving head. I should pull the two emergency bottles of that Girardin with the black label out of the residual stash to see how they might compare. This is lovely. Yes, simple lemon but, as with GBL, there is that measured cream backbone from the light malt.
Pod Six: Last but not least. Again, I believe this is the same 3.8% base beer as Mingus Dew with sea salt rather than dry hopping. Side by side, very interesting. The most obvious difference is how the salt adds a slight coating to the lips. Next, it slightly takes the edge off the acid. It might contribute to a more restrained aroma. What, after all, is the smell of salt? A miner might know. The choice of sea salt is interesting as just down the road is Ontario's salt supply at Goderich. I want to fill a jug with this beer and mild garden herbs. Parsley. Chervil.
We actually chatted a bit. Not what you would call an interview or anything. The kids were in the car. With the AC on. You can read the newspapers for that sort of information. Owners Kristen Harburn and Kyle Teichert grew up in the area. People I know probably know people they know or at least were at the same buck and doe. I asked how it was they got into sours and told me of trips to Buffalo to find Belgian sours, the empties of which were on display. I pointed at a few with strong memories for me, especially Brise-BonBons from Fantome which introduced me to hoppy and sour ten years ago. These beers are the the love child of that.
They ship their beers. You can order them and they stick them in the mail. I will do that. Likely today. After all, I am just about out. If I think of the thrill I had in the fall of 2007 finding myself in Dexter, Michigan getting an hour of Ron Jefferies' time at the end of a busy week and then getting a case of quarts (and a woolly winter hat) to take away at $5.99 a bottle, the idea of getting beer this fine delivered to my door has a Jetsons' tone to it here in Ontario the monopolistic. I like this future.