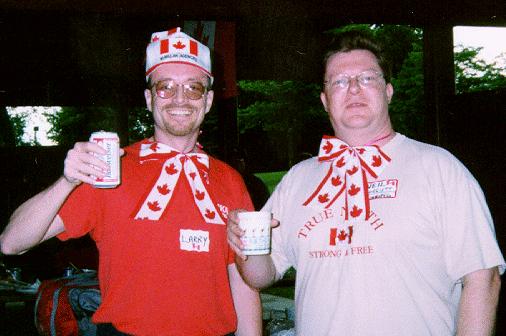 Nine years ago, back around those heady days of political blogging, I wrote a series of posts on a fictitious Atlantic Canadian separation movement focused on a mde-up new capital called Tantrama City. One post set out details of the Canada Day celebrations under the new governmental order and featured the photo of Neil and Larry above. I have no idea who these guys are but I love it. It may be the most Canadian image I have ever seen. The nutty bow ties in the national colours, Neil's boring earnest shirt and Larry drinking a Bud. And the fact they don't give a crap and are just having a good time.
Is there a Peru Day or a Norway Day? Canada Day is such a politely bland concept but, this being a confederation with lingering prickly regional identities, it suits us. We are the country that cancels recreations of historic events. Why recall past unhappinesses? What we remember in particular is the formation of one semi-autonomous colony out of three in 1867 (or was it four… Canada was sort of split into Canada East and Canada West but had formerly been separately Lower Canada and Upper Canada from 1791 to 1841), two of the invitee colonies not joining in until six (PEI) and eighty-two (Newfoundland) years later. My particular part of the nation remembers the events with mixed emotions.
So, on this we day celebrate the fourth version of Canada after the one that was otherwise a bit chunk of New France up to 1760, then the one with the Upper and the Lower, then the one that didn't work from 1841 to 1867. And maybe the one from 1763 to 1791, too. OK, maybe this is the fifth Canada. Most of all we recall the man who is attributed with bringing the four colonies together, Sir John A MacDonald. Larry and Neil might well have been making a joke or two about him – as the founder of a large part (but not all) of our current constitutional structure (yes, it is a bit messy) was a bit of a drinker. A bit of one. Consider this description of one of the planning sessions from the pre-Confederation years:
"…The Council was summoned for twelve and shortly after that we were all assembled but John A. We waited for him till one – till half past one – till two – and then Galt sent off to his house specially for him. Answer – will be here immediately. Waited till half past two – no appearance. Waited till three and shortly after, John A. entered bearing symptoms of having been on a spree. He was half drunk. Lunch is always on the side table, and he soon applied himself to it – and before we had well entered on the important business before us he was quite drunk with potations of ale." But, after two and a half hours of debate, the wound up their discussions of the constitutional changes and agreed on the course to be followed…"
So, we are a nation imagined and brought into being by a drunk. That is the story we are told. Historian Ged Martin in 2006 published this detailed study of the record of Macdonald's drinking patterns which both confirms the fantastic level of consumption, his personal struggles as well as the possible causes. It is a very sympathetic piece. If they read it, I am sure Larry and Neil would like him more… and raise another beer to the nation imagined mid-spree thanks to potations of ale. They'd probably raise an American one come to think of it. But only if it was the nearest one. We are not that fussy.