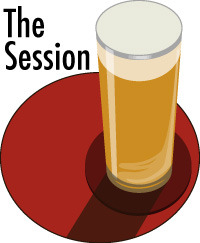 This month's edition of The Session sees host Stan Hieronymus of asking everyone to write about their doomed dream dinner plans:
If you could invite four people dead or alive to a beer dinner who would they be? What four beers would you serve?
Elephant in the room: I have been to one beer dinner and never ever plan to ever go to one again. I wouldn't do that to any guest. So, let's swap that out and think about four folk I would invite to a pub, to sit around and drink and snack with. No pairings. Not in my doomed dream dinner.
Other than that, this is a great topic for where I am in my life as a beer blogger. I have migrated 565 posts from the old platform to this new one and in doing so have revived some old friendships by revisiting some posts long forgotten. Based on that, my first guest to the pub is Pete Brown. Pete won the big prizes and a few others at last evening's British Guild of Beer Writers Awards. Like may of the other beer writers I have met over the internets, Pete and I never have been in same the physical space even though he did participate in a ship to shore Morse code discussion with me back in 2007 as well as an interview with Knut and me back in 2006 upon the release of his second book. The beer I would serve Pete would be Double Double, the lost style that lasted from about 1520 to 1820. Its Elizabethan roots would, I hope, inspire him as a topic for his next book.
Next, I would build upon the Elizabethan theme by asking Martyn Frobisher to join us to explain what it was like to put in an order for 80.5 tons of beer as part of his preparations for his 1577 iron ore mining expedition to the high Arctic of what is now Canada. One of the more fascinating topics I have been able to research has been the unexpected presence of beer and brewing in Canada's eastern Arctic well before the creation of the nation, during the great and grand first wave of northern exploration. I would serve him a gallon of whatever it was he requisitioned and let him explain it to the table. In the 1660s we have seen beer brewed in the Arctic and in the 1670s at least two sorts of beer being brought along  for the trip.
Two more? I would invite Sarah (alias Jenny) who was in the 1730s a runaway slave, the legal property of the brewer Hendrick Rutgers. And I would also invite the unnamed twenty year old woman from Barbados whose own brewing skills were included in the 1760 notice offering her for sale.  The notice said Sarah ran south with a white man while her Barbadian dinner mate was turned down at market, her advertisement running again a few month later. When I wrote about them I thought it was the saddest corner of the story of brewing I had ever encountered. I'd serve them whatever they wanted as they came to the table but I would be very interested in knowing what beer meant to them.
I am going to cheat… twice. I am adding another guest and one who was never ever dead or alive. I can't think of anyone who might bridge the odd set of table mates than Piers the Ploughman, the hero/everyman of the 1370s morality epic. As we are told, Piers would get his halfpenny ale as he would think fit. He would hammer at Frobisher, himself a knight, on the order good government demanded. He would in turn comfort the enslaved and then round upon Brown, lecturing him on the rumours of everything from junketry to Putinesque vote rigging, saying with the wagging finger:
Then would Waster not work · but wandered about,
Nor no beggar eat bread · that had beans therein
But asked for the best · white, made of clean wheat;
Nor none halfpenny ale · in no wise would drink,
But of the best and the brownest · for sale in the borough.
Then, once the moral order was established, I would have them served the best and the brownest ale of the borough – especially for the ladies. They've earned it.