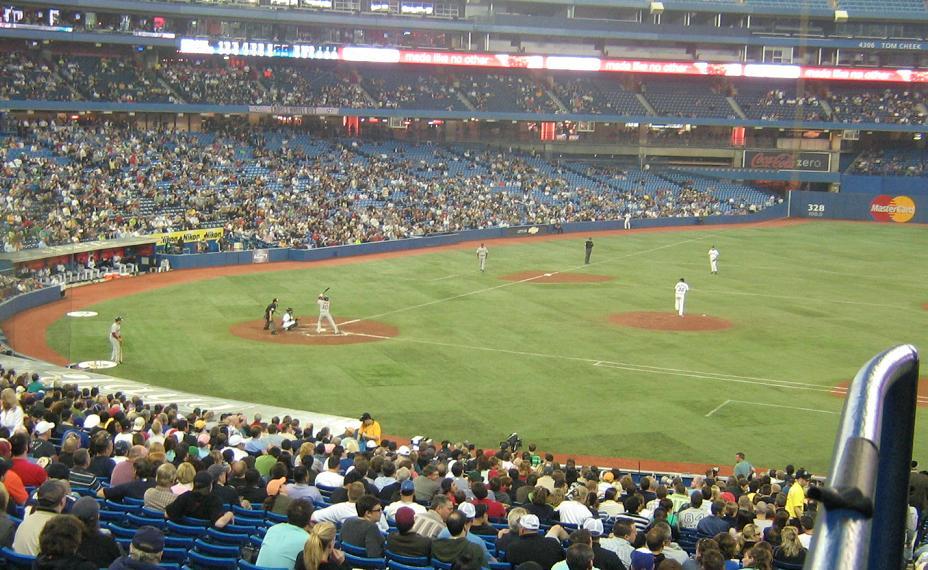 One last look at Coco before the drive home
A huge thank you to Chris whose extra tickets gave me and the lad an unforgettable evening. And it was not just having the tickets. It was not that the tickets were in the sixth row. It was not Tina. It was not that the Sox hammered the Jays 8-0. It is not even that knuckleballer Wakefield was entirely in the zone. It was because after (I think) the sixth when Wakefield pitched to Wells who flied out to Coco for the third out who then ran in and, after getting to first base from center field…looked up …and I stood up in my white Sox jersey and black cap…and I shout "COCO!!!"…and he looked at me…and I looked at him…and he threw me the ball. I just about peed with joy.
In other news, it is Friday and there shall be bullets and they shall be good:
-> Well, suffice it to say, the Jays suck. I had a sense of it even in February but their play last night was pathetic. Halladay got an error in the first trying to pick off Yuke at second and putting it in to the outfield instead. Glaus got an error losing the ball in the lights at third which was nothing compared to in the first, bases loaded with two out, he daydreams and drifts off base only to be picked off by catcher Doug Mirabelli to Yuke who didn't even have to beat him back to first – he tagged him feet away. Soon thereafter, the Jays went to sleep. Losing their alleged closer until August 2008 doesn't help. They are now fighting for fourth in the AL East until 2009.
-> Apparently there is a world outside of baseball. And it has silly people in it.
The man arrested for allegedly leaking the Conservative government's environmental plan was a temporary employee, a self-described anarchist and drummer in a punk band that sings an angry screed against the Prime Minister and the "rise of the right."
Releasing pending legislation or regulations is not whistle blowing – the law will soon be public anyway and in draft and…stuff. Way to go bad band drummer.
-> If China is mad at us, we must be doing something right.
-> The PEI election is tepidying up. Apparently the 4% of the population made up of former Lieutenant Governors are getting all snippy with each other. Earth to person who said "it's not the ethical thing to do" – no one cares, get a life, stop pretending that winning the prize in the Cracker Jacks makes you something. In more sensible news from the hustings, some-time comment makers around here, Cyn, is running for a seat.
-> Some people have useless dreams:
A British climber is in the closing stages of an attempt to set a world record for the highest mobile call. Rod Baber is making final preparations to scale Mount Everest and make the call from its north ridge.
I think I am going to swim to the bottom of the ocean and open a pack of 1983 O-Pee-Chee hockey cards. Not '84…'83.
Just a reminder that in four weeks there is a Gen X 40 authorized event – the Watertown Wizards home opener. Friday June 8, 2007. I am told by one of the owners that they may play the Canadian anthem for us. Last year is was four bucks for adults, one for kids.