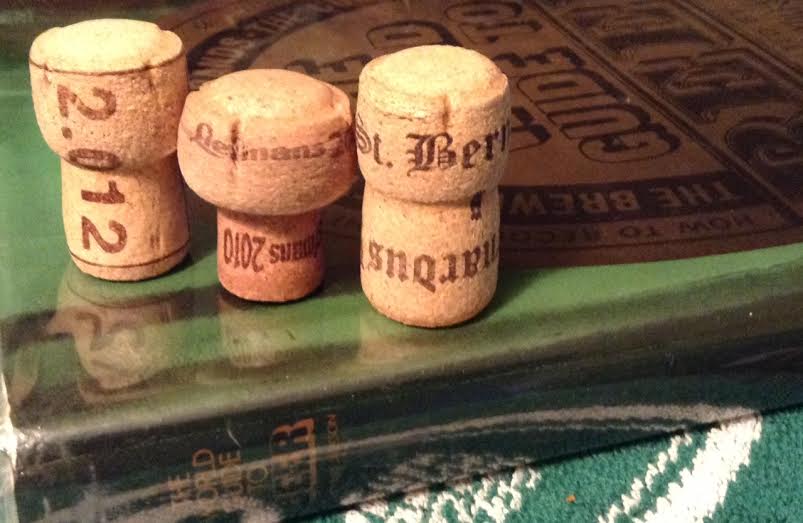 While I am not living the snowy hell of the east coast, I am simply sick of winter here on the Great Lakes. It's not like it's been a long one either. December and January were pretty soft. But the deep cold has driven me inside and down into the basement. Next to the gas stove. Wrapped in blankets and sipping cold medicines – in which category I include port and stout. Scenes like these from Boak and Bailey now just confuse me. I ask myself: "do they have invisible snow somehow in Cornwall?" I shake my head as soon as the idea comes to me. It goes away. I am reduced to comparing corks to pass the time, to save my sanity. I even asked Facebook a question and then tried to answer it: "can a caged cork be a dud? The one in the middle is from tonight's under-inspiring Goudenband 2010. It looks like the base did not expand in the neck of the bottle. The cork to the left is from Dupont and to the right St. Bernardus. Never saw this before. The bottle aged standing up so contact with fluid is not the problem. Generates a head and otherwise fine but a dull bottle." Really? Narrow cork bases? It's come to this. I could only gather the whisps of energy to write that on a long weekend in a deep freeze somewhere along the way in mid-February. Sad.
=> The more I think about it, the more I think this line of thinking by Stan is the most important thing I have read about good beer for a couple of years. There may well not be enough growth potential in the hops and barley markets to supply very much more good beer. Other crops may simply be more profitable and the farmers may not want to switch. Plus, all the best land is already in production. Plus, who wants to sell to pip squeak craft brewers when you can sell to one big steady customer? Be careful, though. You can get into a lot of data. Just look at those 91 acres of Fuggles in Oregon in 2013? What? None in 2012 and none in 2014. What was that about? I have no idea.
=> Thank God Valentine's Day is over so we don't need to pretend that chocolate does not go best with port. [Did I mention I like port?] Hint: buy good cava… cheaper than gueuze. Now that that is settled, we have to listen to the best beer for Shrove Tuesday pancake batter. Answer? None. Make a normal pancake, wouldja?
=> In what other country would a national government announcement of a change to law mean nothing else really changes. Here in Ontario? Won't make a bit of difference.
=> Interesting. Australia is investigating the big brewers and the wholesale draught beer market. Could there be fiddling going on? Imagine. The question is about the state of competition in the market but similar cases have recently been won there against a pharmaceutical firm and supermarkets.
That's it. Not the greatest set of thoughts but I blame the season. The stupid evil frozen season. A month from now? With any luck the peas will already be in the ground. For now? Evil sits upon the land.