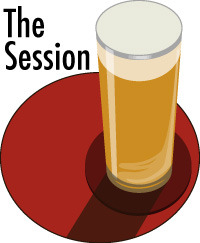 For this month's edition of The Session, Alistair Reece of Fuggled has answered the emergency alarm as Boak and Bailey have put it so well:
The Session, when bloggers around the world get together to write on the same subject, is a fragile thing, only ever one dropped ball away from disappearing altogether. This month's was looking dicey until Al at Fuggled stepped in heroically to save the day, proposing for Session #135 the topic 'Sepia Tones'….
You cannot be as much a crank as I am without having a solid point of reference for comparison. Actually, I don't accept all that "Al the Curmudgeon" stuff by the way. In fact just this week, while watching  Rowan Atkinson in a much delayed broadcast of the first episode of Maigret this week, I was struck  by how much like his portrayal of the main character I am.  Much more the cool yet vulnerable observer of life who plays a quiet role keeping you all somewhat safer while, myself little observed, I move down wide chestnut-shaded avenues like him wearing fantastic grey flannel suits and fedora leaving the scent of modest yet fabulous pipe tobacco floating behind me. Knowing that… it is sad – or perhaps just self-congratulatory – that I used up the title "À La Recherche Du Bière Perdu" in March when I was contemplating a then mouth full of stitches so I can't even layer this post with an entirely appropriate Proustian gloss as that would be repeating myself.  And I would not want to do that. My new inner Maigret would not do that.
Memory, as I learned in my days twenty years ago when I worked as a criminal defense lawyer initially of little brain, exists in the present and in the mind. We are bits and pieces gathered together in a shape like sea glass in a jar. A 8 mm film replaying a record of the past crudely spliced and haphazardly edited with our own conscious interjection only half guiding the process. We are in ourselves a fiction. Which is, one might suggest, why we drink. Not so much to forget as to pleasantly fill in the gaps. Which may be what Alistair is alluding to when he asks us to "get melancholy, drag up memories of good times gone by, and join us in this month's Session."
The fiction we find each ourselves placed within is not all that different from the fiction good beer finds itself in. Today's false claims of pink sludge in a stemmed glass, the phony history and personality cult aggrandizement driven and jockeying with the story tellers' middle aged cramped ambitions for a reasonable retirement which outstretch any realistic opportunity for most.  The sins of a pleasure trade are always laced with compromise and money making. Was it better when I was young, pure and fresh? When discovery was in fact possible, when the new brewing was laced with something actual new?  I don't know.
I can only know that it was my youth. Perhaps. The gang of pals out in our regular loud hot Halifax port city taverns. The bars in foreign lands. My first tripel served in a dimpled mug in a beer of the world outfit in France in my twenties when, again, backpacking through cheap hotels and hostels. My father passing me a half-pint of shandy in Ely in 1977 when I was 14 and, again, him handing me a full pint of cold lout three years later in a pub on Sauchiehall Street down from the sports store up the stairs, the same pub that I walked past three years ago but didn't enter for fear of both having that memory disturbed and re-edited and, honestly, also the fear of a pub like that in Glasgow late on a Saturday afternoon after all the matches are over.
The sepia tones cannot fix certain things. Not the cringing inducing dumb things done when young, the thin boasts made to and of oneself, hovering too late at night or too late in life at the party. Those bits of medical advice recommending changes one picks up as the years pass. And, if we are honest, sepia can't improve upon another clear headed early Saturday's morning coffee enjoyed now far more often than a Friday night out at my age.
Does beer every actually grow up? Can it? Or is it a cheap Peter Pan promise of the Neverland injection that should last a few hours but, if you are unwise, the very thing that can trap you for years… or more… or even less.  But there I go again, post-Bean observing.