I do not appear to have provided much by the way of information about Young's. Just Dirty Dick's and their Double Chocolate Stout – and even that last one was just the barest note. How sad.
Young's are a local brewer in London that has done very well in the export market. Not that long ago that were somewhat hard to find even in England. David Line in his early and important homebrewing guide from 1978 called Brewing Beers Like Those You Buy – a novel idea 27 years ago – says this about the Special Bitter: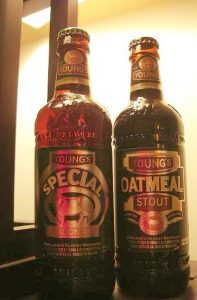 Youngs has existed since 1831 but beer has been brewed on the site of its Ram brewery 1533. Even as recently as the late 1990s, the brewery's history speaks of adding a bottling line to satisfy supermarket demand. This is still no macro-brewer despite its age and reach.
Special London Ale: This beer pours a quickly dissipating tan head over slightly russeted orange ale. There is a strong mineral rich aroma as soon as you open the top. Very distinct with orange apricot marmalade fruit, a tiny touch of black malt toastiness, a distinct yeast strain that is more dry cracker than biscuit and very twiggy hops with a sweet floral background. Very complex and pleasing. You know, I think that Mendocino's Eye of the Hawk Select Ale is something of a respectful imitation. All BAers but few respect.
Oatmeal Stout: this is a fantastically good stout with a rare roast malt nuttiness. It pours a mocha cream head over black garnet stout. The yeast is rich chalky cream over which sits a halo of mint hop, Northern Brewer I would think. The black malt toastiness is subdued, balanced with a figgy note. Rich but not sweet. Perfectly balanced…and perfect. Almost sherry, a glass took me an hour and a half to sip. The 1% of BAers who say nay speak of a nitro-can version. This was not.
I promise to do better covering this brewery's ales. I really do.