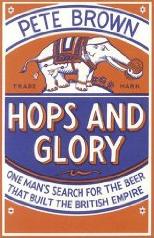 Well, I finished the book on Wednesday watching kids softball practice. The short message really is that if you are reading this blog you should buy the book. Well written, informative without being stuffy, funny yet quite personal. Likely the best beer book of 2009.
And I checked. I didn't make the credits. I didn't think I would but you never know. You never know if you are going to see a note about the whack job who was emailing about the (Inter-)National Toast for Michael Jackson on 30 September 2007, a few days into the tall ship portion of the trip. But no. No, I got something better. On page 248, when he was ten days from Brazil, experiencing one of his lowest points of the entire trip what did he write?
…And even if I had been successful, so what? Who would actually have cared apart from a handful of blogging beer geeks? What was I going to do?
I was verklempt. When one feels like an utter loser and that one's mission is a dud who springs to mind? Beer bloggers, that's who. I am sure it was really thoughts of Knut rather than me that steadied our man Pete in that hour of darkness upon the high seas but it's the general idea, right?
You should buy it. So, go buy it – still 50% off at amazon.co.uk. Review part 1, part 2, part 3.