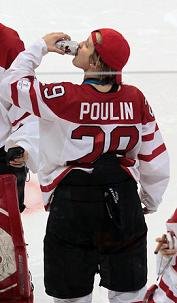 I still wonder what the average Latvian thinks about all this but at least this story makes a little more sense than needing to shut public booze sales and politicians drunk driving. Yet the International Olympic Committee is not amused:
Nearly an hour after the Canadians won their third consecutive Olympic gold medal with a 2-0 win over the Americans, the players came back out on the ice in the near-empty arena, smoking cigars and swigging champagne and beer. (Rebecca Johnston even tried to drive the zamboni.) "I don't think it's a good promotion of sport values," Gilbert Felli, the IOC's executive director of the Olympics, told the Associated Press after learning about the celebration. "If they celebrate in the changing room, that's one thing, but not in public. We will investigate what happened."
Gold. Literally. What's that IOC? Leave it in the locker room? Hide your beer drinking?? What a joke. Remember, these are Canadian hockey players and remember what the Russian goalie said when the mens team gave them the boot the other night: "They came like gorillas coming out of a cage."
Yet is that what we are? Is that what the world sees? Are we really the wild men and women of the north, clubbing and hammering poor Russians and American athletes as mere foreplay for a good beer? Sadly, no one appears to have taught the women's hockey team on the ways of good beer. Does she really need to be sucking down a Molbat macro-blurt?