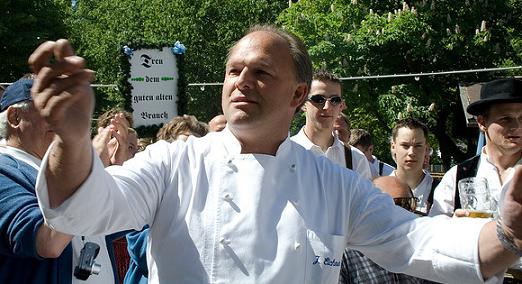 Ron has explained that he has had a run in with this man above due to the use of a camera. In his post from last Sunday, he describes the salient facts:
…the boss came and told me I had to show him all the photos I'd taken and erase them, even the ones that were just of my beer. He threatened to call the police if I didn't. Even the one of the entrance, taken from the street. He claimed that it was all private property and I couldn't take any photos. He followed me out onto the street shouting insults at me…
I am not naming names but you can look it up. As he was clearly dealing a person of little common sense beyond the confines of his own mind, I am completely on side with Ron… except for the nagging question of a potential principle. See, I was named and even had my photo published in a paper recently in the course of my work and found the experience odd. You can look up that, too, but because I am fat I really hate photos of myself and, even at that, I was a little shocked with the realization that me being seen in any context was news. But Mr. Teutonic Tizzy Fit 2011, Ron's new friend, wasn't about that. He was just a pompous boor, pretending he had a right to the sight of his bar.
Ron reminded me of two other incidents as a beer blogger that have shaped my thoughts. Back in 2004, I went into a beer shop in Pennsylvania and was told, no, I could not take photos, that it was against the law. I thought that was a lie, that I was getting jerked around and, as you can see, I snuck a few interior shots out back. Sirens did not wail. In the other case, in the spring of 2005, after hitting the Blue Tusk and Clarks, I found myself late at night on a great crawl in Awful Al's Whiskey and Cigar Bar where I was soon told to stop taking pictures and even to show I had deleted a couple in particular. The request was made by a bouncer backed waitress and, even at that particular moment, I saw the ethical point. While I love all three sets of photos from that great night out, to the waitress I was Mr. Creepy Digital Cameraman 2005. No issue at all as far as I am concerned.
Is there a thread of an ethical principle to be drawn through these examples? For me, I have every sympathy for wait staff. I've done it and, like laying sod for a living, stopped. That waitress, I realized immediately, had every right to feel I was out of line. I even have some sympathy for the guys in PA whose shop I may have illegally photographed – given the whacked laws down there and how it might just be true. But even if German law gives Ron's pal the right to control the dissemination of images, I don't care. He's a bully.
But is that good enough? Those are my conclusions based on the moment. Is there a better way to determine whether it is right to take a photo for your beer blog?