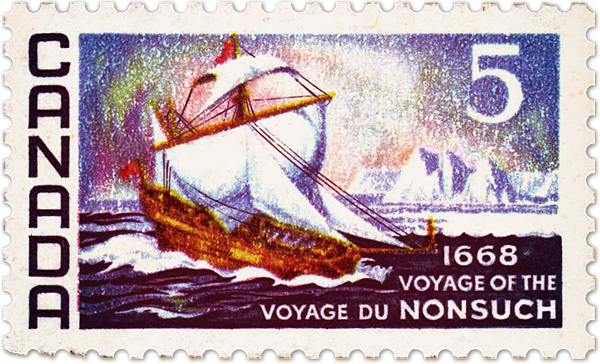 So, we are working through the final draft of the history of beer in Ontario and I realize something has been staring me right in the face for quite a while now. Here is the passage in question:
The early ships' crews considered its beer of great importance and even survival. In 1668-69, the crew of the Nonesuch over wintered on the James Bay coast and reported upon their return:
…they were environed with ice about 6 monethes first halting theire ketch on shore, and building them a house. They carried provisions on shore and brewd Ale and beere and provided against the cold which was their work…
See what I missed that was sitting right before my eyeballs? They brewed ale and beer. The news was reported in issue 408 of The London Gazette, too. Not that they made both ale and beer but that they survived a winter in the Canadian Arctic. The Nonesuch was small and tough, custom picked to both survive the trip to the edge of the known world and be hauled out of the water to avoid the crush of ice. Only 53 feet long, a replica can be found in a museum in Manitoba. Manitoba? Yes, well, after the British Parliament's Canada (Ontario Boundary) Act of 1889 introduced a boundary that divided the former Rupert's Land that included the watershed of the big bay, including much of what became Ontario's north.
Got it? Wonderful. But let's get back to the point. They made two things to drink. Two fermented beverages. Why? You are stuck in a situation that may as well be the dark side of the moon, you have cleverly brought a survival space pod as well as sufficient supplies (think food in tubes) to make it though the six months of frozen horror… and you make two types of booze? Why the heck do you do that? Well, just a century and a generation before the voyage, the benefits of ale was described in 1542 by the physician Andrew Boorde in his book A Dyetary of Helth. The key was conveniently referenced by Martyn this week: "Ale for an Englysshman is a naturall drynke." Yet he is also the man who wrote:
If it do come by an hurt in the head, there is no remedy but pacience of all partes. If it do come by debilite of the brayne & head, drynke in the mornynge a dyshe of mylke, vse a Sirupe named Sh'upus acetosus de prunis, and vse laxatiue meates, and purgacions, if nede do requyre, and beware of superuflous drynkynge, specially of wyne and stronge ale and beere, and if anye man do perceuye that he is dronke, let hym take a vomite with water and oyle, or with a fether…
….so it is hard to know what to believe. Especially if you remember what Pepys said folk on ships got up to when they were on the ale on April 30th, 1660:
After that on board the Nazeby, where we found my Lord at supper, so I sat down and very pleasant my Lord was with Mr. Creed and Sheply, who he puzzled about finding out the meaning of the three notes which my Lord had cut over the chrystal of his watch. After supper some musique. Then Mr. Sheply, W. Howe and I up to the Lieutenant's cabin, where we drank, and I and W. Howe were very merry, and among other frolics he pulls out the spigot of the little vessel of ale that was there in the cabin and drew some into his mounteere, and after he had drank, I endeavouring to dash it in his face, he got my velvet studying cap and drew some into mine too, that we made ourselves a great deal of mirth, but spoiled my clothes with the ale that we dashed up and down. After that to bed very late with drink enough in my head.
Is that what they were doing with that ale up there in the Arctic in 1668? My heavens.