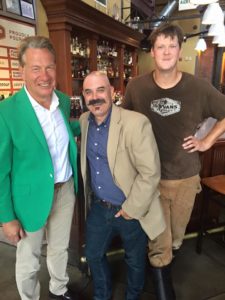 Two days back off holiday and I am already taking an afternoon off. Slacker. Well, there was a need to do so but not really to do anything other than mind the wee one. Fortunately there's afternoon baseball to watch online and lots of beer news to catch up with.
=> First, the best news of all is that I may have figured out a cure to the spam war. When I was in Maine I opened up the comments page on the admin to find myself facing over 5,000 pending comments needing manual deleting. I rolled up my sleeves and figured out a few new things. Result: no evil bad comments for a few days now. Even though the blog's FB page has neatly stepped in, I can now state with confidence that the comments will be open… as long as this keeps working.
=> Jordan made an excellent point in passing over of FB which needs repeating: "I hope they take about ten percent market share. They will then be eligible for beer store ownership. That'll put the cat amongst the pigeons." He's talking about SABMiller's enthusiastic return to the Ontario beer market. While I remain unmoved, the petite reform MOU does state that "ownership of TBS will be open to all brewers with facilities in Ontario." Get it on, SABMiller. Get it on.
=> I was not able to get my butt back down to Albany after driving through the last two weekends coming and going from Maine. Sad as one of the great leaps forward was held yesterday as the BBC programme "Great American Railway Journeys" was in town filming and included the Albany Ale Project as part of the story of its New York episode. As you can see, Craig aka "Showtime" had as natty a sports jacket as host Michael Portillo. Plus I got an email that read "I have spoken to my Director, Tom, and he doesn't plan on you being on screen on screen on this occasion.." I should have known partnering with a former hand model would end up like this…
=> Another excellent edition of the "Drinker's Digest" appeared over at Stonch's place triggering a rather zesty discussion beginning with: "Tandleman has a point there will be certain people with vested interests who won't be happy to hear it…" Tandy carried forth himself today. Which is associated with this comment on food blogging's latest ethical crisis by a noted wine writer. As I mentioned in the alternative format, with all due respect, it isn't at all just about disclosing receipt of resources and benefit as part of one's writing. That's just the entry point for the discussion unless you don't care or don't understand how it appears to reasonable people when writers accept resources for what they write from the subject matter of the writing.
=> Maureen speaks for me in relation to 80% of the beer books put out in the last five years: "Routson's beer primer is no better and no worse than 50 others I've read in recent years. The usual suspects parade the pages: beer styles, brewing process, cooking with beer, pairing food and beer, "science-y numbers" with which to impress your pals, and tasting notes aplenty." Personally, I would have used the line a bit ago when we were all supposed to care which beer went with the chilled shrimp and avacado wrap. Note: Jeff gets special dispensation as his book sat with the publisher for two years for some unknown reason. But we can stop with the identa-texts now, right? Write only original beer books starting… NOW!
That'll do for now. It's summer. There's baseball to watch. And a new beer to try. Not telling which. I paid for it myself. No need to tell you anything about it. Bet it will be great. Not telling why.