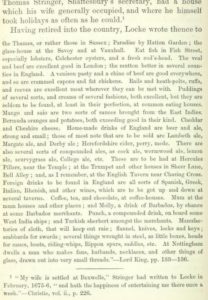 To the right you will see a passage from The Life of John Locke from 1876 that includes a quotation from a letter written by the philosopher in 1679. These is plenty to unpack from the passage but for present purposes I want to consider the bits about beer as it provides an excellent means to understand what I have been slowly exploring in that distant century.
Locke organizes English beer under three high level categories: (1) home-made, (2) for sale, and (3) compound. These are the broken down further by sub-categories or examples. Home-made is beer and ale as well as strong and small. Those brewed for sale are illustrated by Lambeth ale, Margate ale and Derby ale. Compound ales are described by an open ended list: cock, wormwood, lemon, scurvygrass and College ales are followed by an "etc." There is also a single example of an import, Mum.
Home-made strong would include the familiar forms March and October brewed in big houses – as well as that newly pesky thing called September. The sort of propertied folk who might have a copy of the 1668 edition of A Way To Get Wealth where the two classes are called March and ordinary. By at the latest the mid-1700s they are joined by the massive ales for the heir of a great estate reaching the age of majority. While Locke might not be a customer himself, home-made strong and small would also include ale house beers of the sort mocked in the early 1600s poem on Elynour Rummyng.
Beers for sale are a familiar form we have seen before. Big ales shipped along the coast like Hull ale, Margate or Northdown ale, Derby ale and Nottingham ale are all familiar names from seventeenth century records. Lambeth ale is interesting. Pete Brown in his first book Man Walks Into A Pub stated (at page 77):
I'm not sure what's special about Lambeth in the ale stakes, but Samuel Pepys used to swear by it, and he knew his ale.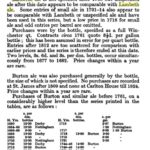 Two years ago, I wrote about brewing at Lambeth in the early 1800s but that was a new facility, not from what I can see any continuation of earlier brewing at that site. And I don't see Martyn discussing 1600s Lambeth in his book Amber, Gold & Black or on his website. Nothing at Shut Up About Barclay Perkins either. As you can see to the right, Lambeth ale is recorded in Beverages' 1939 book Prices and Wages in England covering 1500 to 1900 but he notes at page 397 that he last sees it being specified as a type of beer in 1708.
Interesting to note that Burton is not listed by Locke. This confirms that Burton ale, as suspected, was not shipped until the improvement to the river in or just before 1712. You will see in that same page just above from Beverage's research that Burton is noted as a specific ale starting in 1713. Neato chronology-wise.
What Locke calls compound ales is the most interesting aspect of his categorizations as it seems to include brewing that includes an odd ingredient like scurvygrass ale along with beers made for specific functions like College ale. One possibility is that College ale has an odd ingredient. We may have seen this before in the case of Coppinger's early 1800s description of Dorchester Ale. It seems to turn on the inclusion of ginger and cinnamon. We have also seen in the early 1600s that English sailors off Newfoundland added the juices of bruised herbs to make medicinal tonic beers. Functional adjunct-laced brewing. It's not much discussed from my reading but Locke clearly considered it of significant enough a status to include it.
The beauty of the passage is it provides a construct, a "conceit" if I recall my seventeenth century lit class correctly. The classification of things was a thing that either Plutarchan or Senacan essayists were up to and Locke gives us a bit of that usefully for the beer he saw around himself. It also sets a benchmark for consideration of the great changes in British brewing that come in the 1700s. I shall govern myself accordingly.