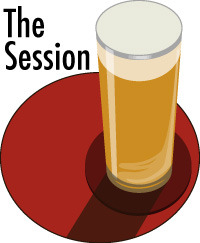 For this month's edition of The Session, host Jon Abernathy of The Brew Site has asked us to consider home brewing.  This is an interesting thing as we do not often get to consider, to reflect. To dwell upon. OK, who is kidding who? That is all I do.
I have had three phases of home brewing, the last of which is a decade in the past. The first, when I was in my mid-20s and between university degrees, was fun. I had been to the UK and picked up not only some books at the Pitfield Beer Shop but some rare equipment.  So, I was at the tail end of the UK-based Amateur Winemaker line of home brewing and never understood the attraction of Papazian – the relative flakiness and lack of technical information. More importantly perhaps, brought back a couple of five gallon polypin draft dispenser bags which, when filled, fit wonderfully into a milk crate. No bottles. Draught. When I bought my first house about 20 years ago, I went into home brewer big time brewing twice a month at least, making ten to twenty gallons of mainly low strength ale every four or five weeks. Last, when we bought this house I briefly revived the hobby.
Why did I stop? First, health. Home brewing – like that far more briefly followed hobby cheese making* – is basically cake icing making.  Gallons and gallons of beer – even ordinary bitter – sitting around the house represents thousands and thousands of surplus calories. I put on weight despite an otherwise healthy life playing soccer and working an acre vegetable garden.
And it is more than that. It's all very fine to suggest that the problem with strong drink is that that it is a just buffer – that others suffer who are "those with difficulties that they hide with booze" – but we know better. Alcohol is the direct cause of deeper issues. In my first phase, the house basically became a free bar with a couple of draught taps. Those pals that hovered too much, as with any public house, were affected by that much drink. It did not take many months to realize it could get a bit unattractive even if it was interesting to figure out how cheap and easy it was to make a decent pint from malt, hops, yeast and water.
Cheap. Home brewing also was about saving money. When I was a college era party lad, it was great to pre-game for pennies. When I grew up and established myself, downing less and finally earning a decent income, my time became more important than the cash.  Why put all that effort into a task that was replicated by me heading over to the beer store and spending a bit of moo-lah? Additionally, the taking on of the task itself added a hazard to the house with young kids. Boiling a couple of gallons of maltose laced extract or shifting a full five gallon carboy are high quality occupational health and safety moments. It really no longer practically fit into life.
Finally, more and more good beer came into the world.  The move back to Ontario fifteen years ago situated me near a decent supply and the proximity to the international border with northern New York soon fed my cross-cultural interest in a wide variety of beers that I could never make – the fodder for the creation of this blog.  Why spend money and wait a couple of weeks shipping in the load of rare grains and other supplies from a quality home brew supplier when i could bomb down to Syracuse and load up?
So, what is left of the equipment gathers dust. No hobby for this old man.
*Downing a few pounds of the best cream cheese you will ever have over a matter of days is a great life lesson.