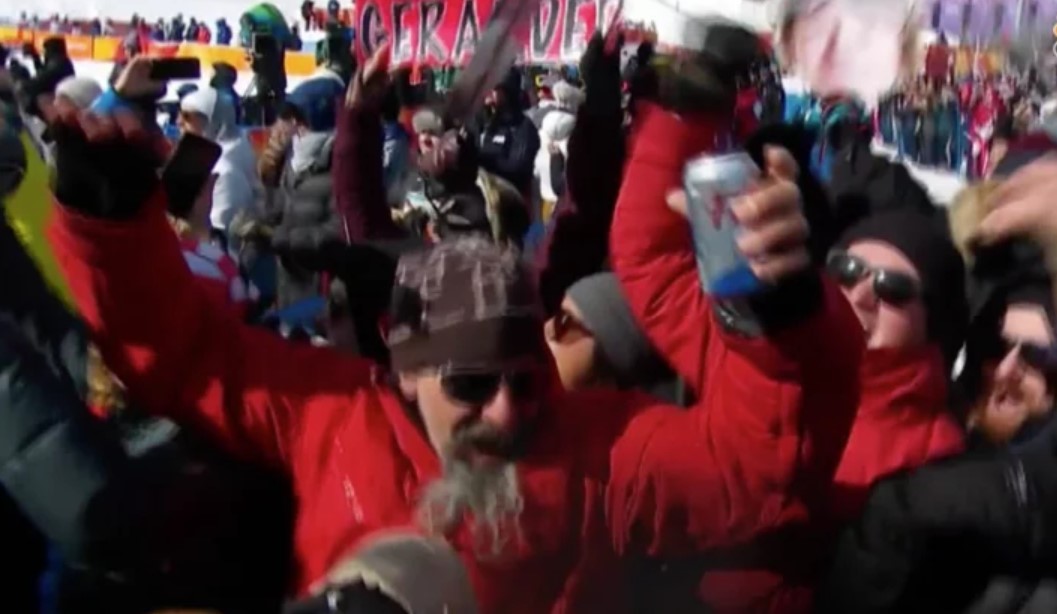 Starting with more Olympic beer news, apparently Team USA has jumped into the spirit led by Canada with it's own variation, Olympian's drunk Dad. Well played.
Speaking of drunk Dads, Ben has written extensively and not without a bit of flair on the endearing awful bars which he insists can be distinguished from the more hipster friendly dive bar:
They have cheap wing nights, karaoke, a clock counting down to St. Patrick's day. Big corporate branding shamelessly adorns every sticky surface; a tacky plastic archive of years of visits from beer reps with expense accounts and a few kegs to unload. They're the kind of places where the food is almost never what you want and exactly what you expect: big, fried, heavy, and available with inappropriate amounts of sauce for drizzling/dipping/Buffalo-ing. Where they serve Pepsi in heavy, branded 16oz shaker pints and they scoop the ice right out of the well using the glass…these bars appeal to a baser part of me that remains from a time before I knew better.
I tend to think of such bars ("dumps" in my parlance) fondly if I recall them in safety of the theater of my mind. The dumps of my youth. Ah, the places my pals passed out in. But… you know, now I actually hate a bad meal, a sticky surface. My pals passed out in a place like this! And, then,  it's a vicious cycle as snooty Oldie Olson beats himself up a bit inside for being such a loser. I can't appreciate an actual unselfconscious bar anymore. But maybe that is OK – as they are often just grim bars for the unconscious.
Again, the everlasting "good people" question. Personally, I have seen no evidence of better or worse. Elsewhere, the media analogously sift clues. Because that is what they do.
No. No, I actually wasn't.
"I have absolutely no way to account for its sales growth" is an odd thing for a good writer to write. [Not anywhere nearly as bad as the too often otherwise stated "trust me" but… still.] For me, the reasonable or at least knee-jerk answer is that seeking all-purpose axioms are a bit of a mugs game.* The only fact needed to be known is that Two Hearted Ale is lovely. By way of comparison, have a look at what wonderful wine writer Janis Robinson wrote about the problem with typicality. I like how she points out that focusing on type is a distracting problem caused by a conservative approach and mainstreaming. Yet, Jeff is right that a pattern seems to be offended by the beer's success. Does noticing such things reflect a natural desire for the means to account for such things, for the seeing of sub-species, for the hope for "some sort of convention in naming and labeling"? Just because it is a weak draw for me and some… is it so wrong for others and some?
Next, it is either quite hard to find an exclusively all-male WASP panel these days or, I suppose, quite easy: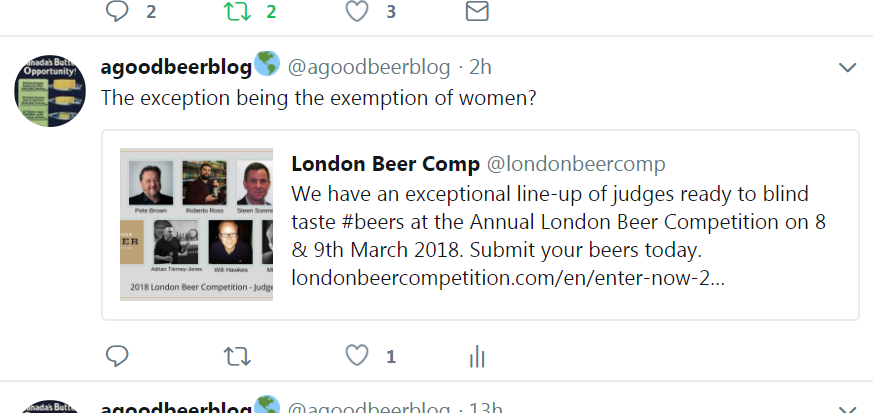 Finally, as we all heard at the first end of the week, Stone has brought a
trademark action
to defend its branding against MillerCoors for certain presentations of its Keystone branding. As you can imagine, the actual law is dull as dishwater – as it should be. The only attention grabbing is the needy "
He's Hip, He's Cool, He's 45
" stuff from that annoying member of of Stone's ownership group.  Bryan Roth has a very good roundup of a number of  legal perspectives on the case, summarizing
views
ranging from "
it seems like a pretty decent case
" to the arguments are "
a bit thin
." Like others, I emailed one of those quoted, 
Brendan Palfreyman
, to ask questions. Turns out he's in
Syracuse
about 90 miles to my south and we now know we know people. He assured me that the wild eyed hyperbolic form of claims made by Stone in the court filings are actually normal forms of pleading in the States. Have a
look
yourself. Sad. The Queen would never have it. Apparently, MillerCoors could move to strike a bunch of the junior high puffy but it would actually be unusual – unlike here in Canada where we lawyers operate with that cool clinical confidence that the Crown requires. Bond-like. That's us. So… we can probably expect a second helping of a whole heaping pile of knuckle headed rang-dang-doo in the Statement of Defence which could be issued as soon as a month from now. That should be fun. My take? There is no confusion ever going to be had in the marketplace between the two products which have co-existed now for about twenty years.
Oh… not beer: the history of slavery on Prince Edward Island.
*See "good people" concept above.