Did you see the game? I don't know or really care what game it was but May is all about the games. Big ball games. I never am sure what the rules of big ball actually are but it sure is exciting this time of year. I think about that when I read about things like that it is America's Craft Beer Week and think – how dull is that? And even nine years after "Hooray for Everything" it is still pretty much stuck in that same rut. What is it about beer that makes its promotion either offensive or deathly dull? I love that the vision for the event-like thing used to be:
…the week to inspire beer enthusiasts to declare their independence by supporting breweries that produce fewer than 2 million barrels of beer a year and are independently owned…
…given, you know, that the whole "fewer" thing is out the door and "independence" is such a dodgy concept it had to be converted into branding to patch over the difficult questions. Unless Andy is right and the schisms as just beginning. Anyway, to each their own. I suspect the real value is in brewery staff pep rallies, hot dog cannon sales and boosting the pamphlet manufacturing trade… that sort of thing.
What else… or, rather, what is actually going on? By the way, have you lost the ability to waste time on the internet?* Good question. Not me! Evidence? This weekly post. Further evidence? How about an immediately early morning bonus update mid-paragraph to highlight this amazing piece on how to do nothing in Chicago** for a whole day.
Ruh-ro: Saudi beer caps.
Yikes! "Microplastics in beer is no small deal" is real news. The Great Lakes seem particularly hit. I live next to a Great Lake. I drink its waters. It's in the tap water. And therefore in me. I expect to hear it is very bad… or overblown. But not as bad as this was feared, I hope. I just can't wait for the beer trade PR semi-pros to start handing out the medical advice on this one.
Gentle razzing amongst new urban central Canadian beer mags was received concurrently with emails describing the reorganization of the excellent third such publication launched just last year.  Offering best wishes feels a bit like hoping the kid will learn to ride that bike without losing a tooth or ending up in a cast at some point. Who will actually survive? Will any make it to issue four? Worth noting an utter lack of fidelity amongst the writers. Everyone seems just to write for everyone. Did I expect anything else?
Fabulous observation from the world's most honest publican: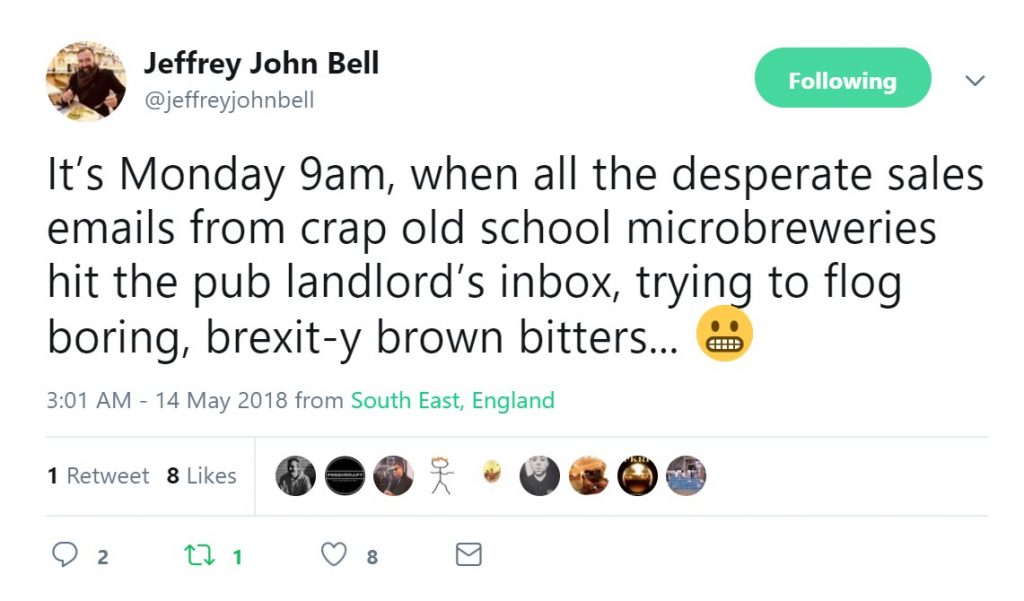 Well… what is success anyway? BrewDog provides comparison and have again highlighted the now long-past-death of craft with the announcement that they are closing in on billionaire status… well, Canadian billionaire.  Sure the fingers get pointed at dear old semi-demi-delusional Humphrey but as far as UK craft brewing magnates go these days, Watt and Wham… err, Dickie… are leading the pack.
I was going to not bother with this Beavertown*** story as it is rather boring being another small brewery making the move to being much bigger on the way to being very much bigger. I figured Boak and Bailey would know more and get to it Saturday. But then they got to it on Tuesday… and then they got to be bizarrely labeled as both vaguely biased and, oddly but not uncharacteristically, apparently not biased enough… again vaguely. Non-story mock outrage. Sad. Nate gets it. Fan fiction of a sort, I suppose. Except I can only presume, as usual, it was preceded by a phone call and a back scratch. Which Cloudwater, jumping in on clumsily (and somewhat anti-democratically), seemed to prove. Nice bit of poor widdle cwaft performance art.****
Rather conversely, some real news here about the application of the law under the heady New York Post title "Winery owner busted for 'illegal moonshine operation":
"The discovery of an illegal moonshine operation in the heart of Brooklyn is nothing short of shocking, given how easy and inexpensive it is to obtain a distiller's license in New York state," said SLA Counsel Christopher Riano. Snyder was led away in handcuffs following the Wednesday raid, authorities said, and was charged by the city Sheriff's Office with the illicit manufacturing of alcoholic beverages. The class-E felony is punishable by 1-4 years in prison.
Frankly, I am surprised we have not seen more of this, especially given the pervasive false "new e-conomy of 1996" style promise of the drinks PR trade: "don't worry, it's craft!" The handcuffing was a sweet touch.
Happier news: a piece on Valley Malt by Mr. Matthew Osgood. We used their product when we created a version of Vassar Ale with Beaus in 2012 which was, to be fair, a case of inspiration more than replication. Still, exceptionally yum.
Speaking about perhaps not journalism,*** sad to see the UK's Morning Advertiser getting suckered into this bit of PR puff about "blockchain beer" – a tale not unlike the phony "open source beer" story that got me quoted back in 2005***** in The New York Times, an organ which I like to think of as the world's newspaper of record. Bar-coding for provenance is also pretty much "new e-conomy of 1996" style. I remember being in a presentation twenty years ago for using it to prove where potatoes were grown. Amazed-balls! Decentralized server authentication through embedded cryptography is entirely different. But, you know, beer journalism so… whatever.
Wednesday, Pete wrote about alcohol in The Guardian this week but then I had to recalibrate my expectations early on when I hit this bit of health and politics:
This means we live in an age of alarmist misinformation about the perils of booze, with a growing belief that any level of consumption of this "poison" is potentially harmful. 
Unfortunately, Pete's article turns out to not be about the effects of alcohol but the phases of a single drinking session. There is a phrase you need to keep in mind when working on electricity transmission contracts: "you have to obey the electrons." Likewise, when you consider health and alcohol, you have to remember you are sitting in a human body and not a magic consumption machine. So, I am more inclined to think of this by Pete or this from Jeff than I am to buy into an idea that there is too much alarmist misinformation about the perils of booze.
Hmm. Seems like an inordinately unhappy set of notes up there. Remember when people used to call good beer a social lubricant? It was going so well for a few weeks but – whammo! – so much getting it wrong in so many ways.  Graft, innuendo and dipsomania all in one place together. Is this the end? Has something run its course? Or is the sign that something new is just around the corner? Well, for answers to those and many more questions you will have to wait until next week to see. Or tune into the internets on Saturday to visit with the, seriously, much more creative and informed, pleasant and positive Boak and Bailey.
*Can we even recall what it was like?
**Hint.
***Admittedly, the name alone poses a challenge to any Canadian. Not to mention this.  And… the icky.
****None of this was about "journalism v. opinion" with all due respect.  So, what do we call it? The assertion of status for some reason or another is a part of what I see. Which leads to the broader question: what is the point of following this sort of transient semi-contrived issue-skirting promotional writing if the point is, in an way, not ultimately what is written? Fortunately, having written inordinately about the Georgian era, I can see an attempt at a status-based construct over a merit-based construct from the next valley.
*****Have I ever mentioned that I was quoted in The New York Times in 2005? I have? Could I share more details with you?