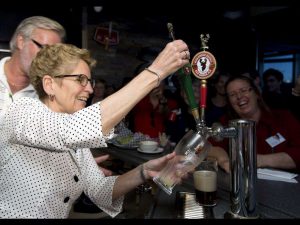 Quiet. So quiet Stan is taking a month off. You know what he does in these little gaps of his? Not judging. No. Not me.  It's election time in Ontario all of a sudden but, again like in 2014, I expect a quiet sleepy time for beer as debating point on public policy. That is our current Premier Kathleen Wynne performing the obligatory pouring of the beer back in the last 2014 campaign. Oddly, she chose an iconic brand from another province far far away. I shall make no such error. I am announcing my committment to offering you the best politicians pouring beer photos throughout the next month of campaigning.
Was it really quiet this week? OK, there were some spats. Folk not liking folk calling folk out. I don't get into these personality things much so I can't speak to the dynamics. These are all strangers to me. And then there was that whole "Monday of the Glitter Beer" argie-bargie. While there are good intentions involved, my position remains clear: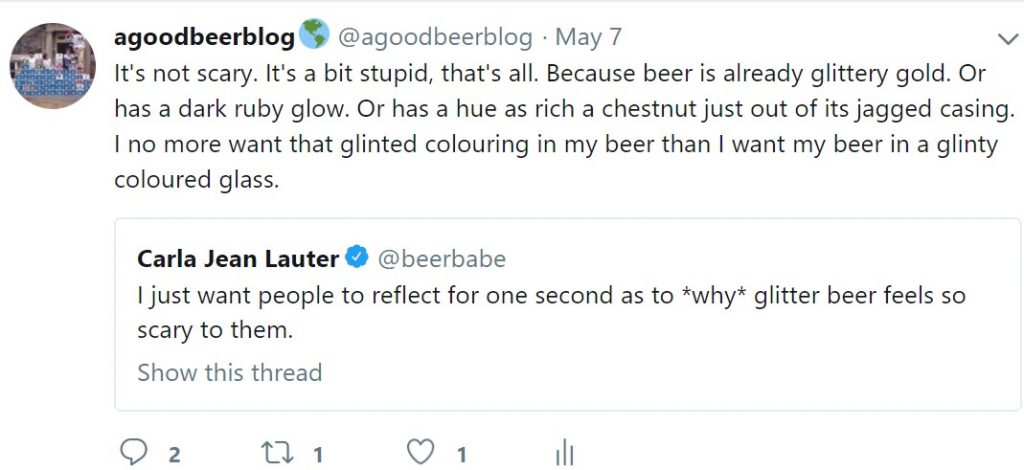 I really should have written "silly" and not "stupid"* for niceness's sake… but my point would have really been the same. You dull a beer with murk and then add adulterating if likely benign elements to make up for the loss of beer's natural jewel like gleam? But isn't the real thing folk should understand is that it just doesn't matter at all? I was a bit surprised by the glitter as a thing women use association argument as I think of glitter as a thing children use. Stuff on the craft shelf like the Elmer's glue and construction paper. Hmm. Maybe it helps to be Canadian with pals in upstate New York. Let me explain. In upstate New York, adults eat hot dogs. I get it. I even do it when I am there. There is a rich history of ultra-local hot dog loyalties. But in Canada hot dogs are the food of a child. Like racing all a giggle towards a teeter-totter in the park. Or excitedly wearing a new ball cap with Thomas the Tank Engine.** That's what hot dogs are. And glitter. Doesn't mean its not worth taking pleasure in. Fill your boots! [I understand folk like to play "name the hops in the beer" too.] Frankly, any reason for a good schism is reason enough for me.
Jordan has been quiet. Now he says he will no longer be as quiet.
Hmm. Even though I have unjustly received the sting of the Protz, this situation is a bit odd.  A newspaper… well, a newspaper-like-thing sneakily reconstructing an apparently new interview and story from an old interview and story. How odd.
What else is going on? Kara Loo and Kelissa Hieber posted a good summary of events at this year's US Craft Brewers Conference from the positive party line point of view. I say US even though the BA seems to be silently absorbing the Ontario craft movement and maybe other Canadian craft brewing regional discussions. Is that happening elsewhere, too? Me, I find the "Stronger Together" stuff a bit weird. One ring to rule them all. Who would have thought independent and small mean homogenization and centralized authority? Jeff likes "independent" but I just don't get it at all. Hard to think of a vaguer word to frame a potentially stalling trade's rebranding campaign around.
There is a good reason no one goes to watch three-legged races. The rope tying up the participants. I think of that often when I read folk trying to describe the economics of craft brewing while carefully avoiding any discussion of the owners' take from these businesses. It's all very well to tell sad tales of the actual hardships families of brewing staff face but why is that not partnered with the story of the lifestyles, cottages and fishing boats of the established and emerging craft brewery owners?
Speaking of quiet, will what might have been called in the 1950s or 60s eastern mystical mindfullness and beer be a thing? Well, it is a thing already – one that's called "laying off the hootch" but you see my point, right? Andrew Jefford poses the question as it relates to wine in this way:
I would simply point out that there are, in fact, many points of similarity between the general practice of mindfulness and that of wine tasting.  You can indeed be a mindful wine taster; wine tasting at its most subtle and rewarding is a 'mindful' activity par excellence.
I get it. It's about the immediacy of now. But I just end up having a good nap when I am achieve this sort of state of mind. Or staring at an ant crawling through the lawn. Up and down the blades of grass. Or reading a few travel posts by Ron. Why add alcohol? Isn't the cool spring air sweet enough?
The Low House in Laxfield, England has been bought by the community just eleven years after it was the subject of a post on this here blog. Just eleven years. Coincidence?
Another month, another stage in the  case of Stone v. Keystone… and this is the point in the litigation that the non-lawyers eye will start to glaze over. See, Stone has moved to dismiss the counterclaim rather than answer it with a statement of defense to the counterclaims. Got it? Bored yet? You know, I took Civil Procedure from Tom Cromwell, a wonderful professor who later became a judge of the Supreme Court of Canada… and even I am getting a bit bored. Mind you, I think it was a Friday 8:30 am class so I likely only went maybe once every five weeks. As always, legal brain*** Brendan in Syracuse unpacks the situation.
Not beer: Living Colour.
Oh – and I did have a few beer.**** I especially am enjoying a small stash of Brouhaha, a nut brown ale from Refined Fool out of Sarnia over by Michigan. Lovely. He who is tired of nut brown ale is tired of life.
That's it. Laters.
*I did poll the drinking age women in our house and they did go with "stupid" so…
**Not to mention, giving equal time,  1 Corinthians 13:11.
***He is such a brain.
****Remember – in Canada, the plural of "beer" is "beer" – like moose. OK?