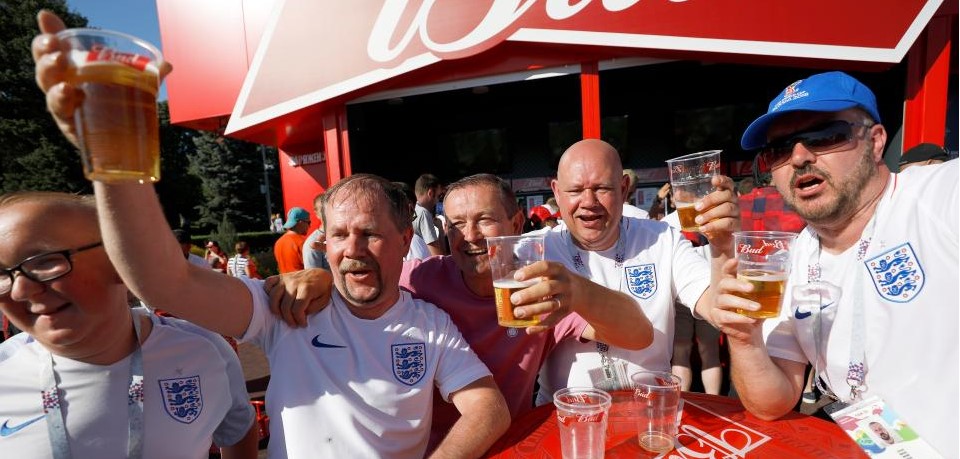 I have to admit, few of my teams made it. I think sports allegiance needs a personal or familial connection. Land of my birth, Canada? Never had a chance. Land of my fathers and mothers, Scotland? Squandered any chance they had. Hmm… I worked in the Netherlands in 1986… but they didn't make it. So POLAND! Aka "land of love" where me and herself met in 1991. That'll do. Right? Except… it's now slipping deeper under a super-simmering nationalist movement. Hmm. Gotta think about this theory of mine.
Note: Moscow might not have enough beer for the World Cup. Nizjnij Novgorod doesn't either. The lads above might be less happy soon. Related: Beavertown Brewery is dependent on an dwindling artificial CO2 supply. Other craft brewers, too.  I love these unknown traditional aspects of craffy beer. Let them drink cask!
Elsewhere, supplies are abundant. Jeff triggered a fulsome discussion on Twitter on Monday on the word "godesgood" and whether it was used all that often. Like the mythical "no one drank water before public health" line, there are many familiar fibs that are rightly challenged. My contribution was in favour of barm, including this quote from a 1430s text:
For, whan the ale was as fayr standyng undyr berm as any man mygth se, sodenly the berm wold fallyn down that alle the ale was lost every brewyng aftyr other, that hir servawntys weryn aschamyd and wold not dwellyn wyth hir.
Almost 600 years ago. Nothing to be ashamed about this year's British #NationalBeerDay, which unlike the 217 other national beer days every year, gave us at least this great photo set of the first four actors to play Doctor Who having a beer.
Apparently, according to the brewers the only way to return to cheap beer in Ontario is to lower taxes. Except, even if you do that, Ontario brewers are not interested in making cheap beer.
Warning: this article in The Guardian on the US starting to embrace British ale brewing requires readers to be completely unaware of the brewing of good beer by microbrewers and craft brewers from the late 1970s to the early years of this decade during which years the craft beer movement was largely driving by cloning the styles of Europe including, largely, the ales of Britain.  Example: Clark's… oh, and hundreds of other places.
Ugly news from what had been one of my favourite local wineries – and an apology in response with some details about the greater response. Reaction. Reaction.
Far less seriously, these two tweets by very thoughtful people remind me again how – like "pairing" – I could not care less about beer label design other than (seriously again) to get rid of all the sexist, racist and otherwise bigoted content one finds on them. Honestly, I have a very hard time thinking of a label that gives any sort of Pavlovian effect, triggering the memory of a flavour one might find within the container. But I only speak of me. I judge no one. I suppose that comes with me being of an age when there were fifty brands and one flavour of beer. I find artsy labels just force me to squint more to figure out what is actually on offer. They are the Flash animation laced intro web pages of the beer world. Still – more signal, less noise please.
Lastly but somewhat related, Andy has spotted a wee trend that I can't figure out whether it is signal or noise. Brewers are ditching "born on" dating for "best before" due to obsessives looking for only the very newest batches – even if it means engaging in style infanticide.
There you have it. A shorter post for a bit of a quieter week – some interesting news, some tough news. But mainly a week of international kicky ball, drinky beer. More will be revealed in the coming days. Especially if you take to time to catch up with Boak and Bailey on Saturday and then Stan on Monday.