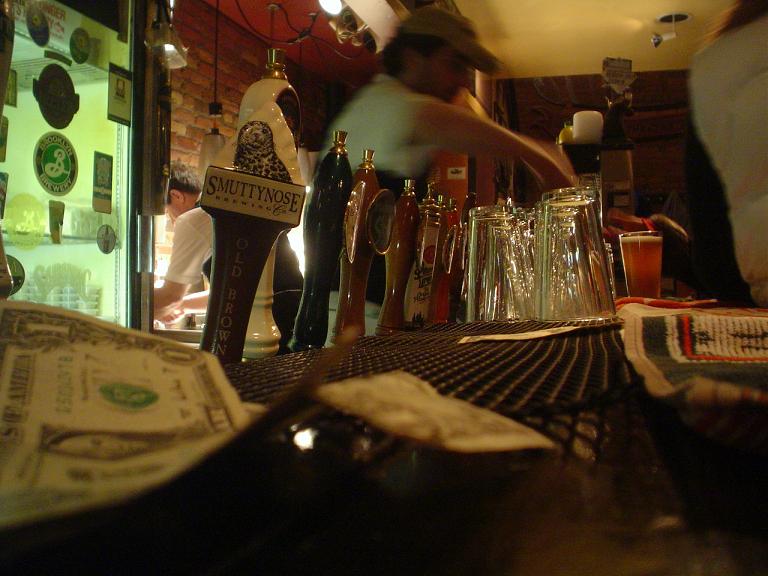 Click above for bigger beauty
I came away from a visit to Clark's Ale House knowing I should visit it again in a different circumstance. In the middle of a semi-sub-roaring tour of the town with friends, the quiet of Clark's was a little disconcerting and, given a wrong moment, felt like pretense…but I figure it was me. It has no TV, no music, no bellowing bartendings shouting to be heard. It is also smaller than I had expected with a few tables up on a second level above the bar.
Clark's famous roast beef sandwich on an onion bun. Dapper gents neatly sliced beef and pulled pints behind the bar. I had an excellent Armory Ale, a Middle Ages brew only available at Clark's. Every brew I've had from Middle Ages is so well done, I should have expected this American pale ale to be as good as it was but well-made and well-handled beers are actually so rare that you have to note when you are in their presence.
The reviewers over at the Beer Advocate are far more certain and with a return visit maybe on a Sunday afternoon as opposed to after the game on Saturday night I would also write as does one from Michigan:
From the outside Clark's is mighty inviting when your walking about the streets of downtown Syracuse on a biting cold late Autumn evening. You can see the jovial patrons, their heads reared back with laughter, through the large paned glass front. The warmth draws you in. The beer keeps you there. A pint of Middle Ages and a warm roast beef sandwich amid the chatter of beer lovers melts the icicles fixed to your eyebrows. Nifty layout holds pockets of seating, against the bar, under a window, in the back room with your best buddy, even an upper level I didn't explore. Dark stained woods around and ivyed trellis above. Cozy.
Go to Clark's and know a quiet night with their beers.