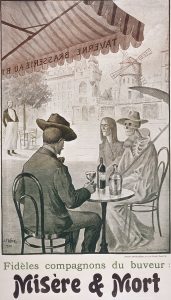 Early October. Canadian Thanksgiving coming up on the weekend. I know you are up for that. The gas stove in the basement now gets going on most mornings before the sun comes up. Leaves turning. School is well into first term. And each and every beer is needing to provide a bit more comforting malt even if it might sing with the bounty of the harvest. Sickly sweet kinder-obsterlich-biers and thin sours should be getting nudged to the side right about now if the universe is to have any meaning.  Does the news reflect the season in the same way? Let's see.
Speaking of back to school, did you know it is illegal in Canada to walk the street with an "open beer" but soon you will be able to roam the sidewalks and parks of Ontario smoking a doobie? Sucking on the wacky-tobacky? That is just weird. Pretty sure we are not collectively ready for the spliffy scents and scenes but it's coming real soon.
It appears to have been #WorldNoAlcoholDay on Wednesday. I missed the parade. Did you know that Canada has a favorite 1980s pop-rock song dedicated to sobriety? Kim Mitchell's "Go For Soda".  It's great and hits all the right 1980s points. Big hair. Cable TV. Youth smoking. Horrors in the news. And having a nice soda is just part of the fun. The vid is like an SCTV skit, the last pop moment milestone before microbrewing hit.*
This is the best tweet-form semi-snub of the day – a gin and tonic men's cologne. I bet out pals Misery and Death up there got a giggle our of it.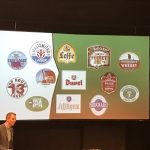 The tweet from SIBA reads "Incredibly worrying 'craft / not craft' slide from Heineken's On-Trade category controller Andy Wingate…" but the reality is hardly incredible. It's quite credible in fact – and only worrying if you like working against trends. See, the trend is really that beer drinkers latch on to what matters to them in the seven seconds they spend caring and they like to leave brewers scurrying to catch up, cramming the square peg of wants into the round hole of style – neither making much sense.  Is anyone really surprised that trendy labels including Guinness and Goose are lumped along with Cloudwater while the dull dowdy old stuff sits to the right? Duvel? Totes dowds. "Craft" now means now-fad. Did it ever not?
Building upon the Cask Report's findings for this year, Martyn asked some excellent questions about why cask is so often so bad in the UK and came up with many useful answers:
Cask beer is a perishable product: it loses its best qualities very quickly, certainly within a few days. Most pubs ignore this, and as a result most cask beer is sold a long way off from peak condition. Paradoxically, there is also a big problem of pubs selling beer too young. Almost three in five publicans confess to putting beer on sale before the recommended three days of cellar conditioning. So there is a fair chance that just as your pint is finally coming into condition, it's already past its best because the cask has been open too long.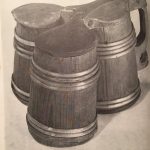 In this week's "globalization corner" I give you Lars (again) and his fabulous find of a three-way wedding day drinking vessel puzzle from Estonia. I figure the way to drink from it is the husband and wife share two sided by side in the back while mother-in-law pushes up the middle from behind to get her fair share.  If you have a better idea or, you know, an actual authoritative source to cite please leave me a comment.
Trump never had a beer. As if it matters. Again, the world spits its cocoa on the keyboard. The Beer Nut has had a number of beers. And he rightly reminds us that the proper name for New England IPA style beer is murk. And, I don't know about you, but six euros for confused murk seems like a basis for complaint to me.
This is how it works for many of the booming number of craft brewers in New York state: A couple of friends decide to turn their beer passion into a business. They start off small, usually with no employees and often, like the guys at Stout Beard, hanging on to other jobs with decent pay and benefits. Many will eventually grow, sell more beer, add space and equipment and hire employees. But make no mistake: Few of these start-up craft breweries are suddenly going to rival Anheuser-Busch, or even Genesee or Saranac, in the volume of beer, size of the payroll or reach of their sales efforts. A rare few might even close.
Fabulous. It's great to read about reality with the craft beer business. I can't remember the last time I was able to to that but, yes, it is always great. While we are at it, spend a minute to think of poor John Keeling, formerly of Fullers. Out of a job, nothing to do. There but for the grace of God go I.
And "go I" I go as that's enough for this week. Hopefully I will do better next week. I really hope I do. Meantime, check out Boak and Bailey on Saturday and then tap the breakfast table over and over on Monday saying quietly to your coffee "when is Stan coming back… when is Stan coming back…" When?
*See our book Ontario Beer for the EP version of this point.