This was a home week. Every second week I am in a hotel at the other end of a Great Lake figuring out how to spend 1,500 times my annual wage on a fascinating project. Every other week I am in my basement watching sports TV on a Wednesday evening, having made soup, planning an early night. The soup was good and had about 37 ingredients including our turkey stock from the weekend. It was more complex than craft beer. I thought about that for a bit. Then I created #IsYourCraftBetterThanSoup, a new global public interest group. Might do a GoFundMe with this one.
Anyway,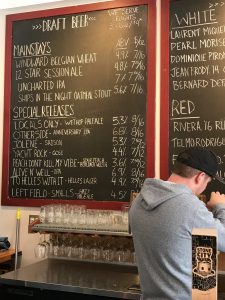 Jordan was here last Friday. We walked into exactly five establishments with him, although two were only for surveillance purposes. He was sifting clues. He does that. I was just wandering, doing a little day drinking and enjoying a Friday off. I share the chalk board from Stone City Ales as they presented it to the bar flies of noon on that fine day for a purpose: to note their wet hop ale, this one with hops from nearby Prince Edward County. Entirely yum. Largely speaking an eastern Lake Ontario zone vernacular. As I noted about ten weeks ago (again) I like my local to be quite localized and infused with locality. I have even pitched my experience to those with more, those trying to solve the "wet" v. "fresh" hop unhappiness. I did so by suggesting the more direct "unkilned" for greater certainty. It received one yea, many boos.
Less locally and further to last week's mention of the Cask Report, Old Mudgie worked a few numbers and found a sad result. On average, UK pubs that sell cask ale sell only 40 pints a day. Meaning as many sell 60 pints as 20. Meaning a good chance its been sitting around. This is not a problem with the beer. This is a problem of a lack of gravity dispense firkins on pub counter tops.
UPDATE: I like this piece on how to slink away from Ben which was posted after the newsy notes went to the coal-fired presses.
This is interesting stuff from the US branch of the wine world. The Board of Directors of the Court of Master Sommeliers, Americas issued a press release on Tuesday:
The Board of Directors found sufficient evidence that the tasting portion of the 2018 Master Sommelier Diploma Examination was compromised by the release of detailed information concerning wines in the tasting flight. The Board unanimously voted to fully void those results to protect the integrity of not only the examination process but also the reputation of the Court of Master Sommeliers and the title Master Sommelier.
Wow. While craft beer is trying to figure out if it's OK to say both good and bad things about a fairly pointless BrewDog press release, wine is chucking out the exam results. Boom! Good beer beyond craft sometimes has such standards – and Stan is leading the way, especially when it comes to my fears for turning kveik into some sort of craftardization of itself:
Just my opinion, but to support Lars I suggest a) retweeting him, b) pointing others to his posts, c) reading everything he writes 3 times, and d) when somebody refers to kveik as if it is a style remind them it is a type of yeast.
I weedled this irritation a bit by pointing out that I have been sold a beer framed as a "kveik" to which Lars pointed out that "[i]f you go up to one of the brewers at the festival and ask him for kveik, he will give you dried chips." Toronto's Bellwoods seems to be doing it right. Remember. Kveik is not a beer. Not a style. It means a family of yeast strains. So, if you see a craft brewer holding out one of their beers is kveik, ask whose kveik it is and where it comes from. Tell them Lars sent you. Fight!
Less seriously, a beer drinking fish.
More seriously, Brendan Palfreyman has unpacked the law suit under which Founders is alleged to have discriminated against a former worker based on race.  Interestingly, he notes that the defense has carefully ("artfully" he states) admitted some of the allegations. Pretty awful allegations in terms of a poisoned work environment. It's bad news at a very basic level – not good if the evidence shows he was "written up" for being one minute late while others were allowed to be more lax. Remember, craft beer is fun. Reason enough for me to pass on Founders until more is known.
Speaking of legal issues, one Ontario brewing four-person partnership faces a partner facing criminal charges.  Robin is righteously outraged. Me, I have done criminal defense work. I am a big fan of their Ukrainian Dunkel. And I am righteously outraged, too.
Finally, I don't often find myself moved by the save the pub advocacy but this one rings a bell – a Tudor era location with a reasonably consistent presence as an establishment located on East London river frontage. The history as claimed is venerable:
The first pub on the site probably originated during the Wars of the Roses in the 1460s and was called The Hostel. During more peaceful times in 1 533 it became known as The Red Cow, a reference to the bar maid working at the time. The notorious Judge Jeffreys was caught outside the ale house as he tried to escape disguised as a sailor on a collier bound for Hamburg after the Glorious Revolution of 1688; which overthrew King James II. 
The location is at least as impressive. It would have spent most of its live at the edge of the city, to the east of London Tower. In a guide from 1890 we read:
"The Town of Ramsgate" hostelry has a bulging bay window which offers a moderate view of the river, but with this exception reserves its allurements for Wapping High Street, where a conspicuous board at the entrance to the passage draws attention to the attraction of the place. The intelligent tourist, I am told, occasionally makes his way here. 
A winning cause. Or at least one worth fighting. Me, I am off for a nap. The Thursday news gets put to bed Wednesday nights. Before I head to bed. Beerless. Last night the beer was not in the head but at the head. Upside? The Red Sox won. Downside. Only that guy without his beer. Bad call. Good call? Seeing if I come up with something to write about mid-week next week. From that Holiday Inn by the highway. See you then.