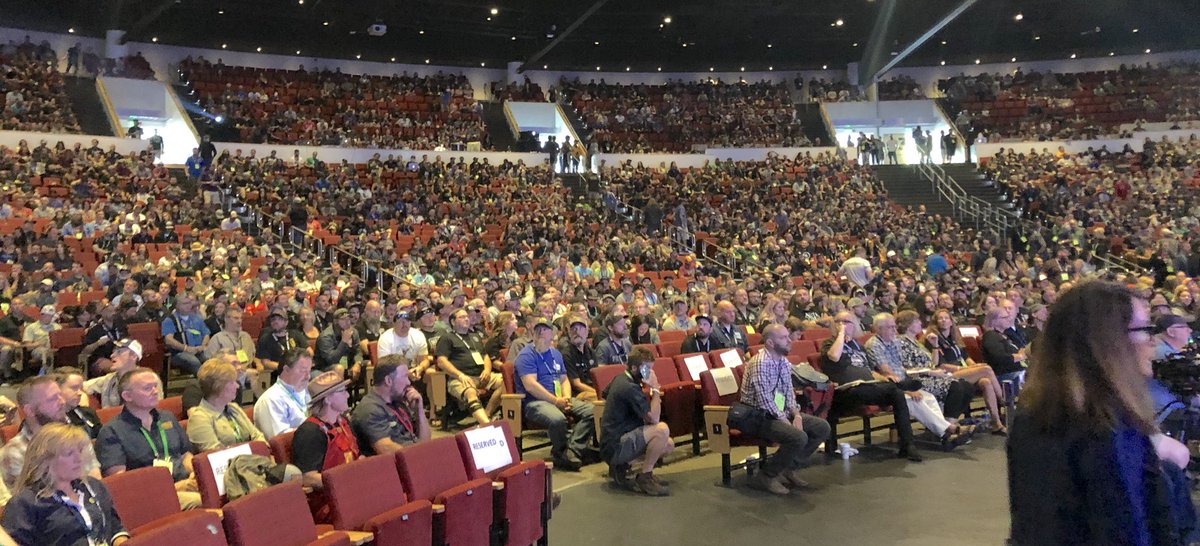 Listen up!
This was either a quiet week or a busy one. Busy in the sense that it was too busy to spend time on writing about beer. Did anything strike you in particular? Not that much attracted my attention from the #GABF. Usually something of note comes up out of that event. The only blip was the inclusion of the previously outcast, given the BA has learned it's OK to take their money. And the odd regional unhappinesses. Other than that and as illustrated, apparently plenty of people went, did similar things and a thousands bunch sat similarly uniformed in neat rows to staring at a stage hearing about this year's new core message from the same people as always. Now, that's what independence means to me! But, even that, is something we've heard before, isn't it. So, it's off to the edges of the week to see if we can dig up some actually interesting things.
First, go read Jessica Mason's excellent personal essay on how the pubs was instrumental in allowing herself the opportunity to turn a crisis in her life around:
The realisation that my boyfriend had begun seeing a married woman had knocked the life out of me. I looked up her husband and we agreed to meet at the pub — to cry into our beer and to compare stories. The next time we met, he helped us find somewhere to live. He was fast becoming my friend and his consideration was real.
Speaking of pubs, this photo essay exploration of the Commercial Tavern in the Spitalfield district of London, England by Retired Martin is wonderful in its consideration of a forgotten nugget of pure retro tat:
With no conversations to overhear, I made do with admiring the wallpaper, which reminded me a bit of a nightmare I had in my own bedroom in 1975. 
His thoughts on the newest version of CAMRA's Good Beer Guide are worth reading, too.
More happy tidings. Stan won the inaugural NAGBW Fred Eckhardt Award for Critical Beer Writing which is very good news as Stan is very good at winning things and really should win more things.
tl;dr take -> suck'kin ale. Perhaps a similar thing could have been said about Canadian light beer in the late 1970s.
Hadn't thought of this before – the potential for economic discrimination which inherently along with the cashless bar or pub:
It needs to be made clear we are not discussing cashless payments per se. They are a growing feature of the financial landscape, and obviously it makes business sense for many pubs to accept them. But to refuse to accept cash entirely is something entirely different, and comes across very much as an attempt to practice social selection of your clientele.
CNN published something of a neg nag on Oktoberfest in Munich for, apparently, reflecting German today:
It is remarkable that all these politicians have long felt comfortable promoting a "festival that emphasizes its German origin with strength and power in every aspect," as the official website claims. But even this idea of Germanness lacks a certain authenticity. The kinds of dirndls and lederhosen worn at the festival have little to do with German history. Dirndels and lederhosen were not even worn in Bavaria when the festival first took place.
Deutche Welle has a far more positive if a bit stilted take on the fest from three of its foreign correspondents. It's interesting to me mainly for the mundane aspects of the incidental video – the shots from the fair grounds.
Similarly, I was really taken by Boak and Bailey's post "Incidental Lager, Pubs and Breweries in Photos of Edwardian London" in which they noted incidental lager, pubs and breweries in photos of Edwardian London… which is exactly the sort of thing I have wasted innumerable lunch breaks at work doing because my brain works in exactly the same way.
Not similarly, Jordan's mother (the far more sensible between the two of them) wrote about her foray into hops as well as herself:
Jordan has been either blessed or cursed with very eccentric parental units. To see the development of this, and if you are a reader of the blog of long standing you may remember the blog post of long ago wherein the teenaged Jordan learned about Weird Old Broads. We have not become more centrist as time has gone along. In fact the oddness may now be worse.
I find the same for myself is true. The oddness is getting worse. So I best wind it up for another week. Try to be more volatile, eccentric or combustible over the next seven days wouldja beer world? Boak and Bailey seem to have got themselves back into the habit so check out their newsy nuggets this weekend. Other than that, see you in October.