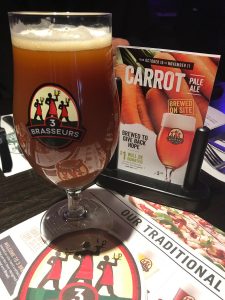 Another Thursday, another week of watching the ticker tape of tweets go by. I turn 55 and 1/2 today. Because it's my brother's birthday and he was born a year and a half to the day before me. That's some sort of news. Or at least cause to buy myself a treat. I bought one yesterday, a carrot pale ale from the Oakville, Ontario branch of the 3 Brasseurs brewpub chain. It was quite yum.  Lovely and thick like a medieval beer fan would want.
The really big news this week was, I suppose, the death of All About Beer magazine, as wonderfully eulogized… almost pre-eulogized, in fact… by Jeff:
…as recently as a couple years ago, the magazine was in the midst of its most impressive period of content. The magazine looked great and Holl had the best writers in the business working on excellent, deeply-reported stories. The design of the magazine—never its strength—was also rich and interesting. And, Holl told me, "Even as online news became the standard, when I was editor we saw print subscriptions rise." The problem wasn't editorial—it came from the business side.
This blog was in AAB a few times for which I am entirely grateful. The old Christmas photo contest was supported by the magazine during the Julie Johnson Daniel Bradford era with prize packages and the winning entry even published on a couple of occasions. I also think a book review written by Holl of Ontario Beer graced its pages. If I had any complaint it was how, at a critical moment, a lot of the attention granted to the writings of beer bloggers was transitioned four or five years ago into those AAB blog columns – for which the writers were certainly paid but it also set up the expectation that there was money in writing about beer. I have not only thought this belief to be suspect but also undermines excellent amateur writing where I find the depths are actually explored. But, even if that was true…even if my semi-snark had a point, there was certainly no lack of nobility in the efforts behind publishing AAB all those years and many previously isolated writers were encouraged as a result. It is a loss to us all. Where will its digital archives go?
Ben has written about another sort of ending, his speculations starting on the wrong track upon hearing the news of what ended up being the retirement of the last of the three founders of Ontario's Steam Whistle:
My tweet that started a conversation today predicted today's Steam Whistle announcement might be about either a buy-out or a cannabis venture. And while that's not what this announcement was, in light of Heaps' departure, I actually feel a little more strongly that one of those outcomes might now be possible. Big beer companies tend to have better luck putting a dollar amount to a brewery when the people who built that brewery aren't around any more…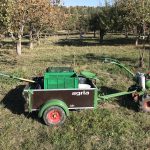 If you don't follow the tweets of @BarMas you are missing his adventures in German village life including his recent morning out in the orchard with his odd semi-tractor thingie, illustrated under the thumbnail to the right, gathering apples so that he can make insane amounts of cider. We all need odd things that keep us sane. Being odd is good. Me, I like tweed and I buy flags off some guy in India who gets them off cutting yard ships. Barry's include this green semi-tractor. What are yours? You better find one or two or you will just mainline beer obsession, which is never good. Beer needs companion oddnesses to keep it in its place.
Conversely, what is the value of excitement over an experience only one in a billion can enjoy? If its enjoyable at all, that is. So, beyond self-affirmation through defeating the fear of losing out appears to be self-affirmation through abandoning the fear of losing out through accepting… losing out:
The Macallan 60-Year-Old 1926 takes this rarity to a higher level and is the zenith for collectors of The Macallan whisky. Sir Peter Blake (the renowned artist responsible for the album cover of the Beatles' Sgt. Pepper's Lonely Hearts Club Band) and Valerio Adami were asked to design a label each for this special bottling, and 12 individually numbered bottles from each artist were released. 
Perhaps relatedly, I was never so pleased to read about a pediococcus infection as when I was reading tweets between Garrett O. and Lars G. on the subject:
This is a pediococcus infection. The bacteria forms a mucilaginous substance in the beer, often forming long strands. The old term for such beer is "ropy". In lambics, this substance is eventually broken down by Brett. In the meantime (or otherwise) horrible.
See, Lars finally met a beer made with kveik (actually a muri) that he did not like. Thick in the way an ale should not be thick. And I, as a result, finally learned exactly what "ropy" means… after reading about it for years in all those pre-modern texts.
The talk of cask goes on. Matt C took some exception in fact to some of the talk of cask:
Cask ale is no more difficult to make than any beer. Good cellar-ship with cask, like with keg, is a skill, and requires due care and attention, but it's not that difficult. As wonderful as it is, I wish people would stop romanticising a dispense method in this manner.
Well, it is more than dispense but it is romanticized. Care of the cellar is fundamental to the success of the dispense. And being careful and taking time is not something we value as we should. As we should value tweed, orchards and flags salvaged from scows beached on an India ocean scene. But not too much. Jack Duckworth kept a cellar, after all. Besides, what's so bad about layering on a little romance?
You know, saying a sad goodbye to All About Beer isn't over romanticizing things either. Nor admiring the semi-tractor in a field Teutonic. Baking a mash and knowing it's keptinis and not kveik isn't romanticizing either, even if its a bit nerdy. We are all nerds. We are folk who might admire a vintage bus rally now and then. Accept it. Me, I have just cut and pasted a whole bunch of links related to early North American colonies and especially the failed 1587 colonizing expedition by Sir Humphrey Gilbert, all to see if I can coax enough for a nerdy post out of it all. The romance of it all is real even if there is an ultimate lack of substance. Or is there? Perhaps this is all what is real.
I'll have to think about that when I am not day dreaming about 1587 over the week ahead. I hope you have something to fill the idle hour until then, too. As you do, check out Boak and Bailey for more beer news on the weekend. That'll help.