These are the cruel weeks. I've shared my dislike of the bleak mid-winter, haven't I? I'm a bad Canadian in this respect. I have krazy karpets, skates, cross-country skis and even snowshoes but they all stay at home, down in the space under the basement stairs. We sorta even fear the toboggan. I don't remember ever liking the coldest part of the year and I suspect I caught it from my mother whose town in Scotland has palm trees growing on the front. One thing I am not planning to do is wallow in strong ale, a traditional remedy or perhaps just response. Another reason #Dryanuary, in part or whole, makes a bit of sense and saves one from a shock.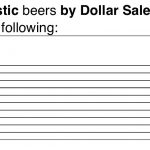 I saw this chart (to the right) the other day and it gave me pause. See, it basically states that the top US macro brands added up to around $20 billion US in sales revenue in 2018. But here is the thing: if those top 10 are worth around $20b in sales and all of US craft is worth about $26b… what is the other 55-60% of the value of the US beer market made up these days? All of which illustrates either: (i) why I have issues with any numbers get thrown about in the triumphalist discourse or (ii) how easily I might miss perhaps obvious things. Help in the form of an explanation appreciated.
Here's an interesting story, illustrating the conflicts that can arise among progressive constituencies and the need for serving staff to be extremely aware of complex matters of identity:
… the barwoman informed her she was banned because of the clothing item, which was considered as 'transphobic and not inclusive'… The 34-year-old backs the feminist group Fair Play For Women, which opposed a Government consultation to reform the Gender Recognition Act (GRA)… [a]  member of staff… told her she could not stay at the pub as she had been upsetting other customers… [one] took to Twitter to speak of his distress. He posted: "When you're trying to relax in your fave pub and there is a TERF [trans exclusionary radical feminist] wearing an anti-trans T-shirt… it's disgusting and I'm so upset by it…"
Next, I like this article on craft and fad by Matt C a lot but, as I noted to him via tweet,  I was not sure that I agreed. Consider this passage:
"NEIPAs were waiting to happen," McMeekin says. "Take the West Coast IPA, an amazing hoppy style of beer; soften it, plump it up, give it a unique hazy look and you've arrived somewhere that's different, just as good, and still approachable." Like Brut IPA, it's a style many brewers have been falling over themselves to replicate, and yet it feels as though NEIPA has been around long enough to transcend mere trend and become something more meaningful.
See, for me none of this has been waiting to happen. It's not natural. There has been nothing as intentional as the ramping up of US craft style fad over the last few years. As I recall, Craft Brewing Conference side seminars on barrel aging and newer and newer hop varieties beginning around a decade ago might have been the start of it all. A profitable route forward for all. Reasonable dream as dreams go, I suppose. Now, however, I see it as a dangerous game to present more and more rapidly shifting fashions to a well trained public. Dangerous given the level of investment required of small brewers to keep up with the chase.
Not unrelated, one last 2018 retrospective from Jacob Berg,* if only for this observation:
I saw a local brewery charge $65 for a bottle of stout at a pop-up event in the city. Not for a case of stout, but for one 500ml bottle. Do what you want with your money, but that's foolish.
Jeff has posted a very good post on three themes, including the plight of writers. I agree and entirely sympathize with his point of view except that he references writers "augmenting their income with the kind of work… that journalistic ethics once forbade." My quibble is only this: that ethical construct still forbids them. It reminded me of the slightly cringe inducing line in the latest NAGBW newsletter:
Like our work as journalists, there are always ways we can improve what we do.
"Our"? I get it but a long time ago when we discussed these things, it was pretty clear actual beer journalism was a rare bird. But, like "expert," it is an attractive and compelling form of calling card inflation that gets trotted out from time to time. Remember only this: it is good** to be a beer writer as that includes many wonderful categories: historian, novelist, PR, essayist, commentator, poet and journalist amongst many others.  Many folk undertake more than one style of writing and, yes, many do take on journalism from time to time. But it is still a relatively rare bird compared  to the overall scene. If we accept that, then we can release ourselves from the ethical quagmire and relish the prospect of spending time with Evan Rail like he tweeted about this very week:
I just gave a fun Prague tour to a lovely American couple. And last month I spoke about Czech beer to 20 US & Canadian brewers on behalf of the Foreign Ministry. If you'd like me to talk to your group, host a tasting or take you on a tour, please get in touch. We'll have a blast.
Beer journalist Josh Noel has shared news of a Goose Island brewery contest in response to the hometown Bears gut wrenching loss on a missed field goal on Sunday:
The brewery announced on social media Monday night that it would do its part to help fans understand the difficulty of nailing a 43-yard field goal. The prize? A free case of beer each week for a year for anyone who makes the kick.
I tweeted how this was something exactly up my alley, being a fat middle-aged 1970s field goal kicking survivor myself. Interestingly, two tweets on the question of journalism are more to the point than my glory days dreaming. First, there was a direct discussion between the Michael K or the social media intern at GBH which was more than a little clumsy and ham-fisted leading to the wonderful response: "[w]hatever else you do, please keep calling me Joel." And then  less directly we had this slightly cryptic comment ending with "[b]ut that's JOURNALISM for you"*** which I am sure I am too young to understand fully. My point (again) is only this. It is one thing among others. It is by far not the only thing and perhaps the thing you do not want to aspire to with your writing.
Enough!!! A few short items to close with:
 – Science: by 1967, someone had created a beer can tab opening resistance testing machine.
 – Predictions for 2019 are now coming in, like this one from BeerCrunchers2.0 blog suggesting the death of certain things, like high lactose beers, is either certain or, like Brut IPA, certified too soon. See, too, this wish list from @beerwithnat.
 – ATJ wrote a wonderfully lyrical vignette for the Telegraph of London on a pub named The Barley Mow.
 – The BBC Culture has provided us all with a bit on the Green Man, explaining the name behind many pubs.
 – One last look at the best of 2018 from Retired Martin with some extraordinarily Dadaesque photos.
 – A h/t to Merryn for "Botanical evidence of malt for beer production in fifth–seventh century Uppåkra, Sweden"!
 – I cannot find much drive within myself to take on Mr. B's call to celebrate the flagship in February (given I am pretty sure we started giving them up for a reason) but your mileage may differ. Master Polk, for example, is positively enchanted.
There you have it. Busy. Another week on and soon it will be mid-month. Get your garden seeds now. In a couple of weeks it will be too late to start your asparagus patch for 2022 harvesting. You know how long they take to establish, right? Meantime, check out Boak and Bailey on Saturday and then Stan on Monday.
*Librarian. @DCBeer co-editor.
**And, frankly, good enough.
***And the story (more essay than journalism) itself is quite good although we perhaps still suffer from the GBH two sides ("…You can have no issues with burlesque. It's feminist expression, that's fine…") even when we are talking pretty obvious sexist piggery. It all reminds me of CBC 2015 at Portland where sexism seemed to be cool and apologists were many.