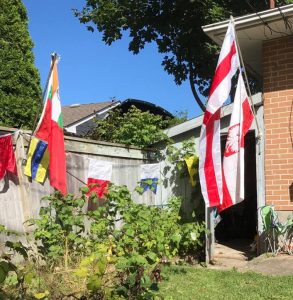 While I suggested in the last Thursday update that I cannot find much drive within myself to take on the call to celebrate the flagship beers of yore in February I am not being a grump. As you can clearly see to the right, both the shed and I like flags. And I recognize that Master Polk and Mistress Polk, for example, appear to be positively enchanted. The Fuggled folk are all a'giggle. So, it is perhaps useful for me to see what I can do to assist even if I do not jump on the bandwagon. Let's start with a clarification of terms. Mr. B. wrote this about #FlagshipFebruary on Facebook deep down on a thread:
Flagships are, I think, the beer that formed the foundation of the brewery… not necessarily its current best-seller. I'm sure there are brands that outsell Central City's Red Racer Pale, for example, but I would certainly list that as the brewery's flagship. Ditto Deschutes Black Butte.
There are a few things to unpack there. It's not a beer that founded craft era so much as the brand for each brewery. So the brewery, practically, has to be old and its given candidate brand needs to be something of a survivor. And its not necessarily the most loved today which means you may need to do a little sleuthing unless you are going to stop at Sierra Nevada Pale Ale or Sam Adams Boston Lager. So how are you going to do that?
Act like a historian. One handy resource that you can start with are the Past Winners' records for the Great American Beer Festival. So, if you look at the first awards list you see that in 1983 SNPA was the overall winner while SABL won top dog in '85 and '86.  Fine. But look at 1984.  Yakima Brewing won first and second place for an imperial stout and a Scottish ale. Hmm. Now, look at 1987 where SABL won as best "Continental Pilsner" as opposed to "Continental Amber Labers" – really.
The brief study of these records raises a few more questions. Is the brand's recipe or even branding sufficiently similar now as it was then when it served as a foundation? Were those really the hops they use back then? Are you really experiencing the same thing? Does it even exist? Also, do these flagships actually represent the brewery's foundation or are they just the lucky ones that now have survived the obstacle course of time, those whims of a succession of a beer fads and trends. Does its current status actually reflect its actual history or is it, like the beak of the finch, the one which by luck could accommodate unforeseen future? Figuring out that might take a little work.
My thoughts? Not that this initiative is any sort of minefield that we will fail at but that this is a great opportunity to consider the relationship between the micro brewing phase of approximately 1983-2003 and the craft phase from 2003 to the present. How much of craft's history is made up and heavily laced with retrospective rosy coloured glassware? Plenty, I'd say. How much is even based on the lessening status of the great old white male brewery owner? Maybe a bit? So… if you really want to celebrate the actual foundation of the good beer movement, look at the structure of the early medal categories and go get yourself some stout, an amber or a porter. Find a Fuggle.
Use #FlagshipFebruary. Use it to explore and enrich your own understanding. Sours, fruit beer, barrel aging and even heavy hopping are developments largely from later in the second half of the history of your hobby. You may need to accept that what is actually the old and foundational is actually new and novel to you. Which is good. So do it.