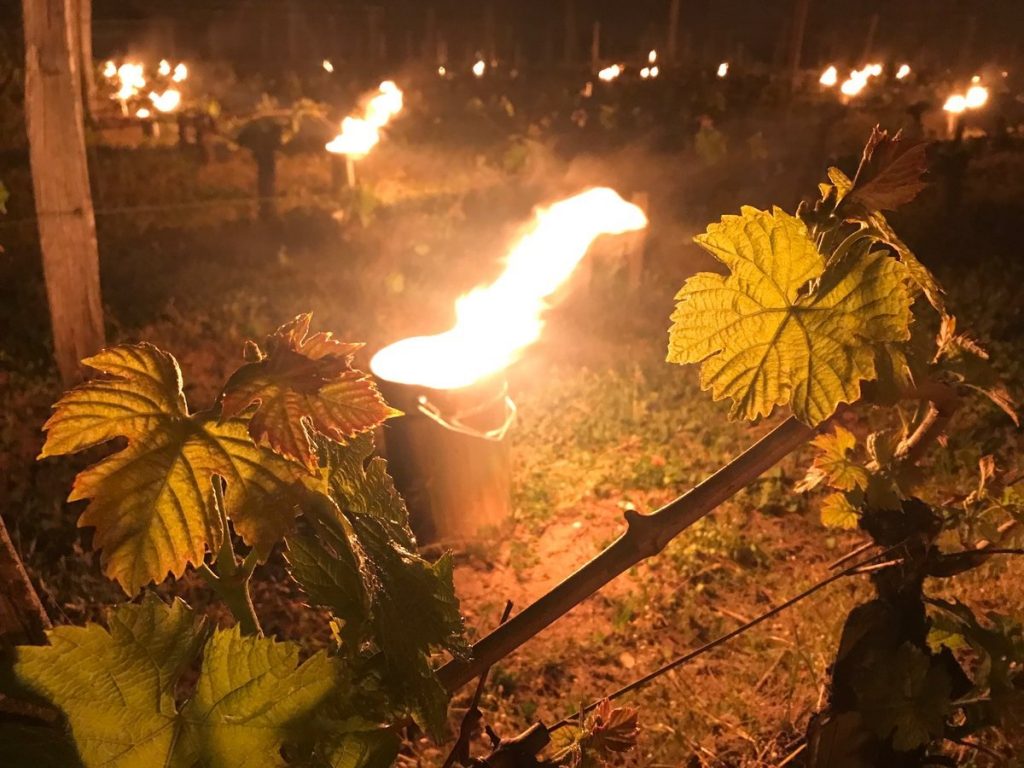 I picked that picture up there of a fire in France earlier in the week, the night time warming of the vineyards at Chateau Figeac: "rows and rows of candles on the vineyard to protect the vines from frosty nights…" Here's perhaps an even more stunning image, the French Côte-d'Or lit up at night form above. I spent three weeks in Paris with pals in 1986, weaving from art galleries to bars to cafe's to our small family run hotel. We were there so long we got grief from the owners for being so bad at getting to know Paris, for wasting the experience that we were being told where to visit and that led to me, a gawky probably hungover 22 year old, staring at the blue glass at  Notre-Dame. Lovely then. Sad now.
Let's go! Diageo has done a good thing:
The maker of the iconic Irish stout Guinness has announced it is removing plastic from beer packaging. Plastic ring carriers and shrink wrap will be removed from multipacks of Diageo's beer products – Guinness, Harp, Rockshore and Smithwick's. They will be replaced with 100% recyclable and biodegradable cardboard.
Excellent. And here's an excellent suggestion for a gravestone, one that speaks to one of our lingering and perhaps pre-Christian rituals.
I am a bad man. I missed a post by a co-author, mainly because it came out two Thursdays ago, exactly when I am in a post-update publication funk. It's Jordan's post on the things he has learned creating and running a college course about beer:
How do you create something unique from scratch?  For one thing, it's continuing education, which means that it's nights and weekends. It has to be affordable. It's a self selecting group of students and they have presumably been through a long day at work or a long week at work by the time they get to you. It has to be instructional, educational, and entertaining enough to hold their interest. It probably needs to be a little interactive and there has to be room for discussion. That goes for all 67 hours of class time from the preview workshop to the last week of the last class.  So there I was: anxious about public speaking, with no experience teaching, tasked with creating and administering 67 hours of content, and just bloody minded enough to think I could pull it off.
Speaking of structures, Jeff wrote and excellent thing on the development of flash in the pan styles and by excellent I mean he stated something that I have long considered the case:
With trends, there's a push-pull, and the pull is what establishes the style. First breweries gamble with something new—that's the push. With a style like gose or a technique like kettle-souring, the push may last for years before a brewery scores a hit. But then that organic interest comes and customers start asking for the new thing. Brewers have been pushing saison for 20 years and Americans are just not taking the bait. But hazies? That's all pull now. Even brewers who hate them feel compelled to offer their ravenous customers what they want. 
Pay attention to that push. Many folk deny it exists, saying its all demand driven. As if there ever was a public outpouring demanding a gap needed to be filled by Black IPA or sugar coated breakfast cereal gose. Officially absolving the beer drinking public from these sorts of abominations of marketing is a welcome thing. And the distinction between trend and style also fits better with the original Jacksonian intention of style to be an emulation of a classic. Good stuff.
Speaking of writing excellent things, Evan Rail has been tweeting about writing longer writing beery-wise as part of his process of writing a new piece of longer writing:
As a writer, you're constantly doing short-term, short-gain work, which makes it really hard to get ahead. The work that brings real satisfaction — and which often makes for long-term success, financial and otherwise — is hard to fit into the day-to-day grind.
It's the same for the amateur boy beer writer. Time is the commodity I simply don't have. I've put in 24 hours since 36 hours ago. Frankly, I was glad to get a number of posts on beer and 1400s Bristol this winter but if I had my druthers I would do that sort of research and writing all the days of my life.
Politics? Here in Ontario, we have a particular form of conservative government which is dedicated to changing the way we get our booze and dope. It even affected the annual provincial budget to the point I have to go into work today to look at some beer law, an interesting puzzle. This was a telling tweet:
Number of times Doug Ford's budget mentioned the words "alcohol" or "beer": 46. Number of times "poverty" was mentioned: 0. Priorities.
That being said, we regularly regulate these things at the provincial level and alcohol has been at the forefront of cultural policy at many times in our past, not only from the 1870s to the 1930s the period people can't cope with. Ontario, the true foundation of all hoppy beer trends. Buy our book Ontario Beer for the full story. Seriously. Grow up. Buy it. Pretend it's my birthday.
A short post this week. But lots of good stuff to share. And it really is my birthday. On a Thursday before a four day springtime weekend. "W" to the "oooot"! And this is the one I have been waiting for. Fifty-six! Remember when you were nineteen and you couldn't wait to be fifty-six? As you reflect in the arm glow of that, don't forget Boak and Bailey on Saturday and Stan on Monday. Each a gift to us all. See you next week!