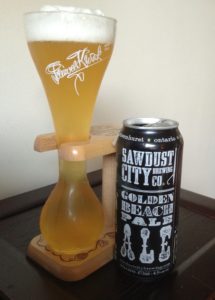 Ah, my least favorite glass ever meets my favourite brewery of 2016. I got the Kwak glass likely the best part of a decade ago and had to wash a decade's worth of dust off it to celebrate or mark or mourn today's news. I am not sure I deeply care as I have never liked the beers of Bosteels all that much – though I liked Kasteel in 2004. Jeff has some of the early reports. Suffice it to say that the Great Satan now has a maker of muted B grade Belgian malty things in its portfolio. My world has not altered.
Which is not what I said when a number of mid-central Ontario's Sawdust City beers started showing up in tins placed on retail shelves here in south-eastern Ontario. Great value at about $2.75 CND each, they all have more then held up their end of the bargain. This 4.5% ale pours a swell yellow gold with a rich white head. On the nose there's plenty of weedy herb along with a fair chunk of white grapefruit rind over a cream background. The swally is interesting. A brightly ringing bitterness elbows out a modest lemon cream cake foundation. Lots of dry white grapefruit pith from the four hops named on the side of the can. Busy but still attractive. Especially on a day that is hitting 102F with the humidity.
You know, I'll pour the next beer in another glass and put this monstrosity away likely until I hit my sixties. It's all more than a little overdone, pointless marketing for a brewery that really hid in a safe spot in the market. Now owned by the forces of evil. Or of the future. Or just of reality. Gnashing over it all is a bit like being angry about that goldfish that died back in junior high. Things change. Things you have ultimately little to do with. Good beer, however, keeps showing up. Like this one from Sawdust City.