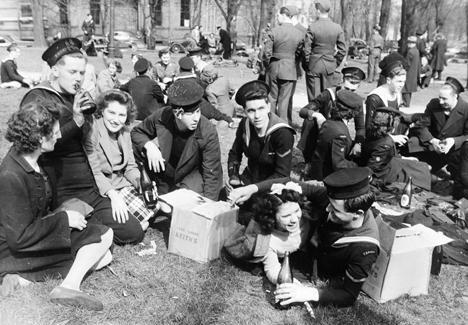 Her: I sure hope no one mentions this ever again.
Him: Me, too. How unlike us. Best to bottle it up. Pass me another.
An interesting combination of two of my interests may well come together in Nymburk, some 30 kilometers east of Prague, where a brewery, Postřižinský Pivovar, helps continue its story as a local brewery, how the brewery altered the life of an author – and how the brewery itself became a character in the life of the community through the author:
The brewery, operated by brewing firm Pivovar Nymburk, has strong historical and literary connections with Czech writer Bohumil Hrabal, who was raised in the brewery grounds and wrote "Postřižiny" (Cutting It Short) about his childhood encounters with the brewery workers. The book was made into a hugely successful film in 1981 by director Jiří Menzel, who recently adapted another Hrabal work, "Obsluhoval jsem anglického krále" (I Served the King of England). The brewery now uses the literary connection with Hrabal as a marketing tool, and the writer's amused face stares out from the labels of most of the bottles of Postřižinské Pivo sold in the Czech Republic.
That speaks volumes for me…but sadly more over what is not than anything. We in the English speaking world are so concerned about avoiding making connections about beer and locality and community that we forget that our behavior must seem fairly bizarre to other cultures. Just from my own experience I can think of a bar owning pal who was barred by the local regulator from selling a drink he had come up with that referenced Anne of Green Gables. Recently we've seen some US states call out the lawyers and tribunals to keep Santa off beer bottles. Heck, in the chapter of the upcoming book Beer and Philosophy that I penned I noted that the law of New Brunswick barred representations of beer in family situations in advertising. We can't make fun of fictional characters or even describe what actually is – because to do so we point out there is beer in our lives. Because that would be, I guess, dangerous.
And yet we do all this despite knowing we all have tales of our own how beer characterized the community. I can only speak to my Maritime Canadian youth but we all heard how Moosehead's Dartmouth brewery had the free tap for those working on the floor and wondered why we didn't all drop out of undergrad and apply for a job. We knew teetotaling farmers with the case in the barn. We knew the ties between Halifax's Keith brewery and the VE Day riots when the youth of the town invaded the place and drank the brewery dry, likely some knowing relatives – maybe those above – who had some stories. We even watched ads just a few years ago for Alpine beer and how it was not worth making a career for yourself away from home because you might not be able to get your brew…and probably knew people who likely took the advice.
In many ways, beer frames (or at least colours one corner of) what you are and what you could be expected to be….but you really shouldn't talk about it. Beer is such an interesting touchstone for our collective denial of what we are. Far better to focus on what we think we should be. Somehow it exemplifies all the danger in life we were warned of – even though we happily live it with anyway. Weird stuff.